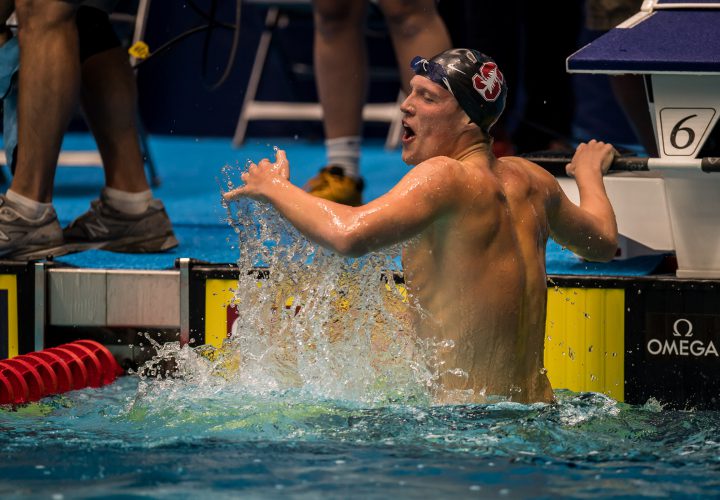 Photo Courtesy: Peter H. Bick
The Conference office announced today that Mallory Korenwinder of Arizona was named Pac-12 Women's Swimmer of the Week and UCLA's Eloise Belanger was voted Pac-12 Women's Diver of the Week for December and also announced that Stanford's Abrahm DeVine and Tarek Abdelghany as Men's Swimmer and Diver of the Week.
Belanger (Montreal, QC, Canada) nearly swept UCLA's annual Bruin Diving Invitational, registering wins in the 1-Meter and 3-Meter competitions, as well as a runner-up finish on Platform. The December Pac-12 Women's Diver of the Month competed against divers from California, Stanford and USC, as well as a number of other schools at the Bruin Diving Invitational. Belanger led throughout on Day 1, when she tallied a score of 636.00 to take the 1-Meter. A day later, the junior posted a strong final-round performance to record a total score of 650.25 and overcome Mia Paulsen of Stanford. Belanger tallied scores of 650.25 in the 3-meter for first and 539.35 in platform for second.
Korenwinder (Tulare, Calif.) won both the 100-yard breaststroke and 200-yard breaststroke at a quad meet against Northern Arizona, New Mexico State and Rice. The sophomore clocked times of 1:03.76 in the 100 breast and 2:20.20 in the 200 breast. Korenwinder was just shy of the NCAA "B" standard of 1:02.49 in the 100 breast.
DeVine (Seattle, Wash.) helped No. 5 Stanford to its first win of 2018 with a 217.5-44.5 victory over Pacific on Jan. 12. The dual meet started with two Cardinal wins as Devine swam the fastest freestyle leg of the 400-yard medley relay (43.97) to help his team finish second (3:17.93). The senior also won three individual events at the meet, taking home first in the 50-yard backstroke (22.42), 200-yard individual medley (1:48.28) and led Stanford's top-four sweep in the 150-yard backstroke coming in at 1:16.04.
Senior Abdelghany (Ladera Ranch, Calif.) competed in the Bruin Invitational Jan. 12-14 and won two of the three events in which he competed. The returning Pac-12 Platform champion displayed his strength in the event, coming in first with 765.45 points. Abdelghany also won the 1-meter springboard (687.65) and finished fourth in the 3-meter springboard (679.40).
The above press release courtesy of the Pac-12 Conference.