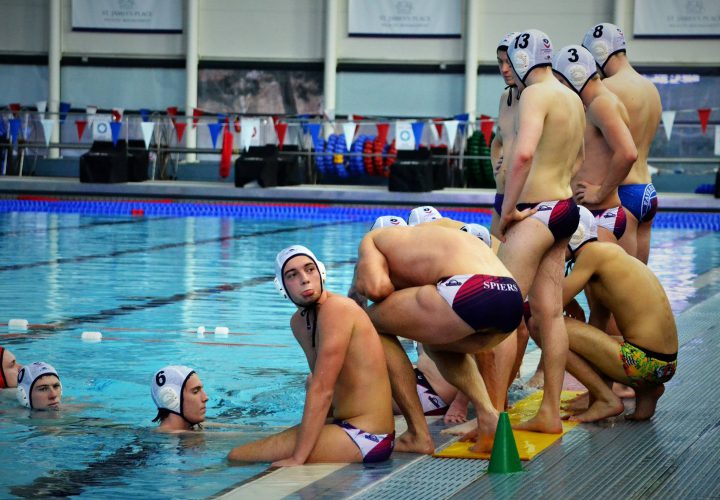 Photo Courtesy: Stasja Ilic
By Alice Reeves-Turner, Swimming World College Intern.
Loughborough University has long been world renowned for its sporting reputation. It has recently been named the best sporting university in the world in the global QS higher education league table, has been unbeaten within British Universities and Colleges Sports champions for 37 consecutive years and would have come 17th if it had taken part in the 2016 Olympics; to say that Loughborough University is simply "good" at sport would be a brutal understatement.
The university offers a wide range of sports, including 53 Athletic Union (elite sporting) clubs. One of the lesser understood AU clubs is Loughborough Students Water Polo. The team has had numerous successes in recent years, including being British Universities and Colleges Sports finalists and British Universities Water Polo League winners and runners-up on a multitude of occasions. They are determined to continue this success into their future.
Thomas Prayle, who represented GB in Under-18 water polo and England during a international training camp in Croatia, is the current men's captain for Loughborough University water polo team. He also coaches the North West under-18s water polo team. He plays wearing hat number 12.
Swimming World: Why did you begin playing water polo?
Thomas Prayle: I began my career in aquatic sports as a swimmer, however by the age of 13, I had become bored of swimming between two walls. I still had a love for the water so when offered a taster session for water polo I signed up and fell in love with the sport. From this taster I went onto join Lancaster water polo.
SW:What is involved in your role as captain?
TP: As men's captain of Loughborough University Students Water Polo I have a number of commitments. My primary role is acting as a coach, not only working on team tactics but also helping individuals reach their full potential and analyzing previous performance to see how we could improve. Outside this coaching role, I am in charge of team selections for the men, as well as a role model and father figure for the whole team.
SW: How did it feel to represent your country?
TP: I was overjoyed to represent my country. I represented England in Malta and it was an amazing experience to hear the national anthem before a match. Unfortunately I was unable to represent GB at the Euros due to commitment to my education. I was taking my final exams to get into university at the time that I would have been competing.
SW: What do you feel gave you the edge over others to allow you to reach this high level?
TP: I originally came into water polo with a strong swimming background which made me a faster player than many others in the pool. To add to this, I play centre back meaning that I am marking players who are often larger in size to me. The fact that I am lighter then these lads means I am more nimble and able to move my body more efficiently.
SW: What made you want to go into coaching?
TP: I am currently coaching the North West under 18s and find great enjoyment in it. My coaching journey began when my club, City of Manchester, was looking for coaches for younger teams, and agreed to pay for my coaching qualification if I were to help. I coached for City of Manchester for a year before beginning University which gave me an easy introduction to the coaching I would have to do as captain to the university team.
SW: What gives Loughborough University Students Waterpolo the edge over other universities?
TP: The first thing that gives us the edge is the amazing facilities that we have on offer. We are able to train and play with much better equipment, in an Olympic-sized swimming pool which is two metres deep for 25m and has an adjustable floor for the second 25m. This means we are able to practice in a multitude of environments.
We also have two state of the art gyms on campus so we are able to land train in the best facilities. Additionally to this the Athletics Union is supportive and will do whatever it can to help us improve our performance. We have a very strong committee who are all fantastic at doing their jobs, especially our chairman who does all he can to make the team stronger.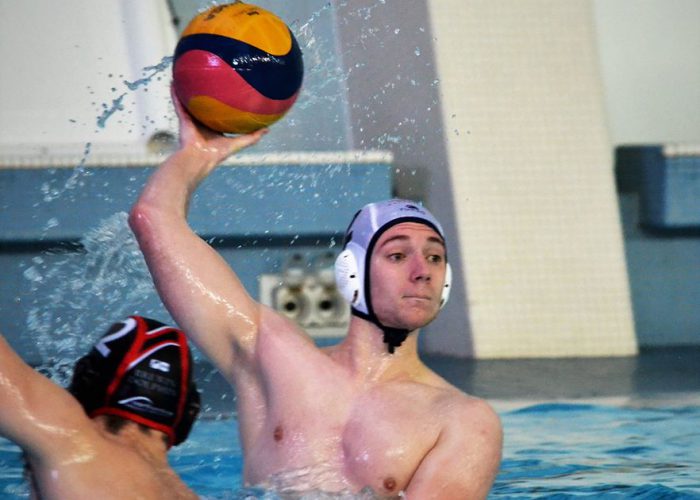 SW: How have you dealt with the different ages and abilities in your team?
TP: These two factors can cause a great deal of difficulty, but we manage to overcome them. I am one of the youngest on the team, however I am coaching and leading the side. This means members of the team have to have trust my decision making is for the best and will work in our benefit– this can be difficult when dealing with players who are four years older than me.
We also have have a vast range in abilities amongst the team which can cause problems. We get some members who join with a strong water polo background meaning that we can teach them our tactics immediately and put them straight into matches. However, we also have to teach many players from scratch. This can be easy when they come from a swimming background, however can be of great difficulty otherwise. At the beginning of each academic year we spend five to six weeks teaching Freshers the basics of the game so that we can make sure everyone is on more of a level starting ground before more complex tactics are brought into training
SW: You are friends with all on the Loughborough University team, how do you think this affects your authority over them in terms of coaching?
TP: I personally feel that when you have a friendship with someone there has to be  a baseline of respect. Within our team this baseline of respect has been translated to respect to me as a coach. I believe it is good to be friends with the players you coach, however, I can see that I am able to stricter with North West under 18s then I can with the team I captain. It is additionally harder to coach and a captain in a match as I am in the pool and am unable to observe everything and am also liable to make my own mistakes- nobody on the team is perfect. I have found the role as captain and coach to be very humanising.
SW: Loughbrough University has a large intake of international students. How do you feel about the tactics they bring to the team?
TP:  The international students are great! They are strong polo players and are eager to play. The want to win matches and score goals which is the perfect thing to have in a player. It can, however, be a challenge, to introduce them to the style of water polo played in the U.K. Whilst in countries such as Croatia and Spain the teams are strong as a whole and have players who could play the game on their own, British polo, especially at university level, makes sure to include everyone so as to make everyone stronger. It can be hard work when foreign players use tactics that we are not used to.
SW: How does your sport affect your life outside the pool?
TP: As an athlete, I have to watch what I eat and what I put into my body, as well as making sure my lifestyle is healthy. I feel it is key to have a balanced diet and make sure to eat my vegetables regularly, which I'm sure my mum will be very glad to hear! Balancing the work load of my degree with the high level of training we are expected to commit to can be a problem, however all members of the team learn to balance this and know that the rest of the team will support them.
I have met some of best friends through the sport, to the extreme that some players on the university water polo team have been on the same team as me since I was 12.  Loughborough University water polo has a fantastic social side to it as well which means that we all get on really well. The ladies and mens team make sure meet up outside of training at least once a week to let the team relax, unwind and get to know their teammates better.
SW: Waterpolo is often viewed as a niche sport, how do you think awareness of it could be raised?
TP: Water Polo England is currently pushing the sport through many different forms of social media. This has raised interest in the sport across many different age groups. Awareness was also raised at London 2012, where the GB water polo team were put in the spotlight for the first time for many. Although these two things were great for awareness I feel we need to keep pushing to make sure that more people get to appreciate the sport. As a team, Loughborough University students water polo do much to promote the sport through our Facebook, Twitter and Instagram pages.
SW: Water polo is often viewed as quite a violent sport. Do you think this puts people off the sport?
TP: I feel this encourages people to join! I personally love the aggressive nature to the sport, meaning I have been known to get in my fair share of tussles, and know that most, if not all, my teammates feel the same.
SW: Waterpolo is often argued to be a more masculine sport due to its aggressive nature, do you agree with this?
TP: If anything, you're more likely to find less violence in a men's match than in a women's one. Although there was once a bias towards men's polo, I feel this is slowly changing, especially at Loughborough University where we have more female members than male.
SW: Loughborough University Student Water Polo team is a mixed team. Do you think the team is stronger due to this?
TP: Without a doubt we are stronger due to the support of our opposite sex team. Neither team would have the results we do if it weren't for our 'home fans'. We all enjoy having members of the opposite sex as the other sex allows for a larger social spectrum and circle. We have 60 members on our team which includes different sexes and cultures living and working as a big family. I think it's great!
SW: There are a number of ex and current GB player on the Loughborough University Water Polo team. Do you feel this gives the team an advantage?
TP: Most of the first division teams have a number of players who have played for GB, been in the squads or on development programs. If anything Loughborough University Water Polo is lacking behind other universities in terms of recruitment of these players. However, despite the strength of other teams in terms of the players they bring in, we are able to play strongly against them.
SW: The team is performing very well this season, why do you think this is?
TP: Both the ladies' and the men's team are doing exceptionally this season– currently it is looking like our best performance in two years. I feel as a whole team this is due to us working well as a team and helping those less knowledgable. In terms of the boys, I feel my coaching background helps. I am able to view water polo with not just the insight of a player but also a coach. I feel we had glimpses last season of the good performance of this but we never managed to reach it. Last season was almost like a warm up for this current season.
To learn more about Loughbrough Universities student's waterpolo visit, like and follow their social media:
Twitter- @lborowaterpolo    Instagram- @lborowaterpolo     Snapchat- @lborowaterpolo     Facebook- @loughbroughwaterpolo