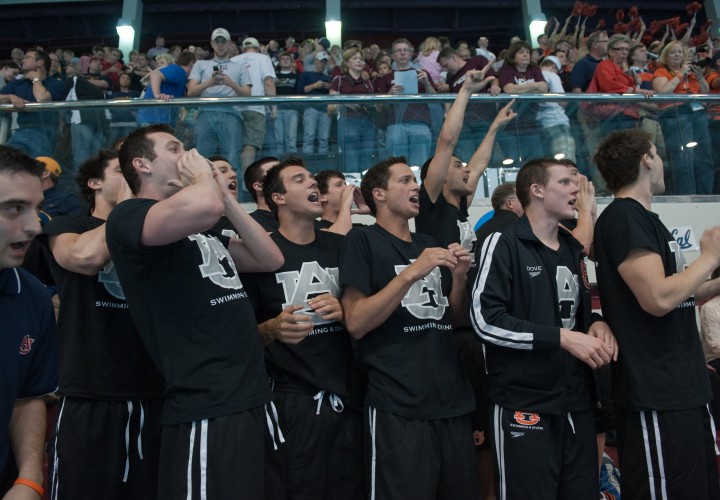 Photo Courtesy: Peter H. Bick
By Alexander Hardwick, Swimming World College Intern
Do you want to swim beyond high school? Represent a new team? Swim with new people and make new friends for a lifetime? If you answered "yes" to these questions, then college swimming is for you!
Listed below are some common steps high school student-athletes use to become the college student-athletes. Many high school and college coaches alike say, "Have fun, use your brain, and use your heart."
Good luck to all athletes, enjoy the process and remember, you have earned it!
Stop #1: Commitment (A look inside)
The journey to become a college swimmer starts with commitment. You have to be willing to continue waking up at the break of dawn, and swimming after long grueling days of class. If you're thinking, "Can I do this four more years?" look deeply at your commitment.
Swimming is a demanding sport, especially in college. All divisions of the NCAA require a level of commitment. Before you head down the road of becoming a college swimmer, take a deep breath and decide if you can be dedicated at the next level.
Stop #2: The Classroom
Your parents were always right when they told you your grades were important. It doesn't matter how fast you swim, if you don't have the grades to graduate high school.
Swimming can help your college application, because of the strong values swimmers universally show. Don't forget why you go to college…to learn! So at the end of the day, admissions will take a good hard look at your grades and test scores from high school. They will also look at your activities outside of the pool.
Make sure to put in some time after those grueling afternoon practices to sit down and do your homework.
Stop #3: Research
Use your computer to gather online information that will be useful in your decision. Here are just a few categories to pay attention to when researching your options:
Academics
Average high school GPA
Percent of applicants admitted
Average test scores
Majors offered
Academic resources
Athletics
Team size
Top times
Division
Location
Diversity
Price
School size
Some useful websites: CollegeBoard.org  CollegeSwimming.com
Stop #4: Send some emails
This step is taking a proactive approach and self-advocating. Coaches usually display their email addresses online on the team's "Meet the Coaches" tab, so fire a quick email letting them know who you are and your interest. Don't be timid in the amount you send out.
If timing is a question, you can send a coach an email at any point from your freshman year until you commit as a senior. Also give your club and/or high school coach a heads up so they can assist the college coach in any way.
If a school doesn't get back to you, go complete an online questionnaire — in case the coach didn't get your email. If the coach responds, "Sorry, we aren't interested right now," shrug it off and keep looking.
Stop #5: Questionnaires
Some coaches will send you a link to their questionnaire in a broad informative email. If you're not sure, research it, then decide whether or not to complete the form.
Fill out as many questionnaires as you feel necessary. The more you fill out the more responses you will likely receive. Coaches rely heavily on questionnaires to see which prospective swimmers are interested.
Keep in mind that the coach will look to fill spots opened by graduates.
Stop #6: Unofficial Visits
Plan some days to go visiting schools; it's never to early. It could even be after your vacation or on your way back from a family reunion. Stop at a couple schools and take a quick tour.
Send the coach an email if you know when you will be driving through. The coach can give you some details about the program and school. Meanwhile, you can ask questions while touring the facilities. This will help you narrow down schools as you go about your recruiting process.
Stop #7: The Calls
The NCAA allows coaches to call your house (Division 1 coaches can call July 1st entering your senior year) and talk to you about their school and team. This is a great opportunity for you to ask questions and get to know the coaches on a more personal level, before committing to a visit.
Put aside some time to talk, and tell the coach what matters to you. Take notes, because they can only call you once a week due to NCAA compliance.
Stop #8: Official Visits
Official visits allow you to spend 48 hours on a college campus under the team's supervision. Try to get a feel for the culture of the team.
Trying to remember everything on your visits may be hard, so you may want to take a journal or write stuff down in your phone in the "notes" section.
This is your last step before making a final decision so try to sort out the last details that are difference makers. You will meet with the head coach on your visit. Ask any final questions.
Get back to the coach with your decision before the deadline. It is important to the coaches in filling out next year's roster and scholarship allocations.
Stop#9: Final Decision
Look over all your notes and "stops" leading up to now. Try to make the right fit for YOU. Consult with parents, family, coaches and teachers if you would like a second opinion.
In the end, when you decide, do not look back. Trust you instincts and enjoy your next four years!