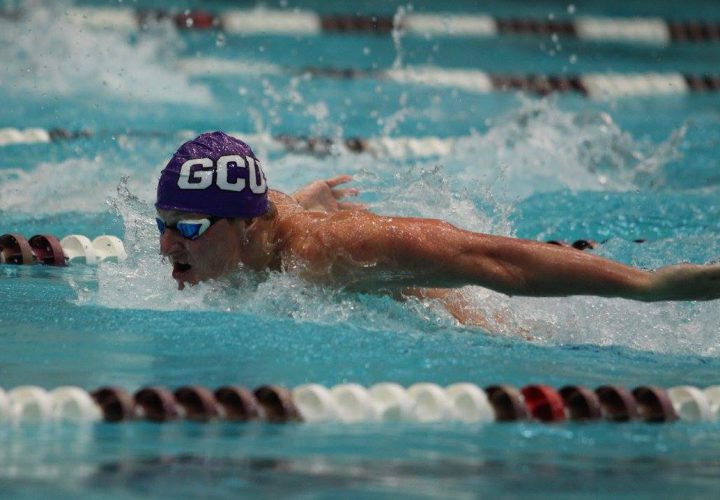 Photo Courtesy: Deb Schaffer
June 15, 2018 – Norfolk, VA – The College Swimming and Diving Coaches Association of America (CSCAA) has named 710 teams to its Scholar All-America list for the Spring 2018 Semester.  The teams represent 476 institutions from across all NCAA, NAIA and NJCAA Divisions. The CSCAA recognizes teams with the Scholar All-America Award for achieving a team GPA of 3.0 or higher.
Among teams with a dozen or more student-athletes, on the women's side Saint Francis (PA) led the nation with a 3.81 GPA.  Grand Canyon University posted a 3.66 for the highest GPA among men's programs with a dozen or more participants.  It is the third time the Antelope men have led Division I. The Sioux Falls women (3.80) and Adelphi Men (3.64) led all Division II programs.  Conn College's women's team (3.77) and Caltech's men (3.63) led Division III programs with twelve or more participants.
We are very proud of our student-athletes. From day one, we talk to our teams about how important it is for us to provide value in return for the university's investment in us.  That means performing well in the classroom, the pool, and in service to the campus and the community.  All the credit goes to the hard work of both our student-athletes and our dedicated academic support staff. – Steve Schaffer, Head Coach, Grand Canyon University

This is a great honor for our team. We have developed a culture at Saint Francis that allows our student-athletes to succeed. Our athletes are products of great parenting and have been instilled with strong values and work ethics. This award is the culmination of our athletes' desire to succeed in the classroom and the support they receive from the Saint Francis faculty members and our Student-Athlete Development Staff led by our academic advisor, Jaime Lipski." – Rory Coleman, Head Coach, Saint Francis
Success in the classroom and pool went hand-in-hand.  On average, twenty-three of the top twenty-five top finishers in each of the NCAA Championships earned the award, with every NCAA title-winning team in all three divisions posting a GPA of 3.17 or higher.  Nine teams finished among the top ten nationally in both team GPA and at their respective national championships.
These included:
Stanford Women – NCAA Division I title and 4th-highest GPA
Queens University of Charlotte Women – NCAA Division II title and 4th highest GPA
Stanford Men – NCAA Finish: 7th / GPA Ranking: 4th
Louisville Women – NCAA Finish: 5th place / GPA Ranking: 7th
Carson-Newman Women NCAA Finish: 9th place / GPA Ranking: 8th
MIT Men NCAA Finish: 5th  / GPA Ranking: 6th
MIT Women NCAA Finish: 6th  / GPA Ranking: 7th
Pomona Pitzer Men NCAA Finish: 8th  / GPA Ranking: 4th
Pomona Pitzer Women NCAA Finish: 9th  / GPA Ranking: 9th
At the conference level, four leagues were perfect.  The Pac-12, Big XII, UAA and Big East had each men's and women's program selected.  Eight other leagues saw each of their women's programs chosen.  These included the ACC, Atlantic 10, NEWMAC, Ivy League, WAC, American Athletic Conference, Conference-USA, and Southern Athletic Association.
The CSCAA will announce its individual Scholar All-Americans next week.
---
The above press release was posted by Swimming World in conjunction with the CSCAA. For press releases and advertising inquiries please contact Advertising@SwimmingWorld.com.