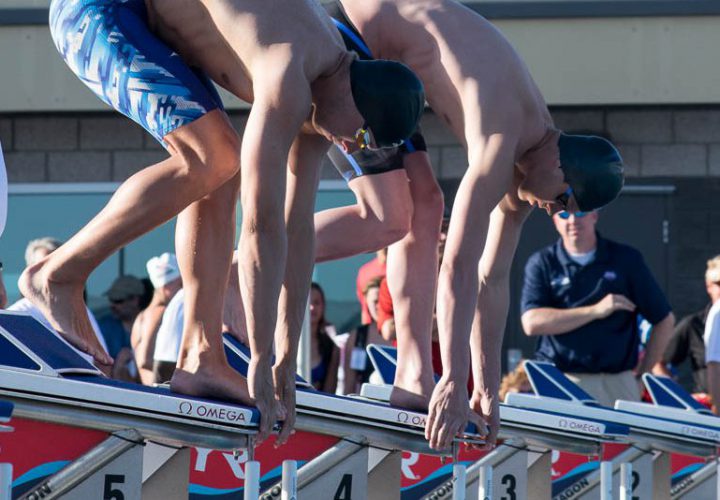 Photo Courtesy: Aurora Blackwell
Editorial content for the 2018 TYR Pro Swim Series Mesa is sponsored by SwimOutlet.com. Visit SwimOutlet.com for more information on our sponsor. For full Swimming World coverage, check out our event coverage page.
By David Rieder.
Swim a 50-meter race. If you are one of the four best finishers in a field of eight, get out, walk back to the other end of the pool and do it again. If you touch first or second, get out, walk around, and race one more time, a one-on-one battle for the prize.
Exciting? Of course. Exhausting? Definitely.
The shootout 50s were a new concept for this year's TYR Pro Swim Series, with the quarterfinals-semifinals-finals format scheduled for the final day of the Austin, Mesa and Santa Clara stops. At the Austin stop, the format was different, grouping each round of two strokes and giving some time for recovery. But based on athlete feedback, the time in between each round was shortened in Mesa.
Starting off with butterfly, the format went women's quarterfinals, men's quarterfinal, women's semifinal, men's semifinal, women's final and men's final. Then repeat that format with backstroke and, later on in the session, with breaststroke and freestyle. In between rounds, the swimmers got about seven minutes to rest, and the top two in each event swam three races in less than 20 minutes.
Can anyone say lactate set? Multiple all-out efforts with barely any time to warm down in a super-intense format. Maybe it's not exactly a rehearsal for any format at a major meet coming up, but it's excellent training.
Michael Andrew swam all three rounds of both the fly and free shootouts, and he won the fly over Tim Phillips in 23.38. But after he swam his fifth race of the night in qualifying for the 50 free final, he felt the effects of the lactic acid buildup. Neither he nor Nathan Adrian swam as quick as they had in the earlier two rounds, and Adrian won big, 22.94 to 23.70.
For some perspective, Andrew swam a time of 21.93 to beat Adrian at the last Pro Swim Series stop in Atlanta. But fatigue is undefeated.
"23.7, I don't remember the last time I went 23.7, and it hurt that bad," Andrew said.
Andrew spoke about using each swim as a learning experience, and he said that he paid attention to swimmers like Adrian to see how they handled the quick process—get out of the pool quickly, warm down, get dry, get ready to go again.
No swimmer thrived under the setup like Olivia Smoliga, who finished first in all three rounds of women's backstroke and improved her time on each occasion, from 28.08 to 27.89 to 27.43. The final time was a new American record and made Smoliga the 11th-fastest performer ever in the event.
"That just means my 100 back should have been faster," Smoliga quipped, referring to her relatively disappointing 1:00.08 from Friday. "But it is what it is."
Smoliga had planned to build through her three races, and she had a strategy for making sure she was doing enough each time to qualify for the next round.
"This is bad—I probably shouldn't be seeing people to the sides because I lift my head up—but you kind of have to gauge yourself against the field to get that top four and then get that top two," she said.
Despite the obvious difficulties of the format, athletes genuinely seemed to enjoy the shootout format. In comparison, the mystery-order 200 IM, the other major new addition to the Pro Swim Series this year, has not been a huge hit with the swimmers, with three A-finalists and both winners from the women's and men's races in Mesa opting out of the mystery format.
The shootout 50s, on the other hand, seem to be a hit. They're different, they're exciting, and they're great training. Athletes enjoy them. What else could you want in April?