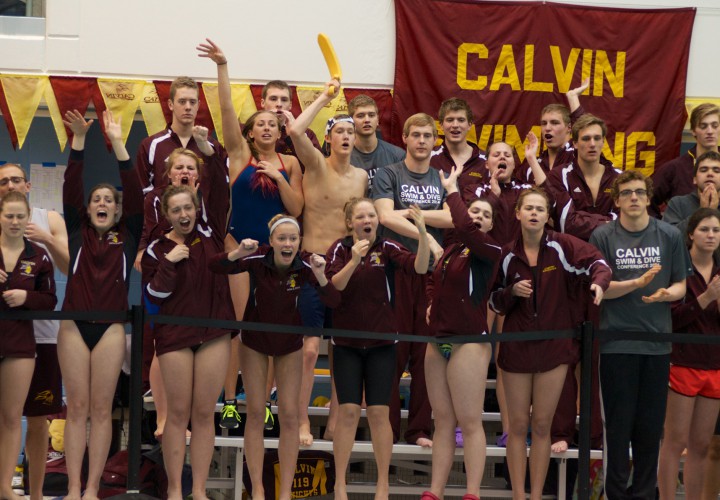 Photo Courtesy: Calvin College Athletics
By Katlynn Emaus, Swimming World College Intern
Going through the college recruiting process is a long, tiring, yet exciting process. From getting your first letter from a college your freshman year to the phone calls and unofficial visits junior year to the official visits senior year, all in all it is a four year process. An athlete will never have an experience like this again. There are a few important things to consider before making your college decision.
1. Academics
Obviously you are getting recruited for swimming, but at the end of the day, sport should come second to the academics. As much as swimming dominates competitive swimmers' lives, when it is time to hang up the cap and goggles your academics will take you much farther. Make sure to find schools that have great academic programs for what you are interested in. If you are undecided, then make sure they have the tools to help support student life and make declaring your major much easier.
2. Teammates
College swimming is a commitment. A very large commitment. Your teammates will become your family. They will have your back and will want you to succeed in everything you do. When you visit on a recruit trip, try to read the team. See if they are putting on a show because they have recruits or see if that is actually how they act. If you feel uncomfortable around them, you may want to reconsider because those people will become your family and you will be spending a lot of your time with them.
3. Financials
It's no secret that college has a price tag on it. A very large, expensive price tag. However, that shouldn't always hold you back. It is true every family has different financial stability and each athlete can be offered a different amount of money. But, I once had a teacher tell me that college is one of the few things that you can do for you. You are born into the elementary school you go to, you are born into the neighborhood you live in. But with college, you make the decision. You can go far. You can go near. It is one of the very few things in life that you can do solely for you. I remember the teacher telling me, 'You can pay off the debt later, but the memories you make will stay with you forever and make up for every cent that you repay to a university that made you.'
4. Do it for You
Don't go to a college to try to impress people at your high school. Just don't. As mentioned above, this is all you. Who cares what the other people think. If you are happy at a college in the middle of the Alaskan tundra, great! People who care about you will be happy and support you, no matter what. And if people judge you for your decision, let me tell you, they won't be a factor in your life from the day you graduate high school to the day you die.
5. Commit
When you commit to a college, fully commit. Don't have regrets. Don't think about what could have been. College is what you make it. If you sit and think of the other opportunities that could have been you will miss out on the opportunities at hand. Make your decision and don't look back. Have complete faith that you made the right choice. Enjoy your teammates, enjoy the dorms, enjoy the cafe food. College years are years you won't get back. If you spend all the time thinking about what it would have been like if you committed to another school you will miss out on the present memories.