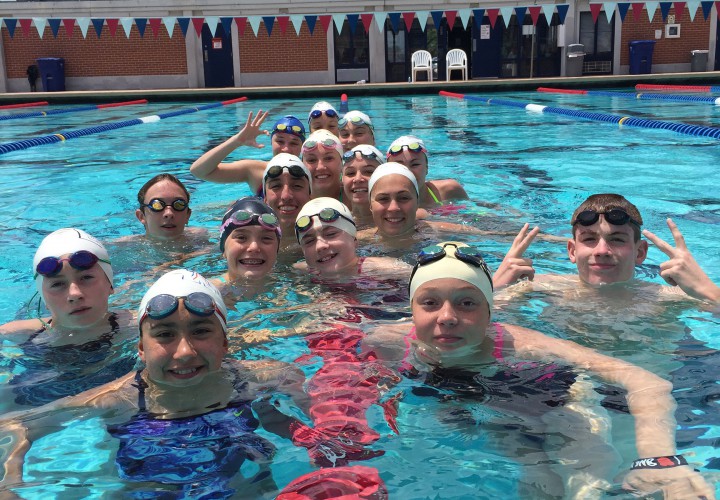 Photo Courtesy: Arizona Swim Camp
By Jake Renie, Swimming World College Intern
As school gets out and homework is a thing of the past, the sun shines all day and kids run outside to play. For some children, attending camp is the way to spice up your summer fun. Through hard work and dedication, thousands of swimmers across the world train in long course meters during the summer season. They combine their training with summer camps, and the idea of swim camp is born.
With many different swim camps across America, most swimmers can travel an hour down the interstate or thousands of miles across the country to attend their favorite camp. Both this and last week, I have worked as a counselor at Purdue University's Black and Gold Swim Camp.
Here are five excellent reasons why you should attend a summer swim camp:
1. You'll want to come back.
The goal for swim camps is to get people to come back the following summer, and they normally do a very good job at doing so. Even from a different state, many kids find the opportunity to work swim camp into their annual schedule. I was able to talk to a yearly camper named Andrew from the Ohio State Swim Club in Columbus, Ohio. When I asked him what about camp makes him want to keep coming year after year, this was his response…
"After working continuously on my technique at camp, I was able to transfer that into my home club when I went home. I soon started to notice substantial time drops in my events, and I want to keep dropping time, so I come back!"
You can't put it any more simply than that. If you're willing to put in the effort and the focus, then soon enough it will pay off and give back to you in your races.
2. You build relationships with other campers.
As human beings are naturally social creatures, it's normal for kids to make a new friend with someone in their lane. Obviously, since you both like swimming, a bond can start there! With many kids now having phones and various accounts on social media, campers can find it easy to stay connected with their new friends. I was lucky enough to strike a conversation with a returning female camper  about how she builds new relationships at camps…
"It's so easy to find a new friend once you swim together that first day. Even when I realize that they are from the same state as I am, we make sure to exchange information so if I'm going to a swim meet, I can ask if they are going and maybe see them there! I find it very easy to keep in touch with my new friends, and we even text each other several times a month to catch up!"
3. Even the counselors learn from camp.
As many of the counselors are student-athletes at their respected universities, it turns out that many of those campers who are being taught are teaching their coaches! Sophomore Purdue swimmer Erik Juliusson was able to explain to me perfectly how the campers help him with his own collegiate swimming career…
"Since we teach these kids many of the basics, it's good to refresh those drills in your mind. As a college athlete, these details could get lost in the intense training regimen. Also, having a great stroke technique can really take you to the next level. We think about how to better a freestyle pull while we teach it to the campers, then apply it to our own practice later that day. Being role models to many of these campers is very humbling to us. Not only does it put us on our best behavior, but you remember yourself being that camper that looked up to your counselor, and we use those memories to help better their experience for everyone."
4. It's fun!
Yes, this is the common mom phrase when she tries to get you to do something that you don't want to do. Usually you roll your eyes and slightly groan, but this is one thing you need to be excited about! All camp staff want you to have as much fun as possible, so then you can tell your friends and THEY get jealous and want to come to camp the following year! One camper, Ella from Homewood Flossmoor Swim Club, gave me an excellent quote on the number one thing she tells people when she goes home…
"'It's the funnest thing that I've ever done!' is what I tell my mom before she can even ask me how camp was! Even with the hard workouts, we still do really fun things and go to really cool places on the campus!"
5. Yet it's not all fun and games.
For some swimmers, going to camps is geared more towards the hardcore sets and grueling training. It's beneficial for your health to have fun though, and creating that balance is perfected by only the best of directors. Black and Gold Swim Camp Director, Darlene Renie, explains how she perfects this in preparation for her camp…
"When campers first sign up online, they will see a typical camp day on a schedule so then they aren't caught off-guard. In the morning, we challenge their mental aspect with technique in the morning, and then test their physical abilities after lunch with a normal practice. Soon after, we'll do cool things like fountain runs or book store visits, and then at night they have starts and turns. After some fun relays at the end of the last practice, that's where things can really get tough. Being exhausted from a long day, many kids will call their parents and soon realize that they are homesick. That's why we'll have games and movies available before bed, so then we create a fun and friendly atmosphere where campers can distract themselves from their homesickness and have fun with other campers or counselors! We do our very best to make sure that each camper has a wonderful time!"
So if you haven't yet, maybe you can catch a summer swim camp later in the season, or you can wait until next summer and sign up for several camps! Change is a nice thing at times, and it's always fun to travel across the country and visit places that you've never been before!