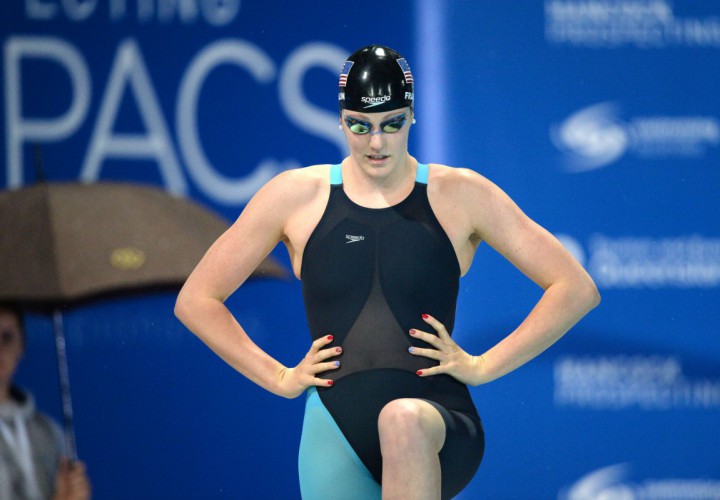 Photo Courtesy: Delly Carr
By Diana Pimer, Swimming World Intern
Every time a swimmer steps on the blocks, hops into warm-up, jumps in for practice, swims a relay,  they are representing more than just themselves. Not every swimmer has their entire country on their backs when they swim at the Olympics Games. Not every swimmer has millions of people depending on them to do their best.
All swimmers do have one thing in common- they are representing people from many different places every time they swim. The swimming community stretches worldwide, with athletes from all different countries striving for greatness. On the other hand, the world of swimming is also very small. Swimmers typically know all about other swimmers.
Behavior in and out of the pool is representative of a long list of people, so it is important sometimes to take a step back, remember where you came from, and appreciate all the people you are representing every single time you dive in the pool.
Here are 4 entities you represent when you swim:
1. Yourself
Photo Courtesy: Cindi Dayton
Most importantly, you are representing yourself. No matter where you go, someone will know who you are, or that you are a swimmer, or who you are associated with. Every time you scratch an event, or skip a 50 in practice, you are setting up your reputation. At the same time, every time you help out a teammate or shake an opponent's hand, you are doing the same.
The first thing you are given in life is your name. It is up to you to determine how you want people to remember it. No matter what you choose to do, it is important to remember that good or bad, there is always someone watching. That 8 & under swimmer who looks up to you like a sibling, or maybe a college coach, are looking at how you represent and carry yourself. Be the swimmer you want to be and hold yourself to a high standard. Remember that you are the one who molds your reputation.
2. Your Family
Photo Courtesy: Evan Pike – USA TODAY Sports Images
For most of us, our family are our biggest support system. In the middle of that mile or the last lap of that 200 fly, keep in mind the people that drive you to and from practice everyday, keep you fed and hydrated, and cheer you on whether you are first or last. It is easy to get caught up in the fast-paced swimming lifestyle. But it is important to remember who helped you get where you are. In swimming, and in everything you do, you are representing your family and their legacy. Swimming gives you an opportunity to leave your own legacy, so embrace it. Make your family proud, and pave the way for the future.
3. Your School
Photo Courtesy: SwimmingWorld.TV
Whether you are in high school or college, you are representing your institution as well. Whether you are the star swimmer or the football quarterback, people know who you are and want to support you. When the basketball team wins a national championship, the whole school wins a national championship. It is no different for swimming. When you win a race or break a record, so does your school.
Athletics play a huge role in both high schools and colleges. Take pride in where you are and do your best for your teammates, professors, and even those classmates who only seem to know about swimming when Michael Phelps is winning 8 gold medals. You may not realize it, but they are depending on you for some of their own happiness, whether they are directly involved or not.
4. Your Hometown
Photo Courtesy: Peter H.Bick
When you accomplish something big, it will probably be in the local paper and, of course, your mom will probably post it on Facebook. These notifications bring back memories and happiness for many people. Even when you leave your town, you are always representing them. You are successful, most likely, because of the third grade teacher that believed in you, that club coach that knew exactly how far to push you, and that kid in your tenth grade math class that always supported your swimming for some reason.
The people from your hometown will always support you. You have the common bind of where you grew up, and your success is their success. Where you grew up will always be a part of you. In or out of the pool, your accomplishments will make more people happy than you think.
Not everyday will be perfect, and you will probably make a couple of mistakes along the way. But the next time you want to skip practice or scratch that 400 IM final for no real reason, remember that you are representing more than just yourself in that moment.