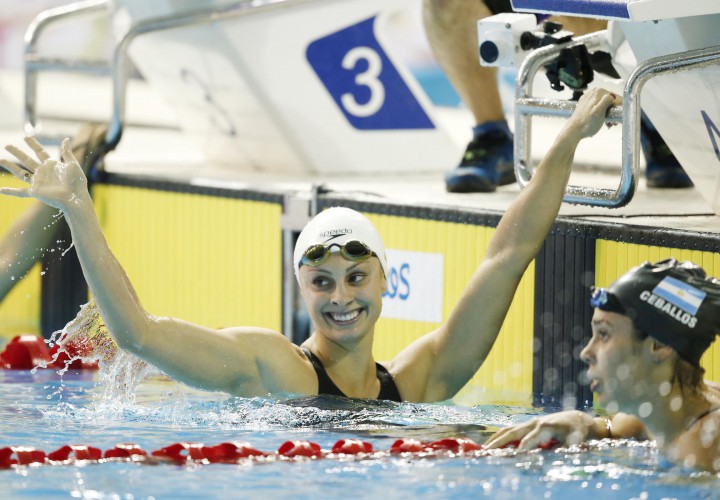 Photo Courtesy: Erich Schlegel/USA Today Sports Images
By Brittany Oxley, Swimming World College Intern
Taper, one little word that brings so much joy to swimmers. It's the point of the season where your yardage significantly decreases as you rest for your end-of-season meet. You feel on top of the world. Being well-rested helps your muscles recover and keeps you feeling strong for optimal performance at your big meet.
While eating on taper, it is important to be cautious of the foods you put in your body. You are no longer burning calories during practice like you were before. So eating the same way as you did while you were in season could harm your taper. The food you eat gives you energy to be at your best. Certain foods can help you maximize on your upcoming success, while other foods can hinder those goals. You should aim for healthy, nutritious foods instead of sugary foods.
USA Swimming has a recommended guideline of your daily food consumption while on taper. They suggest 60 percent of your diet to be made up of carbohydrates, 25 percent fats, and 15 percent protein.
But what are some foods that you should eat and what should you avoid?
DO eat…
1. Carbohydrates
You've probably heard someone tell you to "eat pasta" the night before a meet. While this is true, studies say you should start upping your carbohydrate intake about three days prior to your meet. Carbs give you the energy to swim. Without energy, your body cannot perform at its best. It is important to make sure before your meet and at your meet that your body is getting the energy it needs. Pasta, rice, potatoes, green vegetables, and bread can be good foods to eat for your carbohydrate intake.
2. Fats
Yes, fat is healthy for you. But not the processed chocolate cake that you're probably thinking about. Fats are good for your heart and help circulate blood flow throughout your body. Dairy items, such as milk, eggs, and cheese, are high in fat content, but the fat that is beneficial to your body. Nut butters are also high in fat content. If you want a quick snack on taper, try eating peanut butter or almond butter with a banana.
3. Protein
It is important to always have a protein intake. You should strive to have 15 percent of your daily diet be from protein. Lean protein is the best for you during taper, as it provides amino acids to help with muscle recovery and repair. Some good lean proteins to eat would be fish, white meat chicken, and lean cuts of beef. For vegetarians, beans and low-fat dairy are good sources of protein as well.
4. Water
Water intake will not only help your body store carbohydrates for energy, but will help hasten the flush of lactic acid out of your system. You should start drinking more water during taper, not when you show up to your meet. Staying hydrated is important because you sweat when you workout and race. Even if you can't feel it, it's happening. In order to ensure peak performance, push your water intake.
DON'T eat…
1. Sugar
Sugary foods have no nutritional benefit for you. Sure, they may taste good, but try to avoid them while you're on taper. Sports drinks such as Gatorade and powerade help you because of the electrolytes they have, but they are still high in sugar. If you drink them, try diluting them with water, or alternating drinking one water bottle for every one sports drink. You should also minimize the amount of processed foods you eat while on taper. If you are craving something sweet, try eating fruit or Greek yogurt instead.
2. Salt
Salty foods and excessive sodium can cause bloating and dehydration. One of the most important things during taper is staying hydrating, so salted nuts or salted crackers could affect you. Instead of salted nuts, try unsalted. You could also try things like peanut butter, air-popped popcorn or multigrain crackers.