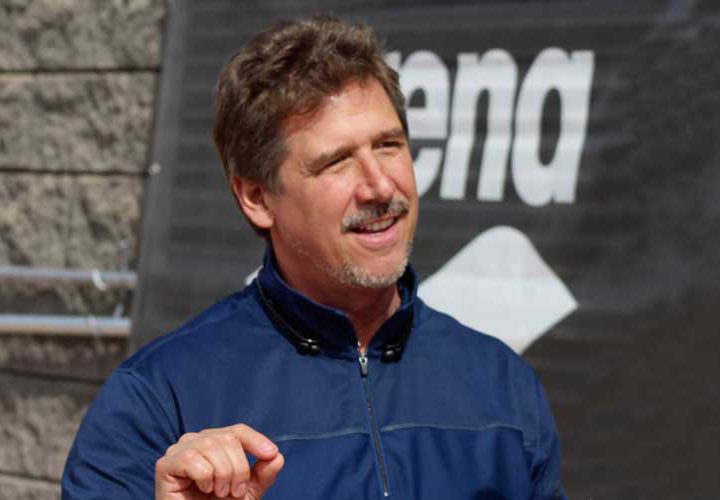 Photo Courtesy: Peter H. Bick
In celebration of the 30th anniversary of the partnership between USA Swimming and Speedo USA, the organizations announced the "30 Most Influential People in Swimming over the Past 30 Years" to recognize those who have made a significant impact to propel swimming into the pre-eminent Olympic sport.
The decorated athletes, coaches, media and governance leaders are honored for their direct and significant influence in the growth of American swimming – through innovations, growing participation in the sport, increasing the reputation of the sport through his/her contributions, shaping the swimming industry or trailblazing a path for the sport to move forward in a way that wouldn't have happened otherwise.
Honorees, whose bios may be found on www.usaswimming.org/Speedo30,  Today we feature Brent Rutemiller
Who is Brent Rutemiller?
CEO of Sports Publications International
Publisher of industry-standard Swimming World Magazine which is distributed world-wide to 143 countries
Conceived and built the groundbreaking SwimmingWorld TV
Winner of 2008 International Swimming Hall of Fame Service Award
Winner of 2014 American Swimming Coaches Association Media Award
Creator of "The AquaZoids" – animated educational material distributed globally and translated into multiple languages
Authored "Below the Surface: How to Survive and Succeed in Building a Competitive Swim Club"
Editor of Swimming Technique Magazine from 1990-1996
Began career in 1976 as assistant coach to Frank Busch (now National Team Director) in Northern Kentucky
Taught Business Law and served as Aquatic Director for Dearborn County, Indiana
Stroke Coach for the Mission Viejo Nadadores in 1986 under Terry Stoddard, replacing

Walt Schlueter

Helped design and oversaw the construction of former Phoenix Swim Club complex in Arizona with Pierre Lafontaine and Dennis Pursley
Former Head Coach for the Scottsdale Aquatic Club tasked with building a comprehensive competitive program sponsored by the City
Certified Level 5 American Swim Coach who served as a National Team Coach for USA Swimming
Inducted into Covington Catholic High School Sports Hall of Fame as high school swimmer with Kentucky state titles and records
Head of a Special Olympic swimming delegation out of Arizona for over 20 years
Honored by USA Swimming with a service award for his work with disabled athletes
How has he influenced the swimming community?
If you have leafed through the glossy pages of Swimming World Magazine, watched an episode of "The Morning Swim Show" or tried a new drill because of Swimming Technique Magazine, you've been touched by the work of Brent Rutemiller. Vehement about distributing the news in an intriguing, accurate, and ethical way, Rutemiller has been dispensing valuable information to the swimming audience since 1985. He has had a microphone in-hand to report some of swimming's most momentous moments, and has become a familiar on-site voice of the sport.
Rutemiller's coaching background shines through in his passion and desire to investigate anything which may be threatening the integrity of our beloved sport. When Rutemiller conceived the idea for SwimmingWorld TV, he was not met with optimism. He pioneered the online TV platform in the world of swimming and changed the way the swimming community ingested the news. Rutemiller continues with his ingenuity and sparks a new idea every year to keep you, the fan/nerd/coach/athlete, on the wave and never in the wake of breaking news.
Rutemiller lives with his wife Ellen, sons TC and Richie, and daughter Shoshanna in Phoenix, Arizona.
Words from the swimfluential Brent Rutemiller:
"It is truly an honor to be recognized by USA Swimming and Speedo USA for the work we do at Swimming World to promote the sport.  However this honor is shared by the entire Swimming World staff and those who came before us, especially Dick Deal, whose unconditional support has allowed Swimming World to evolve through the years."
– Brent Rutemiller
*USA Swimming and Speedo invited the swimming community to help celebrate their 30 years of partnership by voting for the "30 Most Influential People in Swimming Over the Past 30 Years." Votes were cast through social media with the hashtag #30MostSwimfluential and the final vote came from a panel of 10 judges selected by USA Swimming and Speedo. All 30 nominees have had a powerful impact on the swimming community. Many are recognizable names, but some have remained unsung heroes of the sport. Swimming World will profile each swimfluential person over the course of the week.