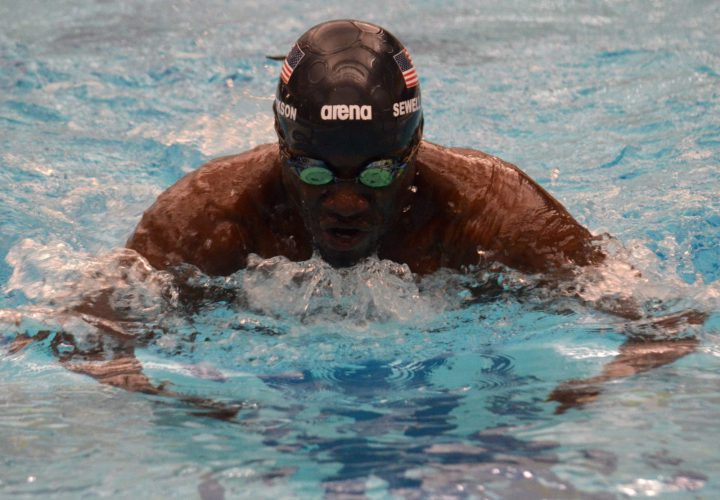 Roderick Sewell Jackson.
Photo Courtesy: Dan D'Addona
By Dan D'Addona.
Roderick Sewell Jackson was always forced to adapt to adversity — and overcome it.
Growing up without a father in the picture, he had both legs amputated above the knee before the age of 2. He then spent ages 7-12 without a home.
Somehow, he always managed to keep a smile on his face.
"The best thing to do is stay humble and look for the positive," he said. "It makes you want to do more and do better. I have never let my situation hold me back."
Now 25, Sewell Jackson is a member of the U.S. Paralympic swim team — and a gold medalist. He was part of a gold medal relay a the world championships in Mexico City during the summer.
He has come a long way since a rocky childhood.
"I was born missing tibias in both of my legs. The doctors amputated both legs when I was one and a half," he said. "It was a rough situation for my mom and I. She had to make the decision to get my legs amputated and she didn't really have the funds necessary to get me prosthetics, so she filed for unemployment. Even though that got me the prosthetics I needed — the ability to walk — it put us in a financial bind. We ended up homeless when I was 7 until I was about 12. We are really close. It was just me and her growing up.
"We were back and forth between family members houses and shelters. We were never really on the street, which I am so thankful for. She definitely did her best and it worked out in the end. I can walk. There is no hard feelings toward the situation. We moved out to Alabama when I was 12. Once we got out there, we got into a steady household. Even though that happened, it built character."
That is evident to anyone who crosses paths with him. His Twitter page displays his mantra: "No Legs, No Limits."
"He had a tough home life growing up. He didn't have dad in the picture in a positive, significant way. In addition to overcome a disability, and a significant one being a double above-knee amputee, he had those kinds of things," U.S. Paralympic coach Nathan Manley said. "He is motivated by doing things that look like he shouldn't be able to do. He is really well connected at home, too. He is back with the Challenged Athletes Foundation. He is positive. He is a really good trainer. He likes to interact and that draws people in."
Sewell Jackson has been involved with the Challenged Athletes Foundation, which has allowed him to emerge as a role model. He is looking to qualify for the Paralympic World Series and PanPacific Paralympic Games later this year.
"I learned how to swim at age 10 and I have been Paralympic training since I was 16," he said. "I did a lot of volunteering, helping people with disabilities — and without disabilities — to learn how to swim. I had a lot of athletes I looked up to when I was younger, like Elizabeth Stone. I like that I can be that for someone else."