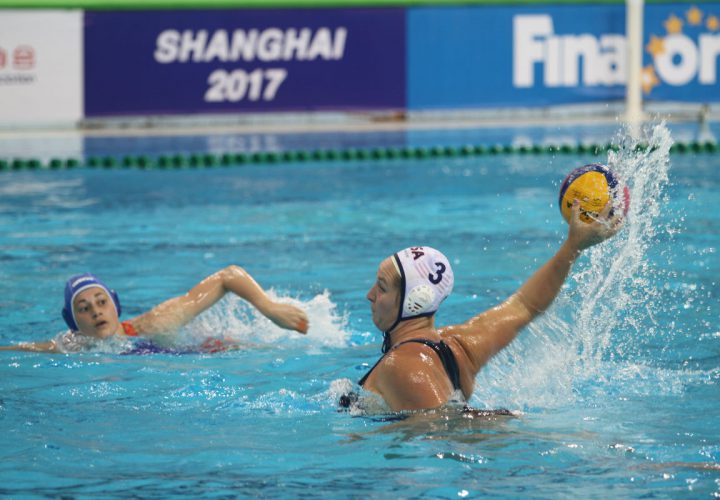 Photo Courtesy: Peter Neushul/USAWP
Editorial Coverage provided by

Women's Water Polo World Championships: USA vs. South Africa
The USA Women's National Team, defending FINA World Champions, delivered a convincing victory to start their run at the 2017 FINA Water Polo World Championships in Hungary with a 24-2 win over South Africa. Jamie Neushul (Isla Vista, CA/Stanford/Santa Barbara 805) scored a game high six goals, Melissa Seidemann (Walnut Creek, CA/Stanford/NYAC) added five tallies and Team USA cruised to a victory that was never in doubt. Gabby Stone (La Jolla, CA/Stanford/SD Shores) went three quarters in net recording two saves while Amanda Longan (Moorpark, CA/USC/Santa Barbara 805) handled the fourth adding a save.
Team USA returns to play on Tuesday against Spain at 4:30am et/1:30am pt. The game will air on Olympic Channel on delay at 4pm et/1pm pt and will likely stream LIVE at NBCSports.com.
The United States stormed out to a 6-0 lead after the first quarter and put the match away by halftime building a 13-0 lead. Jamie Neushul scored three in the first with Seidemann adding two in the second to help build the lead. South Africa broke through in the third quarter with two goals scored but it wouldn't put a dent in the Team USA momentum as five more goals were added, the last coming from Aria Fischer (Laguna Beach, CA/Laguna Beach HS/SET). Team USA piled on six more goals in the fourth to take the win by 22.
Flash Quotes
Adam Krikorian (USA) — Head Coach
"It's always great to get a game under our belt, to prepare us for the next game and the game after that. We are pleased with the win, but we are more pleased with getting a game under our belt. I'm not sure it will help us to prepare, only time will tell. There are always nervous feelings any time you play the first game."
Rachel Fattal (USA) — Three goals
"It was good. It was the first game here and I think for the first game we did it well. I think we have a good team and I'm excited and I think we are going to get better each game we play together. It's going to be very good, hopefully."
Scoring
USA 24 (6, 7, 5, 6) J. Neushul 6, M. Seidemann 5, K. Neushul 3, R. Fattal 3, P. Hauschild 2, M. Fischer 2, A. Fischer 2, A. Williams 1
RSA 2 (0, 0, 2, 0)
Saves – USA – G. Stone 2 – A. Longan 1
Penalties – USA – 0/0 RSA – 0/0
Press release courtesy of USA Water Polo.