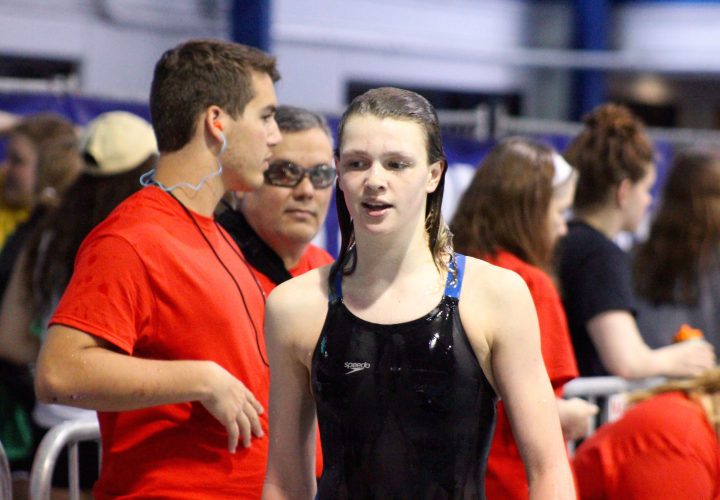 Nation's Capital's 14 year old standout Phoebe Bacon led the first event of the fourth morning, finishing first in the women's 100 backstroke in 53.31. The Aggie's Julia Cook came in second in 53.87. Carly Quast of the Aquajets rounded out the top three, taking third place in 54.01.
In the men's 100 backstroke, Rockwood's Jack Dolan held onto his top seed, swimming to first in 48.28. Spencer Walker of the Academy Bullets followed in second in 48.75. Walker was just ahead of Cincinnati Marlins's Luke Sobolewski, who touched third in 48.78.
Genevieve Pfeifer of the CSP Tideriders led a trio of 4:44s in the women's 500 freestyle. Pfeifer touched the wall first in 4:44.43. She was followed by Club Wolverine's Sierra Schmidt, who was second in 4:44.85. Paige Madden of City of Mobile earned the third spot in tonight's final with her time of 4:44.88.
David Madej of SwimStrongsville finished first in the men's 100 freestyle, touching in a time of 44.59. Second place went to Nation's Capital's Samuel Pomajevich, who swam to a time of 44.91. Just behind Pomajevich was Rockwood's Dolan for third place in 44.99.
Long Island's Margaret Aroesty claimed the top seed for tonight's final in the women's 200 breast by well over a second. She finished in 2:11.79. Ashley McCauley, representing the Marlins of Raleigh, was second in 2:13.25. Following McCauley was Academy Bullets's Alexis Yager in third place in 2:13.36.
In the men's 200 breaststroke, Reece Whitley of Penn Charter swam to first in a time of 1:56.64. In second behind him was Nation's Capital's Timothy Wu, who dropped two seconds from his seed time to go 1:57.17. Wu's teammate, Spencer Rowe, followed him for third place in 1:58.20.
Gators Swim Club's Talia Bates placed first in the women's 100 butterfly this morning. She finished in 53.82. Second place went to Isabella Gati of Nation's Capital, who touched in 54.18. The Aquajets's Rachel Wittmer came in third in 54.33
Camden Murphy of Kingfish was the lone swimmer under 48 seconds in this morning's heats of the men's 100 butterfly. He swam to a time of 47.96. Nation's Capital's Pomajevich came in second place in 48.15. Marlins of Raleigh's Zachary Brown took third place in 48.26.
All results can be found on Meet Mobile.