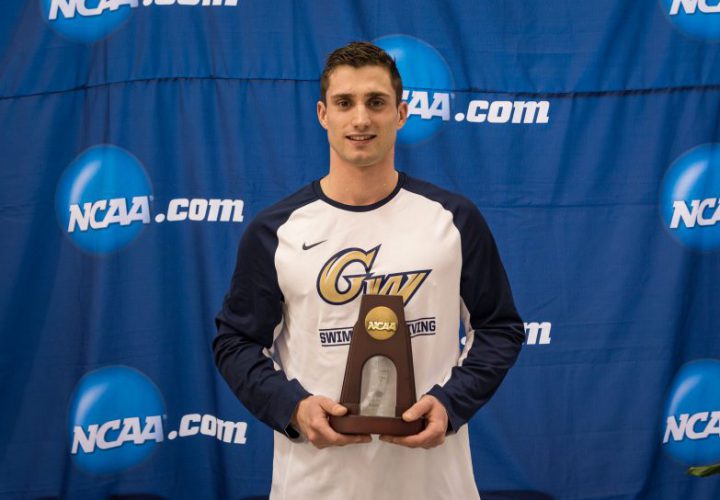 George Washington senior Andrea Bolognesi broke the first records of the night in the men's 100 butterfly. His time of 46.91 broke the meet and conference records set by St. Louis's Ryan McCoy. McCoy set those records this morning in 46.97.
In the women's 200 freestyle, Davidson's Elise Lankiewicz broke her own conference, meet, and pool records for the second time this meet. Her time of 1:45.14 broke her own record she set on Wednesday leading off Davidson's winning 800 freestyle relay.
Bolognesi came back for more in the 100 breaststroke, this time breaking the meet and pool records, which he set this morning. His time of 52.24 narrowly missed his conference record set last year. At last year's NCAA Championships, he finished eighth in this event.
Gustav Hokfelt also had a record-breaking day in the men's 100 backstroke. After breaking the conference and meet records this morning, he dipped below the 47 mark in 46.94 to re-break his own records.
Women's 400 IM
The women's 400 IM came down to the finish, but Massachusetts's Meriz Werenski got the win. Her time of 4:17.46 was just ahead of Lexi Santer. Santer, a junior from Duquesne, finished second in 4:17.74.
Fordham's Megan Polaha placed third. Her time was 4:18.30.
Men's 400 IM
St. Bonaventure senior Michael White Jr. dominated the men's 400 IM. His time of 3:52.18 was four seconds faster than the next closest competitor.
Fordham's Greg Lombana was the runner-up, finishing in a time of 3:56.35. He was just ahead of St. Louis's Austin Nguyenphu. His time was 3:56.63.
Women's 100 Butterfly
After her record-breaking day yesterday, George Mason's Sydney Fisher came back for another win, this time in the 100 butterfly. Although missing her own conference record, her time of 53.48 was well ahead of the rest of the field.
Fordham freshman Mia Bullock finished second behind Fisher in 54.44. She was followed by Richmond's Hannah Matheson. Matheson was third with a time of 55.17.
Men's 100 Butterfly
After breaking the meet and conference records this morning, McCoy followed Bolognesi tonight for second. He finished just slower than his morning swim in 47.05.
La Salle's Cameron Fadley finished third. His time was 47.94.
Women's 200 Freestyle
Lankiewicz won handily, finishing three seconds ahead of Richmond freshman Virginia Marsh. Marsh swam to a time of 1:48.10 for second.
Third place went to Marsh's teammate, Annie Lane. Lane came in third at 1:48.80.
Men's 200 Freestyle
The top three finishers in the men's 200 freestyle all finished within .60 of each other. To top that, all three were freshmen. George Washignton's Moritz Fath got the win in 1:37.35.
Fordham's Joseph Vizza came in second, swimming to a time of 1:37.75. Vizza finished just ahead of Fath's teammate, Maximillian Forstenhaeusle. His time was 1:37.95.
Women's 100 Breaststroke
Davidson senior Katy Williams finished first in the women's 100 breaststroke. She swam to a time of 1:01.63, touching out Massachusetts's Ansley Baker. Baker came in at 1:01.84.
Nicole Petta, representing Rhode Island, was third. She finished in 1:02.16.
Men's 100 Breaststroke
Bolognesi won the 100 breaststroke by nearly two seconds. Preston Schilling, a senior from St. Bonaventure, was the runner-up. His time was 54.17.
Schilling's teammate Matt Goettler came in third. He swam to a time of 55.18.
Women's 100 Backstroke
Richmond freshman Hannah Gouger led the way in the women's 100 backstroke. She finished first by over a second with a time of 53.69.
Gouger's teammate Maggie Pope came in second. Her time was 54.89. La Salle's Olivia DiStefano placed second, swimming to a time of 55.07.
Men's 100 Backstroke
After Hokfelt, La Salle's Fabian Bergman finished second in the men's 100 backstroke. He swam to a time of 47.41.
Massachusetts's Oliver Wyeth came in third, touching at 48.30.
Women's 400 Medley Relay
The Davidson women claimed yet another relay. The team of Anabelle Durham, Williams, Lankiewicz, and Erica Clancy swam to first in a time of 3:41.94.
Richmond's team of Gouger, Morgan Soulia, Matheson, and Lane came in second. Their time was 3:43.46. Representing Massachusetts, Maddie Biron, Sydney Connor, Rachel Grant, and Baker finished third in 3:45.49.
Men's 400 Medley Relay
To finish a stellar night, the George Washington men won the 400 medley relay. Hokfelt, Bolognesi, Ben Fitch, and Forstenhaeuslelian combined for a time of 3:13.63.
The finished just ahead of the La Salle team of Bergman, Dimrije Mladenovic, Fadley, and Marcus Forsgren. Their time was 3:14.69. Fordham's Isiah Magsino, Sean Finlay, Joseph Mercurio, and Vizza came in third at 3:17.93.
At the end of night three, the Richmond women lead with 413 points. The George Washington men are in first with 378 points.