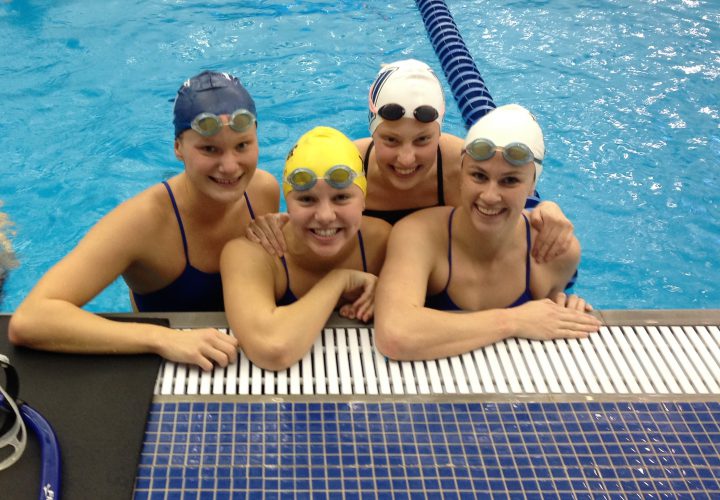 By Caitlin Daday, Swimming World College Intern
With my 21st birthday coming up this weekend, I thought it would be an appropriate time to think about one of the things that has been a part of my life for nearly all those 21 years: swimming.
Swimming has been my life for so long, I cannot even remember a time when I was not swimming. From playing with my cousins at my grandparents' pool, to summer league to a Division I team, many of my best memories have somehow involved swimming.
So, to honor the sport that has defined my life in so many ways, here are the 21 things I love the most about swimming:
1. Racing.
The feeling of racing–of getting up and giving everything–never gets old.
2. Challenging myself.
You never know what you can do until you try, and I love being able to test myself to see how far I can go. Even when I fail, I love being able to push myself.
3. Traveling all over for meets.
I love traveling to new places for meets. I have gotten to see so much more of the country than I ever would have if it weren't for travel meets.
4. My best friends.
My best friends have all been my teammates. Being on a team is the best way to get close with anyone. I have been lucky to be surrounded by so many girls who genuinely care about me.
5. Setting big goals.
I love setting goals that are seemingly far beyond reach. I like being able to dream of all the possibilities of where I can go. For me, swimming is all about having something to chase.
6. Achieving those goals.
I'm not sure there is a better feeling than achieving something you've put everything into. Making your dream become reality is pretty amazing.
7. The amount of food I'm able to eat.
On the outside I may look skinny, but on the inside I am always hungry. Thanks to swimming, I can eat pretty much whatever I want, whenever I want (which is always).
8. Swimming farther than any normal person could ever imagine.
I love talking to normal people, or even other athletes, and telling them my event is the mile. For most people, even a few laps at a time is a lot, let alone 66 at race pace. It is really cool to think that I do something routinely that most people could not even imagine.
9. Being on the podium.
Swimming has never been much about the awards for me. But the feeling when you do get one is something special– that moment when, even if you're not first, all eyes are on you. You get your five minutes of feeling important.
10. Team trips.
Even though sometimes too much closeness gets to be a lot, team trips are unforgettable. I skipped my senior prom to go to the Charlotte Ultraswim, and I would make the same choice again. The memories and random inside jokes I have from team trips are the best.
11. Crazy coaches.
Swim coaches are one of my favorite species– when I say "crazy" it's in the most loving way. I have had so many over the years, but each has been unique. They have all taught me something and are some of my favorite people to talk to.
12. Making friends from all over.
Between zone teams, camps, college, or just being at meets, I have made so many friends from all over the country and world. I have been exposed to so many different kinds of people from all different places and cultures. Without swimming, I know this would never have been possible.
13. Relays.
I used to hate relays (particularly when I thought I was wasting my time on 'F' relays at random club meets), but now I love them. Besides a chance for me to pretend I am a sprinter, it is great to be a part of something that is not just for yourself.
14. Big meets.
There is nothing like going to your first big meet. You usually feel like the definition of a small fish in a big pond. I will never forget warming down next to Dara Torres at my first Grand Prix in Minneapolis in 2011 and being a little star-struck. To me, getting to big meets keeps me motivated.
15. Making new cuts.
Achieving a new cut is my favorite part of swimming. I will never forget the feeling of getting my first junior national cut and walking around the pool deck feeling like I had just won the lottery. I actually cried tears of happiness. That is the feeling that makes it all worth it.
16. The feeling after finishing a hard practice.
I am not one to forget a hard practice. As I sit here writing this, I could rattle off my top ten hardest practices in under 30 seconds. The thing I remember though is not just that they were hard, but that I felt so accomplished afterwards. I love being able to feel like I did something great and wear that little badge of honor you feel when you just made it through a punishing practice.
17. My lanemates.
I am incredibly territorial about my lane. But it is often the people in my lane that get me through the tough times. They are the best training buddies, motivators, and friends. There is definitely some sort of special bond between you and the people you work hard with.
18. Being part of a team.
Teams are such a different dynamic than just swimming for yourself. It is a special feeling to go out and swim on behalf of the 27 other girls. Swimming for the team takes the sport to a whole new, more meaningful level.
19. The atmosphere at meets.
I will never forget the atmosphere at my first dual meet. People are wild, and it is unbelievable. Even if you are not getting a best time, when the crowd is going crazy, you feel invincible.
20. Close races.
I love the chase. I love being able to battle somebody until the last second, or hundredth of a second. I am probably one of very few people who loves the 400 IM just for the sake of the race. Whether you are watching or actually swimming, the adrenaline rush is amazing.
21. The memories.
Everything in this list adds up to some of the best memories of my life. From meeting my best friends, to the travel, to the laughs and the thrills, that is what I love about swimming. I have invested so much of my life into swimming, and luckily I have gotten so much more out of it than just a sport. So, here's to the start of another 21 years, and probably many more beyond that.

All commentaries are the opinion of the author and do not necessarily reflect the views of Swimming World Magazine nor its staff.