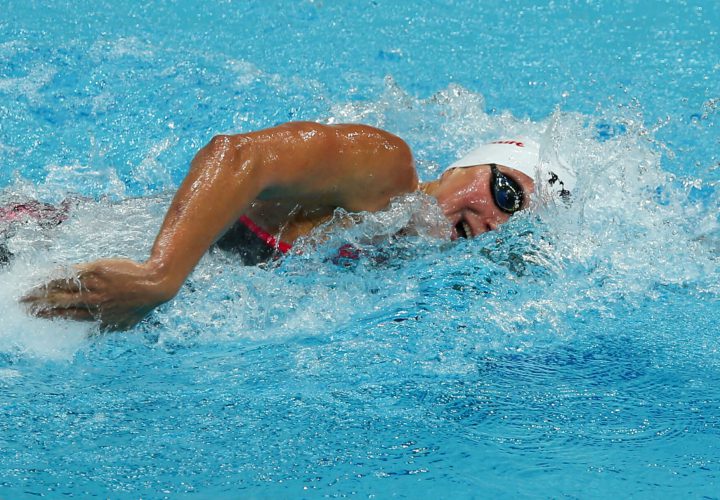 The 2018 French National Championships kicked off on Tuesday in Saint-Raphel, which will serve as the nation's qualifying meet for the 2018 European Championships in Glasgow later this summer. In a unique qualifying criteria, swimmers will have to hit qualifying marks for the European Championships in the prelims of an event and then finish within the top-4 in finals in order to qualify for France's European Games roster.
2018 French National Championships – Results
Day One Events
Women's 400 IM
Men's 400 Free
Women's 50 Free
Men's 50 Back
Women's 100 Fly
Men's 100 Breast
Day One Finals Recap
Women's 400 IM
Fantine Lesaffre – 4:38.98

Cyrielle Duhamel – 4:41.14

Lara Grangeon – 4:44.16
Due to the qualifying criteria set by the French Federation, the winner of the women's 400 IM won't be swimming the event at Euros. Fantine Lesaffre was well under the mark in finals, but was half a second over in prelims, preventing her from earning a spot. Both Cyrielle Duhamel and Lara Grangeon were under the standard in the morning, meaning they will represent France at the European Championships.
Men's 400 Free
David Aubry – 3:48.81

Logan Fontaine – 3:50.13

Roman Fuchs – 3:50.44
Both David Aubry and Roman Fuchs were under the standard to qualify for Euros in the morning, while second place finisher Logan Fontaine was just above in the morning to miss qualifying.
Women's 50 Free
Charlotte Bonnet – 24.78

Anouchka Martin – 25.24

Lena Bousquin – 25.43
The top two qualifiers from the morning heats held onto their positions at night, with Charlotte Bonnet the only swimmer in the field under the 25 second barrier in earlier round. Anouchka Martin will join her in Glasgow later this summer after tying her qualifying time from prelims.
Men's 50 Back
Jeremy Stravius – 25.01

Maxence Orange – 25.45

Paul-Gabriel Bedel – 25.47
Jeremy Stravius was the only swimmer to qualify in the men's 50 backstroke, swimming a 24.85 in prelims before touching in 25.01 to win the national title. No other swimmer was able to go under the qualifying mark of 25.20 in either round.
Women's 100 Fly
Marie Wattel – 58.35

Margaux Fabre – 59.85

Laurine Del'homme – 1:01.02
Marie Wattel was the top finisher in the women's 100 fly and the only woman under 59 seconds in either prelims or finals of the event. She recorded a 58.66 in prelims before dropping three-tenths in finals to win the event in 58.35. Margaux Fabre was the only other swimmer under a 1:00, although she wasn't able to meet the French qualifying time of 59.11.
Men's 100 Breast
Theo Bussiere – 59.46

Wassim Elloumi – 1:01.83

Thibaut Capitaine – 1:01.86
Theo Bussiere won the men's 100 breast by more than 2 seconds in finals, posting a big swim of 59.46 to take down the meet record. He was nearly a second slower in prelims (1:00.26), although that was enough to meet the qualifying standard for Euros and make him the sole French swimmer to qualify in the event.