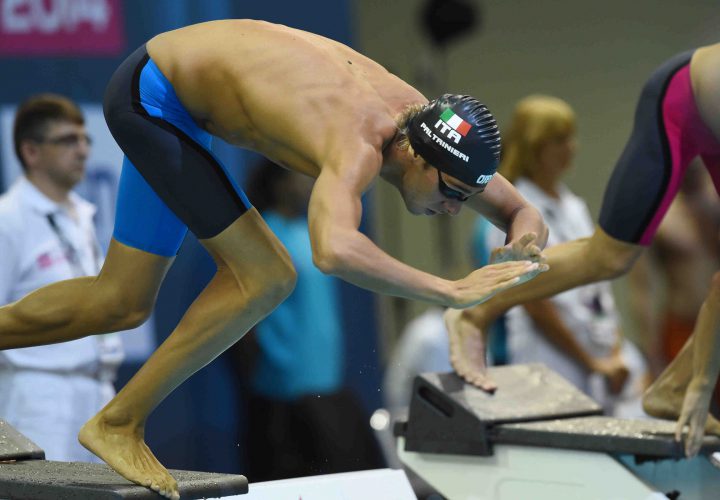 Photo Courtesy: Gian Mattia Dalberto/Lapresse
Day 2 of the 2017 World University Games featured three men's events and two women's events in Taipei.
The heats were highlighted by two very decorated athletes. Japan's Kosuke Hagino took the stage in the 200 IM as the top seed after finishing fifth in last night's 100 backstroke semis. He took silver in this event in Budapest. Italy's Gregorio Paltrinieri will be looking to back up his World Championships gold-medal performance in the 1500 by racing the event here in Tapei.
Teammates Filippo Megli and Domenico Acerenza each earned a top seed for Italy, setting the team up for great success in the semifinals and finals to come later on in the week.
Schedule of Events:
Men's 200 Freestyle
Women's 100 Breaststroke
Men's 200 IM
Women's 100 Free
Men's 1500 Free
Men's 200 Freestyle
Italy's Filippo Megli claimed top honors in the 200 free prelims racing to a 1:48.50. The next nine swimmers, led by USA's Maxime Rooney in 1:49.12, were all under the 1:50 barrier as well. Mexico's Jorge Andres Iga Cesar rounded out these swimmers in 1:49.91. Hagino's 1:50.41 took the sixteenth spot.
Rooney swam nearly an identical race as third-seeded Danas Rapsys of Lithuania (1:49.20). Both out of the heat 8, the men split nearly identical middle 100s and even tied the third 50 at 28.36. Megli used a different tactic, out-splitting the rest of the field by nearly a full second at the 100. He was the only swimmer to race consistenly under 28 second pace per 50. Rooney went 1:47.47 at USA Nationals in June, and should be in the race against Megli for the gold in tomorrow night's final.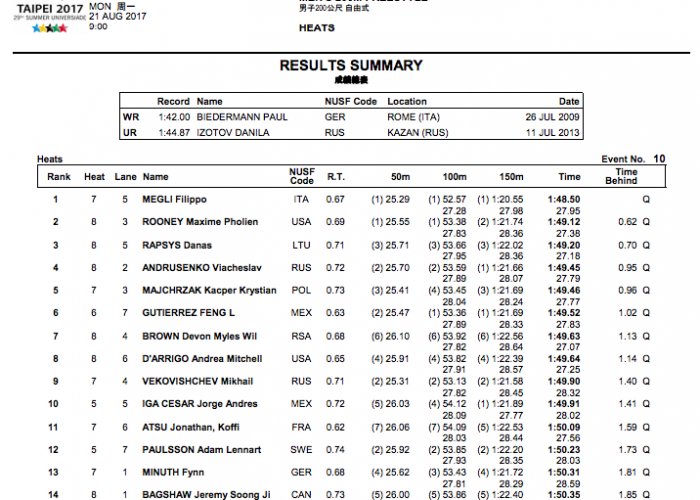 Women's 100 Breaststroke
The Americans claimed two of the top three seeds in the women's 100 breast. Andrea Cottrell led the way in 1:08.18 out of heat 5 while teammate Miranda Tucker won heat six in 1:08.30. South Africa's Tatjana Schoenmaker finished behind Cottrell in 1:08.26. Japan's Kanako Watanabe was also in the mix with a 1:08.51 as was Russia's Mariia Temnikova at 1:08.78. Mariia Liver of Ukraine rounded out the qualifiers by finishing sixteenth in 1:10.79.
It is likely to take under a 1:09 to qualify for the finals in this event. Seven women were under the mark this morning in a tight field.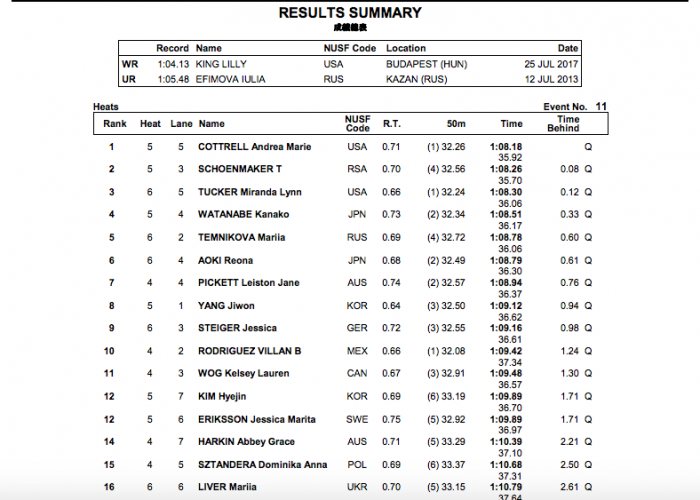 Men's 200 IM
Japan's Daiya Seto handedly won the 200 IM prelims, as his swim of 1:59.88 was the only effort under the 2:00 barrier. Swift fly and breast splits gave him the advantage. He was the only swimmer to split under 35 on the third 50. Teammate Hagino earned the third spot with a 2:01.39 just behind Aleksandr Osipenko of Russia (2:01.35).
Great Britain's Joe Litchfield then led six more men under 2:02 by posting a 1:01.46. Russia's Audrey Zhilkin was tenth in 2:01.85 while Germany's Kevin Wedel finished sixteenth in 2:03.48. Litchfield out-split nearly the entire field on the freestyle leg, though it is likely that Seto backed off on this 50. The only swimmers faster on the back half was the USA's Will Licon, who tied for sixth in 2:01.64 and Zhilkin.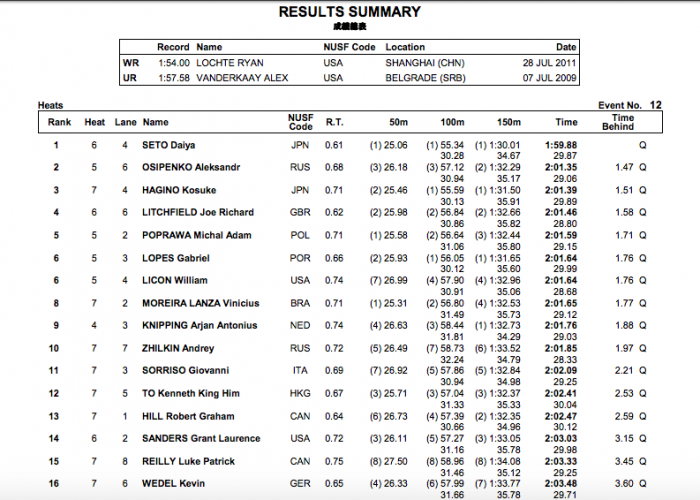 Women's 100 Freestyle
Mariia Kameneva of Russia took the top seed in the 100 free with a 55.04. Right behind was Caroline Baldwin of the USA in 55.09. Hong Kong's Siobhan Haughey was a close third in 55.18. The top 14 swimmers were all under 56, with Italy's Laura Letrari taking sixteenth in 56.29.
Baldwin had the most opening speed, leading heat 7 over Great Britain's Lucy Hope who took the fourth seed (55.35). Katerine Savard of Canada (55.48) and Anna Hopkin of Great Britain (55.60) rounded out the final heat behind Kameneva to claim top-eight seeds. Brazil's Larissa Martins de Oliveira (55.38) and USA's Veronica Burchill (55.59) completed the top qualifiers out of heat 6.
Men's 1500 Freestyle
Italian duo Domenico Acerenza (14:58.14) and Paltrinieri (15:07.87) took command of heat four. They were split by Ukraine's Myhailo Romanchuk (15:05.19) out of heat three. The meet record stands at 14:51.06 and could be danger in tomorrow night's final as all three swimmers swam consistently, with Paltrinieri truly cruising into the finals.
Gergely Gyurta of Hungary (15:11.95), PJ Ransford of USA (15:12.64), Shingo Nakaya of Japan (15:12.68), Jay Steven John Lelliott of Great Britain (15:13.05) and Tobias Robinson of Great Britain (15:14.23) round out the qualifiers.