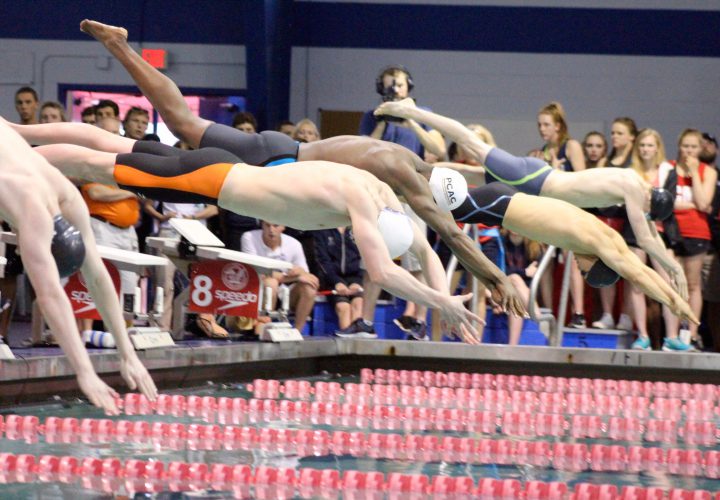 Photo Courtesy: Taylor Brien
After arriving at the 2017 NCSA Junior Nationals with 90 swimmers ready for action it should come as no surprise that Nation's Capital has swept the men's (1568.5), women's (1162.5), and combined team scores (2731).
After a fast week of swimming the performance of the week awards were announced. Reece Whitley's 100 breast (52.00) takes home performance of the week on the men's side, while Julia Cook's 100 back (52.37) won the women's.
Events: 
Women's 50 Back
Men's 50 Back
Women's 1650 Free
Women's 200 IM
Men's 200 IM
Women's 50 Free
Men's 50 Free
Men's 1650 Free
Women's 400 Medley Relay
Men's 400 Medley Relay
Hit refresh for the latest coverage.
Women's 50 Back:
Carly Quast of Aquajets topped a tight field in the women's 50 back, leading a trio of 24-second swims to the podium. Quast posted a 24.58 to scrape .58 seconds off her prelims time of 25.16.
Elmbrook's Ashlyn Schoof posted a second place finish of 24.78, followed closely by Nation's Capital's Phoebe Bacon and her time of 24.82.
Grace Countie of Marlins of Raleigh turned in a 25.06 for fourth place, while Shannon Kearney, swimming unattached, was fifth with a 25.24.
Highlander's Abigail Burke (25.46) and Ozaukee's Lillie Hosack (25.47) complete the top heat.
Men's 50 Back:
The men's 50 back was highlighted by two sub-22 second swims posted by a duo of 18-year-olds. Luke Sobolewski of Cincinnati Marlins and St. Charles' Tyler Sesvold unleashed some powerful underwaters to propel themselves ahead of the competition and towards the gold and silver. Sobolewski got his hand on the wall first, stopping the clock at a 21.81 over Sesvold's 21.83.
Academy Bullet's Spencer Walker grabbed the bronze medal with a 22.21, followed by Grand Island YMCA's Matthew Novinski's 22.52.
Jacob Johnson of NOVA delivered a 22.60 for fifth, while Crimson Tide's Zachary Smith turned in a 22.69 for sixth.
Germantown Center's Daniel Whisenant and Machine Aquatics' Christian Ginieczki posted final times of 22.71 and 22.97 for seventh and eighth respectively.
Women's 1650 Free:
The women's 1650 free was a race of patience as Marlins of Raleigh's Madison Homovich and Nation's Capital's Isabella Rongione swam stroke-for-stroke throughout the first 1000 yards of the race. Within the final 500 yards of the race was when Homovich made her move, working her turns to slowly edge away form Rongione and post a comfortable win of 16:09.89.
Homovich, however, will not go home with the gold medal. Club Wolverine's Sierra Schmidt will take home that honor after posting a 15:59.82 in an earlier heat, while Rongione will settle for the bronze and a final time of 16:14.96.
Lindsay Stone of Pack Swim Team of Pittsford finished fourth overall with a 16:22.40, followed by TAC's Ana Pozder's 16:23.97.
Razorback Aquatic's Taylor Pike (16:24.97), Greater Tampa's Morgan Tankersley (16:27.61), and New Wave's Kenna Haney (16:27.71) round out the top eight.
Women's 200 IM:
The women's 200 IM has set itself up to be the race of the meet. The top five women each finished beneath the two-minute mark and featured an intense showdown between Marlins of Raleigh's Julia Poole and Long Island's Margaret Aroesty.
At the breast to free turn, Aroesty and Poole turned together, both digging in for the final 50 yards of the race. At the flags it was still anybody's race and remained so until the photo finish, where the two stars stopped the clock simultaneously at a 1:57.19.
CSP's Genevieve Pfeifer pulled ahead of Academy Bullet's Alexis Yager within the last 50 yards, finishing with a 1:58.53 over Yager's 1:58.78.
Kristen Romano of Long Island touched fifth overall with a 1:59.16, while Southern Seahawk's Alexandra Sumner took sixth with a 2:00.82.
Nova's Grace Sheble finished seventh with a 2:00.90 to complete the top heat.
Men's 200 IM:
Penn Charter's Reece Whitley commanded the race in the men's 200 IM final. The 17-year-old jumped to an early, but shy lead throughout the first 100 yards of the race, before delivering a scorching 29.16 breast split to leave the competition behind him. Whitley touched with a final 1:44.01, finishing close to four seconds ahead of the competition.
Nation's Capital rounded out the podium with top swims from Darren Durocher and Will Cumberland. Durocher touched second with a 1:47.97, followed by Cumberland's 1:48.23.
Casey Storch of Machine Aquatics finished fourth overall with a 1:48.29, while Coast Aquatics' Daniel Orcutt was fifth with a 1:49.03.
DR's Eric Knowles (1:49.64), Rappahannock's Dylan Eichberg (1:49.88), and Lane Four's Caleb Aman (1:50.06) were sixth through eighth.
Women's 50 Free:
The women's splash and dash was highlighted by a tightly bunched and talented field of swimmers as seven out of the top eight swimmers turned in 22-second swims.
Grace Countie of Marlins of Raleigh delivered the top time, working a strong underwater off her turn to claim the gold with a 22.37.
Aggie Swim Club's Julia Cook touched second with a 22.52, followed closely by Greater Tampa's Morgan Tankersley's 22.69.
Madeline Smith of Patriot Aquatic Club turned in a 22.80 for fourth, just ahead of Nation's Capital's Katelyn Mack and Soutwest Star's Kaitlyn Schorr. Mack snuck her hand into the wall just ahead of Schorr, out-touching her 22.82 to 22.83.
Aquajets' Rachel Wittmer and Gator Swim Club's Talia Bates were seventh and eighth respectively with times of 22.84 and 23.00.
Men's 50 Free:
The men's splash and dash continued to excite the crowd as the top heat remained bunched together.
Thomas Hallock of Machine Aquatics arrived ready to race, shooting off the block at the start to command the race. Hallock stopped the clock at a 20.15 to claim the gold.
South Eastern Virginia Aquatic's Colson Moore picked up a narrow second-place finish over Rockwood's Jack Dolan. Moore posted a 20.35 over Dolan's 20.37 to complete the podium.
Justin Grender of Cincinnati Marlins delivered a 20.43 for fourth overall, followed by Lyon's Henry Claesson's 20.45.
Cumming Wave's Eli Coan (20.68), Nation's Capital's Brandon Hamblin (20.73), and Chattahoochee Gold's Mihalis Deliyiannis (20.74) rounded out the finals.
Men's 1650 Free:
Matthew Hirschberger of Nation's Capital out-lasted the competition in the men's 1650 free. Hirschberger jumped to an early lead, but was challenged by Naval Academy Aquatic Club's William IV Roberts within the final portion of the race.
While Roberts gained ground it was not enough to catch Hirschberger, who stopped the clock at a final time of 15:06.63. Roberts settled for second and a final time of 15:09.66.
Baylor's Robert "Trey" Freeman rounded out the podium with a third-place finish of 15:15.19, followed by Dayton Raider's Eric Knowles and his time of 15:22.31.
Timothy Marski of Long Island finished fifth overall with a close 15:22.36, ahead of Santa Maria Swim Club's Wyatt Marsalek's 15:23.46.
Tampa Bay's Brendan Driscoll and Poseidon's Garrison Johnson were seventh and eighth with times of 15:23.78 and 15:27.40 respectively.
Women's 400 Medley Relay:
The race for first happened between Nation's Capital and Long Island Aquatics in the 400 medley relay. Phoebe Bacon pushed NCAP to an early lead with a top showing in the back leg, but a dynamite breast split from Margaret Aroesty gave Long Island the lead at the halfway mark.
Despite Aroesty's lead, Long Island was not able to hold off a stellar back half from NCAP's Isabella Gati and Katelyn Mack. NCAP's Bacon (53.70), Abigail Harter (1:02.12), Gati (53.55), and Mack (48.64) claimed their gold with a 3:38.01.
Long Island's Kristen Romano (54.31), Aroesty (59.99), Lauryn Johnson (55.06), and Chloe Stepanek (49.70) earned the silver medal with a final time of 3:39.06.
Grace Countie (54.76), Ashley McCauley (1:01.38), Madison Homovich (54.01), and Kathleen Moore (49.98) of Marlins of Raleigh posted a combined 3:40.13 for third overall.
Men's 400 Medley Relay:
The Nation's Capital men arrived ready to swim for the 400 medley relay. The final heat showcased both the 'A' and 'B' relays with NCAP controlling the race throughout it's entirety.
The 'A' relay jumped to an early lead and never looked back, extending their lead throughout Sam Pomajevich's fly leg, before exchanging with Brandon Hamblin for the free leg. The quad of Will Cumberland (48.99), Timothy Wu (54.51), Pomajevich (47.05), and Hamblin (44.67) posted a combined time of 3:15.22.
St. Charles anchor leg propelled them past NCAP's 'B' relay to claim a narrow second place victory. Teammates Mitchell Milosch (49.93), William Myhre (54.53), Tyler Sesvold (47.82), and Kyle Dunlap (45.02) earned the silver with a 3:17.30.
Darron Durocher (48.90), Spencer Rowe (54.94), Cole Cooper (48.90), and Allen Ross (44.60) of Nation's Capital's 'B' relay turned in a final time of 3:17.34 for the bronze.
All results can be found on Meet Mobile – 2017 NCSA Spring Championship