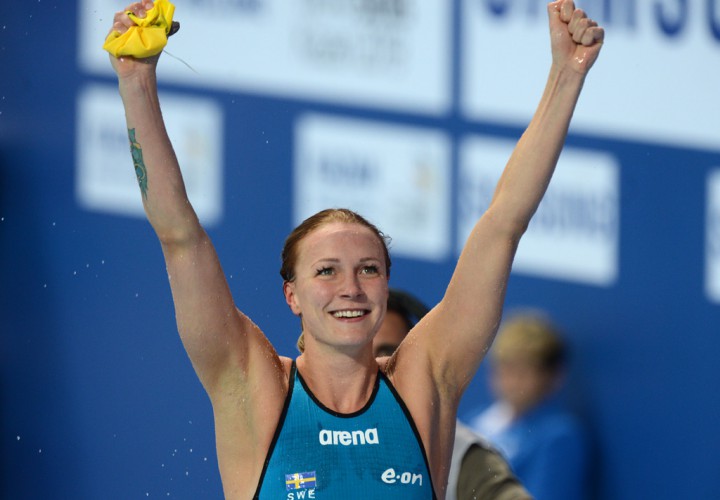 Photo Courtesy: R-Sport / MIA Rossiya Segodnya
Editorial content for the 2017 FINA World Cup is sponsored by TritonWear. Visit TritonWear.com for more information on our sponsor. For full Swimming World coverage, check event coverage page.
Swedish sprint star Sarah Sjostrom added two more World Cup gold medals to her total tally. This time, her wins came in the 200m freestyle and 50m butterfly. 
China's Zhuhao Lu set a new WJR in the 100m fly, winning silver behind Chad le Clos. 
Here you'll find everything you need to follow along live with day two finals of the 2017 FINA World Cup in Singapore. Finals start at 6 PM local time. 
Tonight's events include:
Men's 100m Freestyle
Women's 50m Breaststroke
Men's 200m Breaststroke
Women's 400m Medley
Men's 50m Backstroke
Women's 100m Backstroke
Men's 200m Medley
Women's 50m Butterfly
Men's 1500m Freestyle
Women's 200m Freestyle
Men's 100m Butterfly
Mixed 4x50m Freestyle Relay
Check below for the live event-by-event coverage. Hit "refresh" for the latest coverage.
For full results, click here.
Men's 100m Freestyle
Vladimir Morozov continues to impress as he adds yet another win to his World Cup medal tally. Morozov's time was 45.56, just off his own World Cup record he set at the Berlin stop of the World Cup series. South Africa's le Clos touched second in 46.00 while Japan's Shinri Shioura earned the bronze with a 46.82. Australia's Cameron McEvoy and Germany's Damian Wierling took third and fourth. Daniel Hunter nabbed sixth while Clement Mignon touched seventh. Rounding out the heat was Ukraine's Andrii Govorov.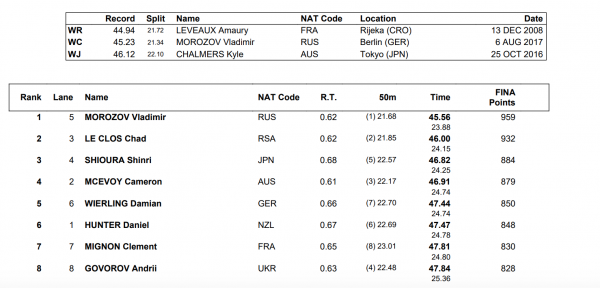 Women's 50m Breaststroke
Jamaica's Alia Atkinson scored yet another win after her gold medal performance in the 100 distance yesterday. Atkinson threw down a 29.29 for the gold where she was followed by Australia's Emily Seebohm who turned in a time of 29.96. Denmark's Rikke Pedersen earned the bronze in 30.32. Singapore's Roanne Ho and USA's Alex Walsh touched in fourth and fifth while Jingyao Yu and Pei Wun Lin took sixth and seventh. Rounding out the top heat was Jinglin Shi.

Men's 200m Breaststroke
The top three men in this event were separated by only a half second. Kirill Prigoda turned in a 2:01.18 to earn the gold but Daiya Seto was right behind him in 2:01.30. Anton Chupkov took third in 2:01.65. Japan's Yasuhiro Koseki swam a 2:02.86 for fourth while fifth place went to Matthew Wilson of Australia. In sixth was Ilya Shymanovich from Belarus and in seventh was USA's Daniel Roy. In eighth was Man Hou Chao.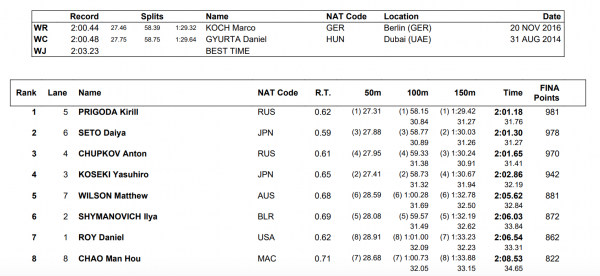 Women's 400m Medley
Hungary's Katinka Hosszu cruised to another World Cup victory in a time of 4:25.88. Seoyeong Kim of South Korea took second in 4:28.11. Hungarian Boglarka Kapas nabbed third in a 4:33.69. Japan's Runa Imai took fourth while the German duo of Franziska Hentke and Alexandra Wenk took fifth and sixth. Chenyao Zhang touched seventh and eighth went to Ching Hwee Gan of Singapore.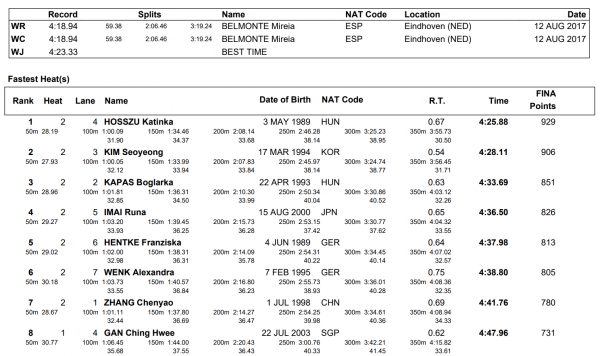 Men's 50m Backstroke
Belarusian standout Pavel Sankovich and Japan's backstroke veteran Junya Koga duked it out tonight and set themselves apart from the rest of the field by being the only two men to stay under the 23 second mark. Sankovich touched first in 22.82 with Koga trailing just behind in 22.97. The bronze was earned by Jiayu Xu with his 23.18. Fourth and fifth place went to other Japanese backstroke veteran Ryosuke Irie and Christian Diener. Sixth was Vladimir Morozov while seventh was taken by Yakov Yan Toumarkin of Israel. Rounding out the heat was Nelson Junior Silva out of Brazil.

Women's 100m Backstroke
A pair of American youngsters gave Aussie veteran Seebohm all she could handle tonight. Seebohm would win the final in 56.23 but American Regan Smith was right behind in 56.33. Alex Walsh was in bronze territory with her 57.86. Japan's Akase earned fourth in her 57.88. Brazil's Etiene Medeiros snuck into fifth with the last of the 57-second swims. Earning sixth and seventh was Jie Chen from China and Canada's Maragret Macneil. Germany's Lisa Graf took the last spot in the finals heat.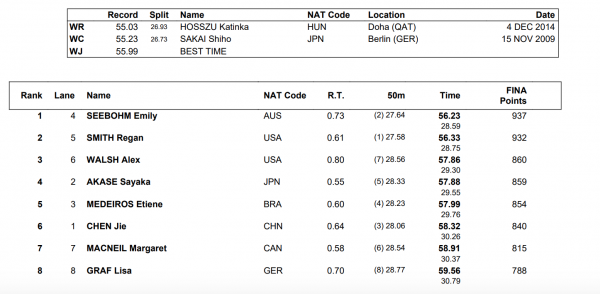 Men's 200m Medley
Coming off a silver medal performance in the 200 breaststroke earlier in the meet, Seto earned gold here with a time of 1:51.88. Teammate Irie touched second in 1:54.44. The bronze went to Hong Kong's Kenneth To in 1:55.11. Also coming off the breaststroke was fourth place finisher Prigoda. Hungary's Daivd Verraszto took fifth with his two teammates Peter Bernek and David Foldhazi taking sixth and seventh behind him. Rounding out the field Toumarkin out of Israel.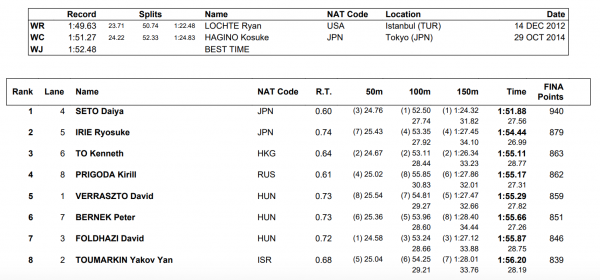 Women's 50m Butterfly
Swedish sprint star Sarah Sjostrom added another gold to her collection this evening with a time of 24.61. The only other 24 second swimmer was Ranomi Kromowidjojo from the Netherlands in 24.73. The bronze was earned by Australia's Cate Campbell in 25.29. A 25.59 earned Maaike De Waard and Daynara De Paula a tie for fourth place. Sixth place was given to Aussie Emma Mckeon. Yufei Zhang took seventh while Denmark's Pernille Blume nabbed eighth. 

Men's 1500m Freestyle
In a fairly spread out heat, Hungary's Gergely Gyurta took the win in 14:33.89. Poul Zellmann from Germany took silver in 14:46.61 while USA's Andrew Abruzzo took the bronze in 14:55.56. Abruzzo's teammate Trey Freeman took fourth in 15:06.13. Fifth place went to Bernek while Singapore's Sheng Jun Pang took sixth. Rounding out the field in seventh and eighth was Aussie Joshua Hertz and Singaporean Glen Jun Wei Lim.
For complete results for the men's 1500m freestyle, click here.
Women's 200m Freestyle
Sjostrom swam away with yet another win tonight with her time of 1:51.63, ahead of Mckeon's 1:53.31. Hosszu faded to third with her time of 1:53.74. World Junior Record holder in the distance freestyle events, Bingjie Li, took fourth in a time of 1:54.93. Fifth place went to American sprinter Lia Neal. The Aussie trio of Gemma Cooney, Bronte Campbell and Brittany Elmslie finished out our top heat.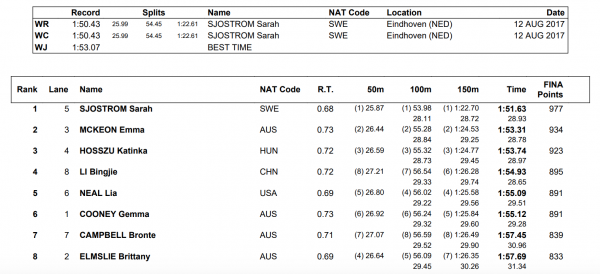 Men's 100m Butterfly
Chad le Clos closed out his World Cup circuit with another gold medal performance of 49.49. Behind le Clos was China's Lu who broke a WJR on his way to a silver medal. Lu posted a 49.53 which is under the FINA benchmark of 50.53 set in 2015. The bronze went to Yauhen Tsurkin. Masaki Kaneko of Japan nabbed the fourth position while fifth went to Sankovich. Aussie duo of Nic Brown and Edward Marks took sixth and seventh. The eighth place spot was given to India's Sajan Prakash Prakash.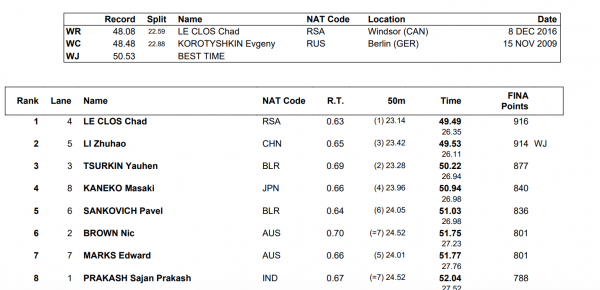 Mixed 4x50m Freestyle Relay
In the final event of the final stop of the World Cup series, Australia was able to pull out a victory. The Aussies put together a 1:29.34 for the gold while the Netherlands was right behind in 1:29.97. A little further back was the U.S. in 1:32.76, good enough for bronze. Germany swam to a fourth place finish while Singapore was able to put together a fifth place performance. Hong Kong and Canada took sixth and seventh while China took the eighth place spot.