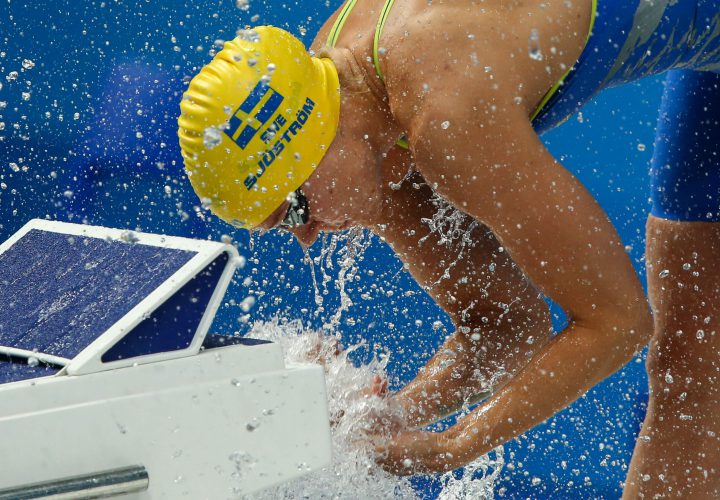 Editorial content for the 2017 FINA World Cup is sponsored by TritonWear. Visit TritonWear.com for more information on our sponsor. For full Swimming World coverage, check event coverage page.
The first day of finals at the FINA World Cup stop in Doha featured Sarah Sjostrom capturing three wins, while Chad Le Clos and Katinka Hosszu picked up wins in two races each. On top of those efforts, China's Jian Jianjiahe set the first world junior record in the women's 800 free.
Read below for event-by-event full coverage of the session.
Men's 100 Free
The win in the first final of the meet went to Russia's Vladimir Morozov, as he cruised in the men's 100 free. He finished in a time of 46.87 to take the top spot by almost a full second.
Germany's Damian Wierling won a tight battle for second with Paraguay's Benjamin Hocking, getting to the wall in 47.82, to Hocking's 47.89. No one else in the field broke 47.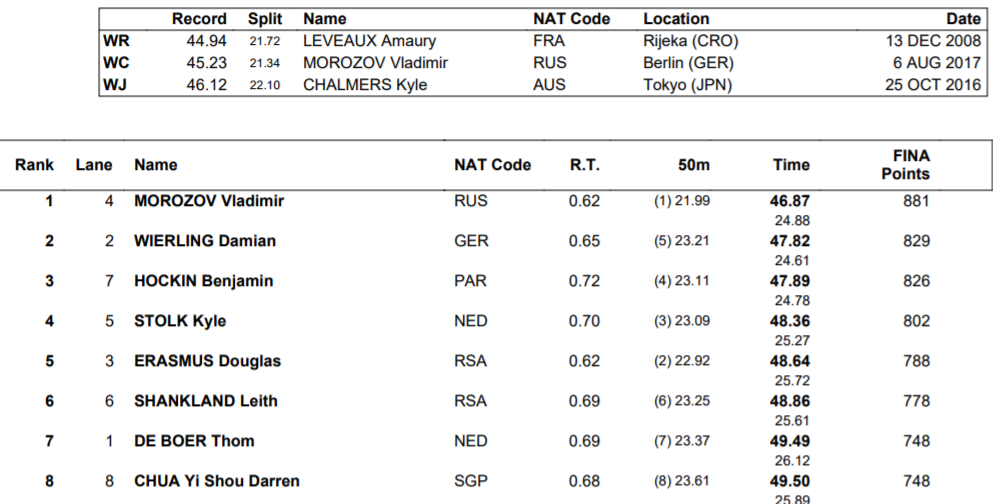 Women's 200 Free
Sarah Sjostrom could not approach her own world record of 1:50.43, but she had plenty in the tank to pull away from the Netherlands' Femke Heemskerk to win the 200 free in Doha. The 23-year-old Swede finished in 1:52.00, while Heemskerk came in at 1:53.11.
Finishing three seconds back in third was China's Shen Duo (1:56.28), ahead of teammates Chen Yuxi and Li Bingjie.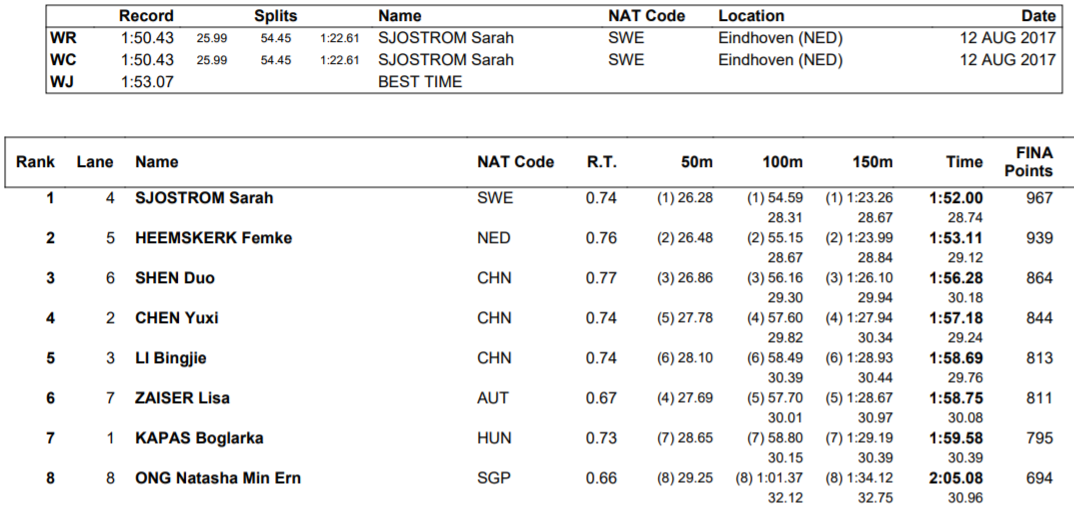 Men's 50 Breast
South Africa's Cameron van der Burgh touched first in his pet event, but he has a tough challenger in the form of Russian Kirill Prigoda. Van der Burgh came in at 25.70, 0.45 off his world record of 25.25, and Prigoda was second in 25.85.
Third place went to Belarus' Ilya Shymanovich in 26.24.

Women's 100 Breast
Alia Atkinson, the Jamaican world record-holder in the 100 breast, had an easy victory in that event as she posted a time of 1:04.21, just under two seconds off the global standard she shares with Ruta Meilutyte.
Denmark's Rikke Pedersen, the world record-holder in the long course 200 breast, took second in 1:05.55, and third went to Austria's Lena Kreundl in 1:08.07.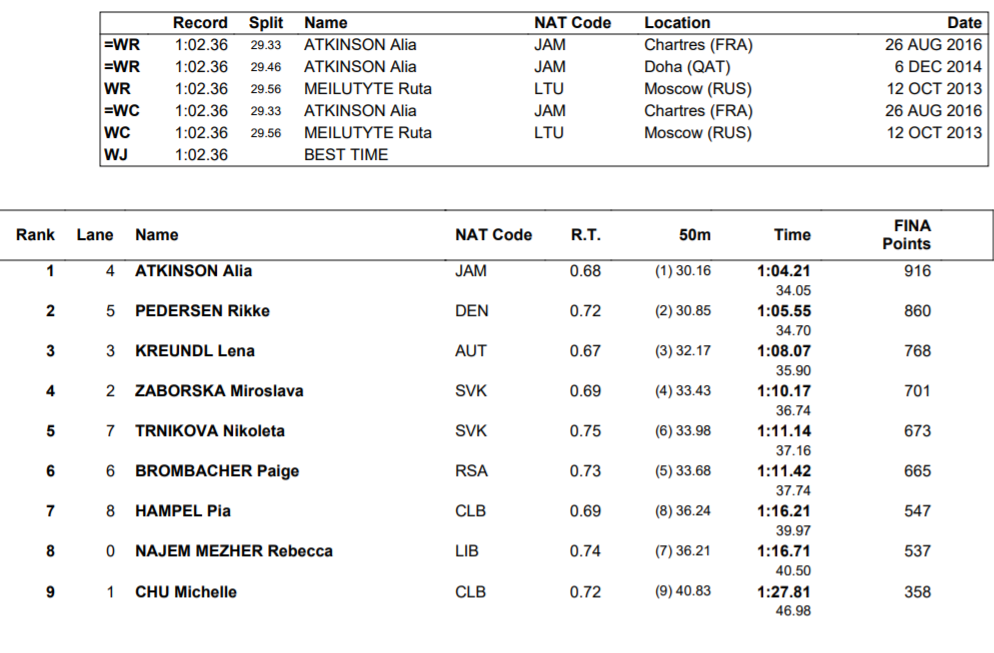 Women's 100 Fly
In her second splash of the evening session, Swedish superstar Sarah Sjostrom was at it again. This time, she won the women's 100 fly in 55.55, less than a second shy of her world-record time of 54.61 and just off Alicia Coutts' World Cup record of 55.30.
Ahead by more than a half-second at the halfway point, Sjostrom pulled away from the field. Finishing second — almost two seconds back — was China's Zhang Yufei in 57.31, and Hong Kong's Lin Lok Chan was third in 57.98.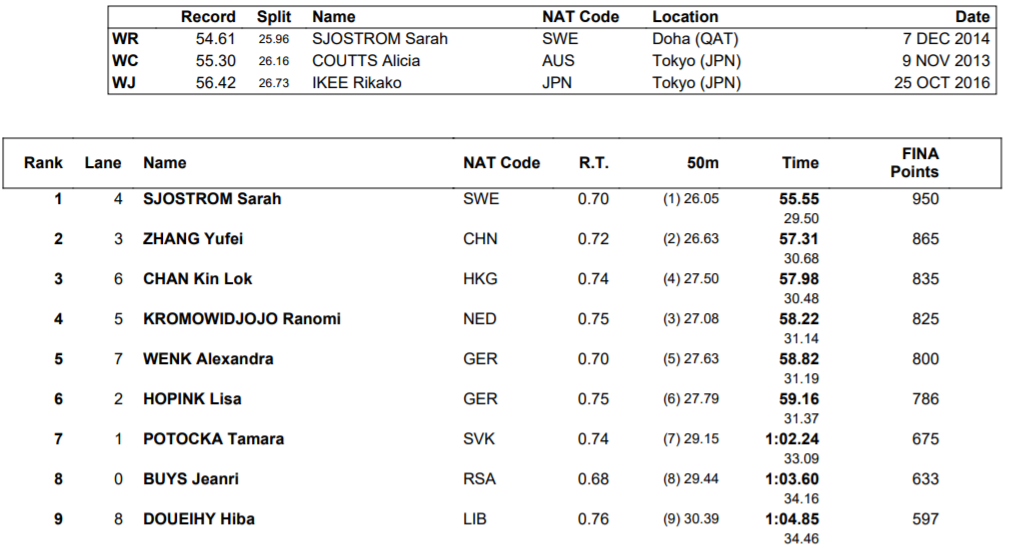 Men's 100 Back
In the first tight race of the session, Germany's Christian Diener stormed to a win in the men's 100 back. Swimming out of lane seven, he punched the wall in 51.00 to finish just ahead of three competitors.
Poland's Radoslaw Kawecki took second in 51.11, and Russia's Vladimir Morozov, who had already won the 100 free, took third in 51.13. Also in the mix was Belarus' Pavel Sankovich in 51.16.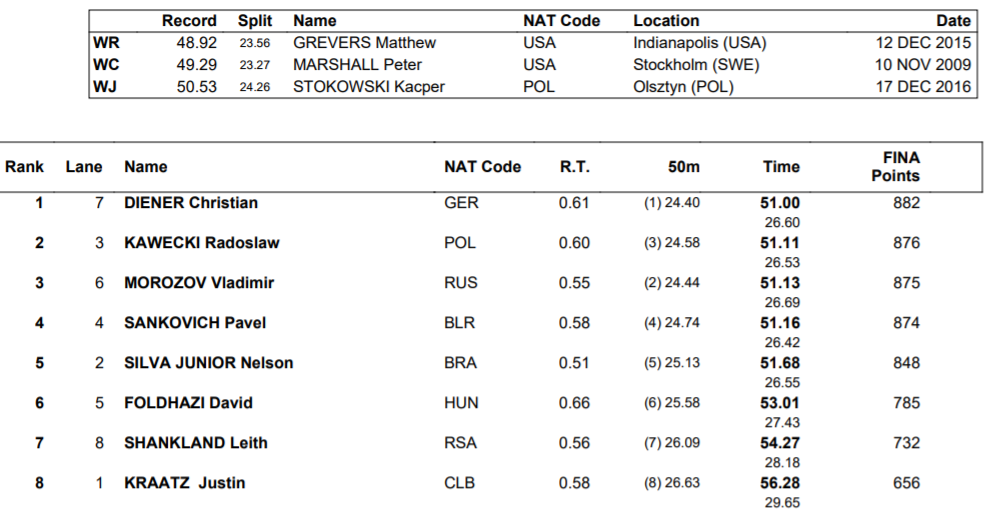 Women's 50 Back
Australia's Emily Seebohm touched out Hungary's Katinka Hosszu for the top spot in the women's sprint dorsal event, 26.29 to 26.30. The win was a bit of payback for Seebohm after Hosszu won all three backstroke races ahead of the Aussie at the previous World Cup stop in Hong Kong.
The Netherlands' Maaike De Waard took third in 27.06, while countrywoman Ranomi Kromowidjojo, tuning up for her signature sprint free and fly events to come, was fourth in 27.37.

Men's 200 Fly
In the latest Chad Le Clos-vs.-Tom Shields duel in the men's 200 fly, the South African world record-holder got the better of the American, reversing the order of finish between the two days earlier in Hong Kong.
Le Clos finished in 1:49.59, one second off his own world record of 1:49.59, and Shields, who led for the first 150 meters of the race, took second in 1:49.86.
Japan's Yuya Yajima took third in 1:52.08, and then in fourth was Hungarian Olympic bronze medalist Tamas Kenderesi (1:55.52).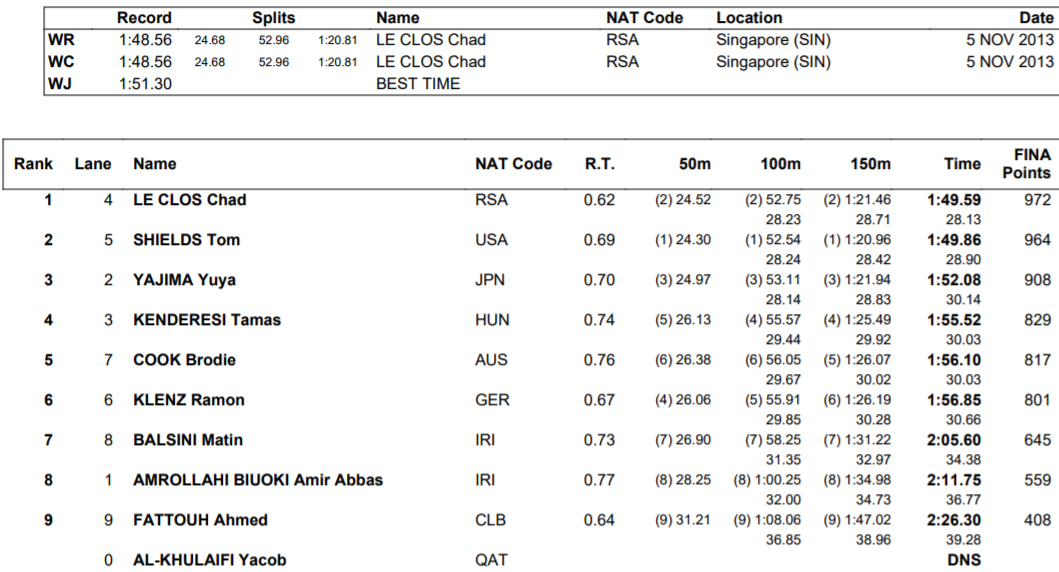 Women's 200 IM
Hungary's Katinka Hosszu got her revenge on Australia's Emily Seebohm after an earlier defeat in the 50 back, leading wire-to-wire in the 200 IM — one of her signature races — and touching in 2:05.29.
Seebohm took second in 2:06.65, while the Netherlands' Femke Heemskerk made a rare appearance outside a freestyle event and finished third in 2:08.33.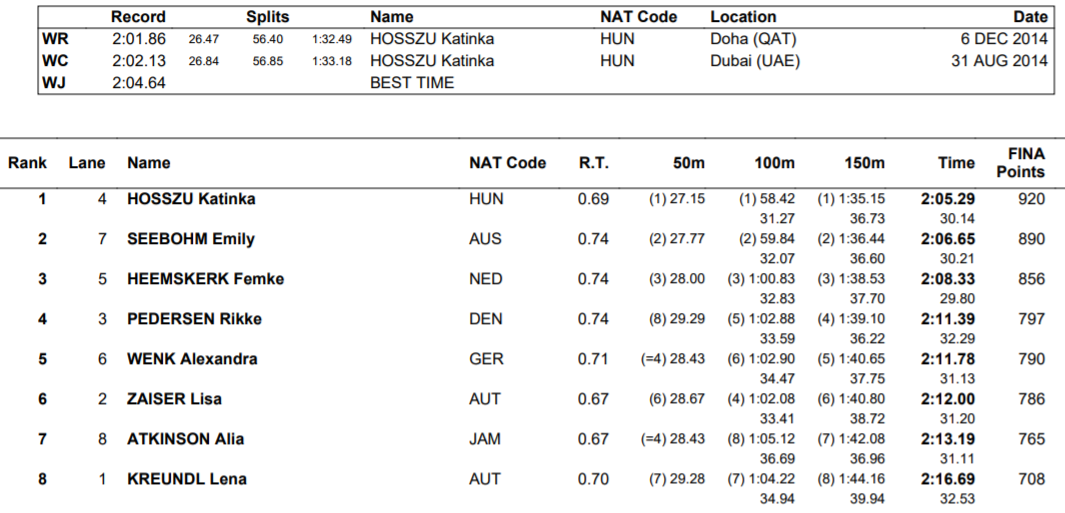 Men's 400 Free
Italy's Gabriele Detti, the World and Olympic bronze medalist in the 400 free, held off a strong push from Poland's Wojciech Wojdak to pick up the win in the event in Doha. Detti came in at 3:42.57, while Wojdak, in the lead at times during the race and right with Detti at all other points, came in second at 3:42.98.
Third place went to Poland's Filip Zaborowski in 3:44.75, and he finished almost 10 seconds ahead of anyone else in the heat.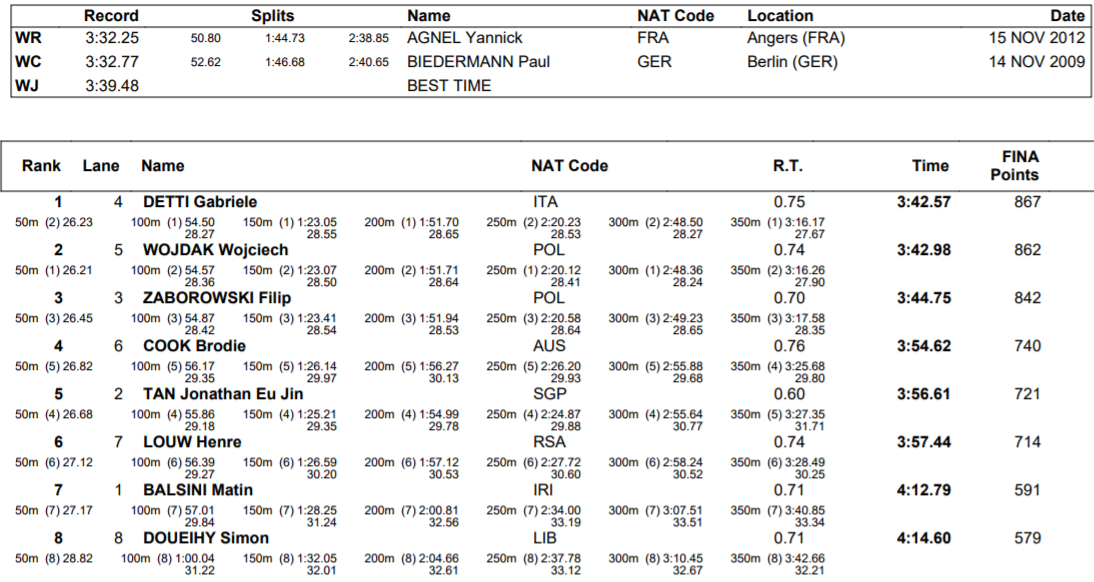 Women's 50 Free
Another race, another win for Sarah Sjostrom. She took the women's splash-and-dash in 23.28, not too far off Ranomi Kromowidjojo's world record of 22.93 set earlier in the series. Sjostrom had actually set the world record in the event at 23.10 at a World Cup stop in Moscow before Kromowidjojo lowered it days later in Berlin.
Kromowidjojo finished second in 23.82, and she was followed by Dutch teammates Femke Heemskerk (24.40) and Maaike De Waard (25.16).

Men's 200 Breast
Russia's Kiril Prigoda picked up his first win of the meet after earlier finishing second behind Cameron van der Burgh in the 50 breast. Prigoda led wire-to-wire in the eight-lap event and won by 3.5 seconds with a time of 2:01.24, less than a second off the world record.
Belarus' Ilya Shymanovich finished second in 2:04.77, holding off Russian Ilya Khomenko (2:05.06).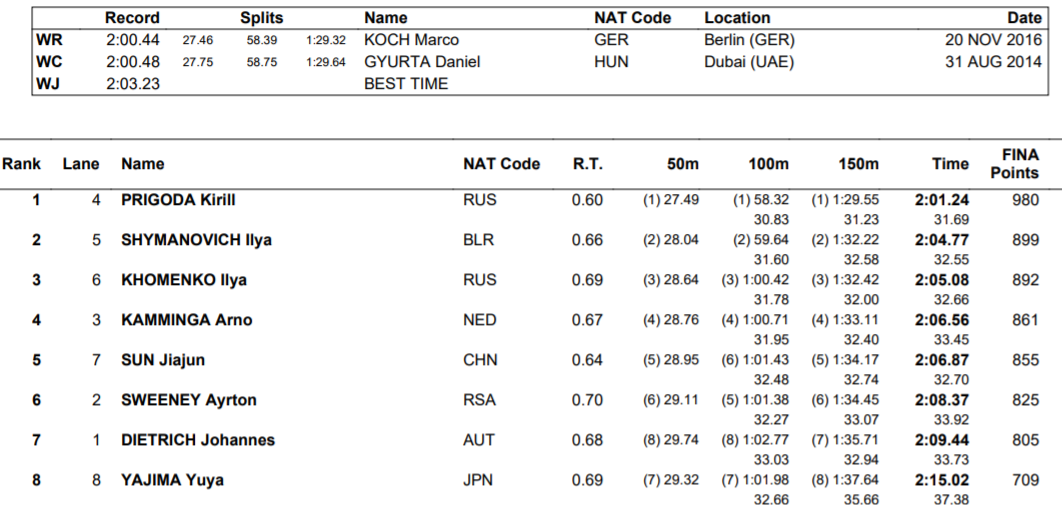 Men's 100 IM
Russia's Vladimir Morozov pulled off his second win of the day with an easy triumph in the 100 IM, touching in 51.38. He earlier won the 100 free and placed third in the 100 back.
Belarus' Pavel Sankovich took second in 52.61, while the USA's Tom Shields got on the podium for the second time on the day with his third-place time of 53.21.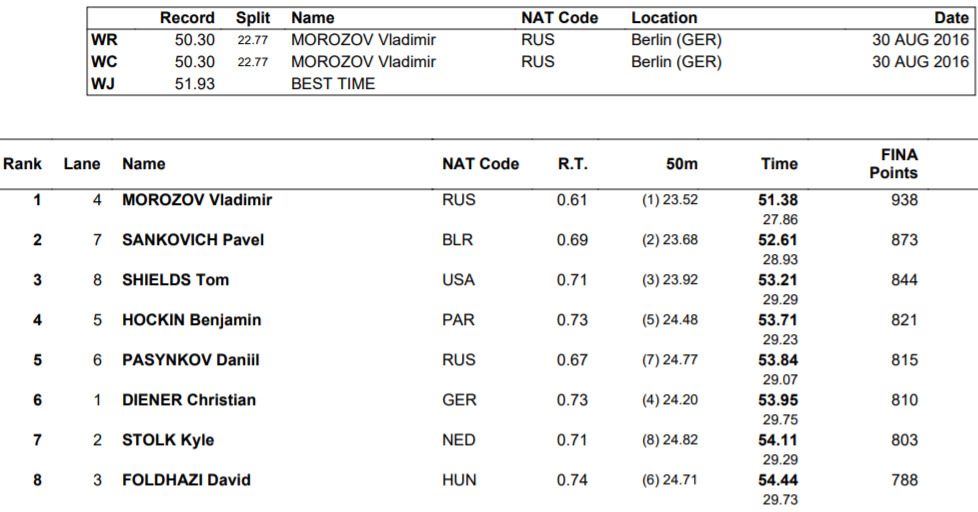 Women's 200 Back
Hungary's Katinka Hosszu got the better of Australia's Emily Seebohm in the rubber match between the two. Earlier in the day, Seebohm had won the 50 back ahead of Hosszu before Hosszu beat Seebohm in the 200 IM.
Hosszu touched in 2:02.06, easily ahead of Seebohm's 2:04.15. China's Peng Zuwei took third in 2:06.50.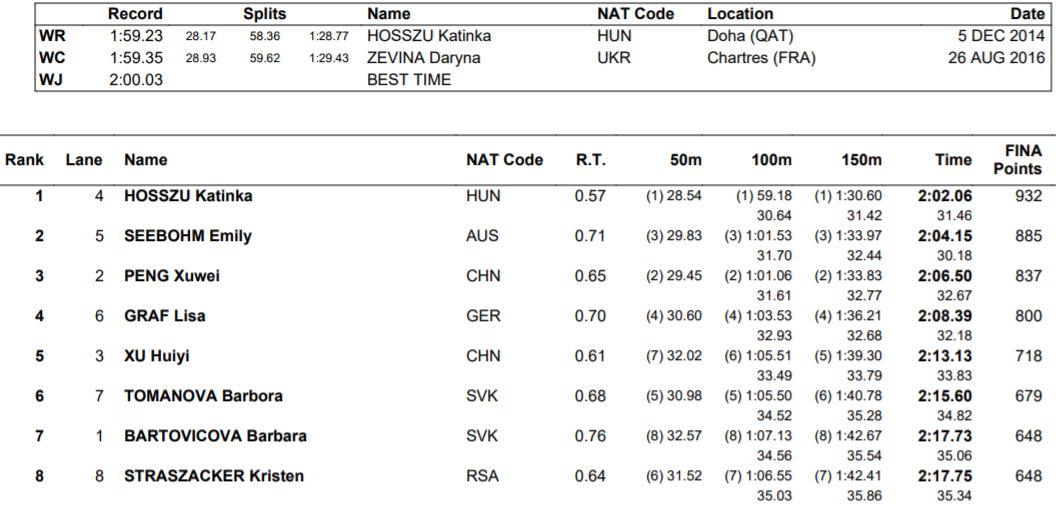 Men's 50 Fly
South Africa's Chad Le Clos sprinted to a win in the men's 50 fly, hitting the wall in 22.45. The win was his second of the day after earlier edging out Tom Shields of the United States to win the 50 fly.
China's Qibin Zhang took second in 22.74, and Shields grabbed third-place honors in 23.04.

Women's 800 Free
China's Wang Jianjiahe set the first World Junior Record in the women's 800 free, recording a time of 8:15.35 to win the event at the FINA World Cup in Doha.
There had been no WJR set in the event, but Wang beat the established benchmark time of 8:16.11.
Wang's Chinese countryman and World Champs silver medalist Li Bingjie finished second in 8:18.14, and Hungary's Boglarka Kapas was third in 8:30.46.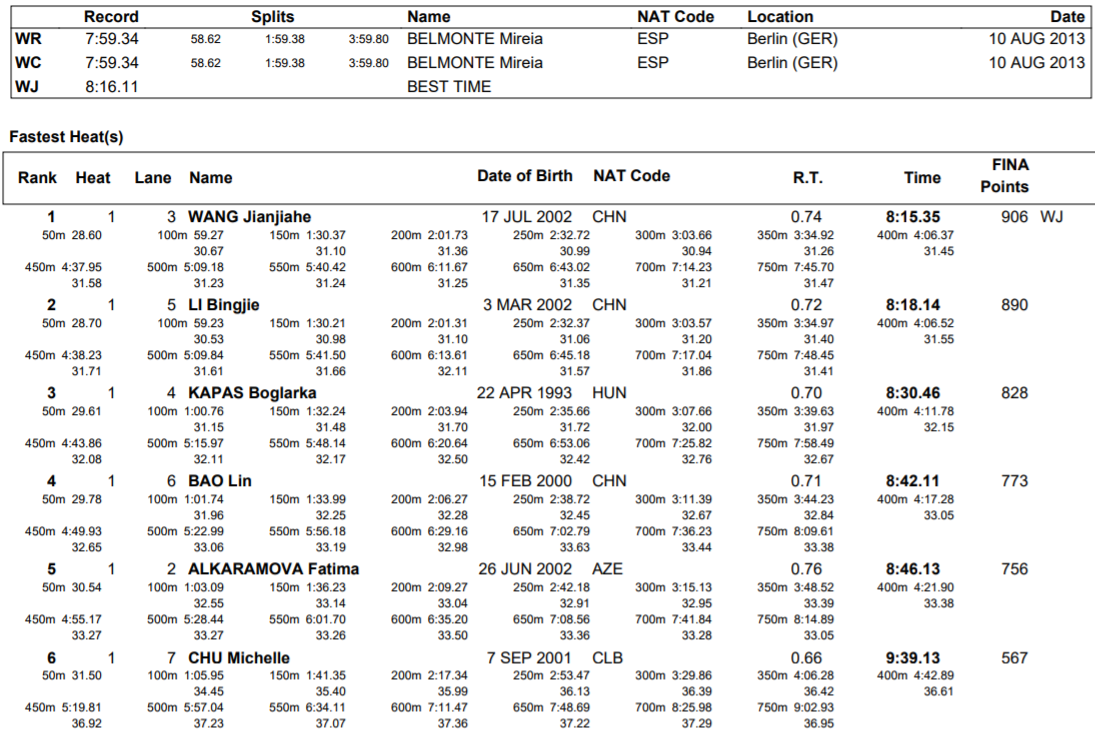 Men's 400 IM
Azerbaijan's Maksym Shemberev won the final individual event of the day with a 4:06.72 in the men's 400 IM as he barely caught to South Africa's Aryton Sweeney on the last 50.
Sweeney came in second at 4:07.04, and Hungary's Gergely Gyurta took third in 4:09.58.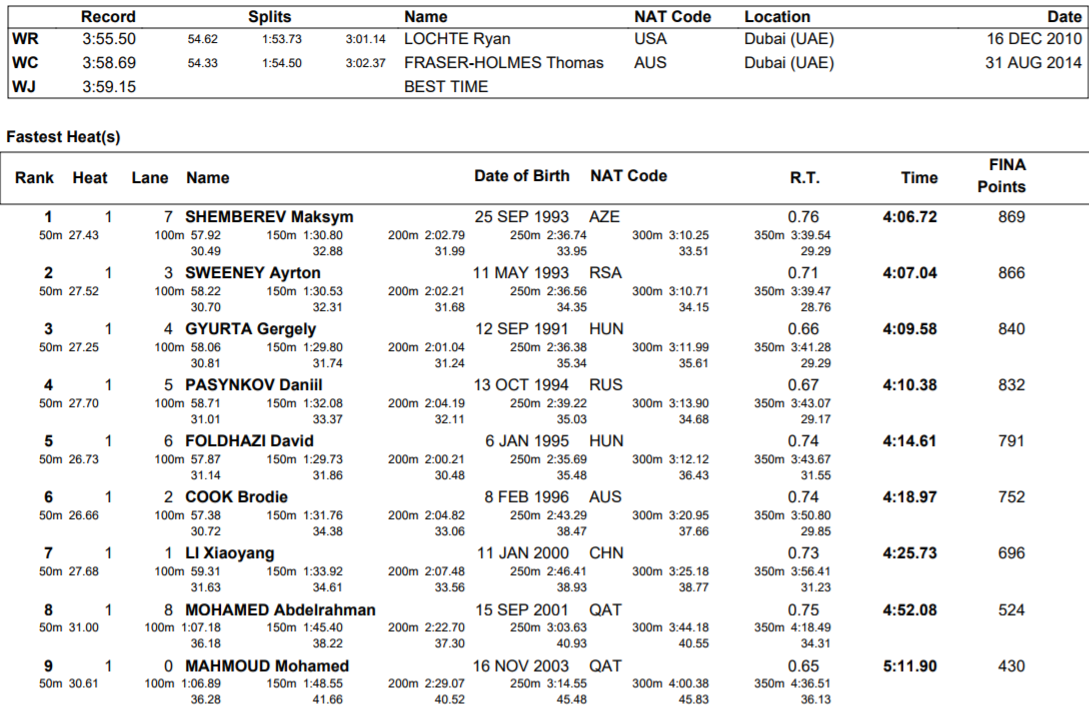 Mixed 200 Medley Relay
The Netherlands captured first placed in the mixed 200 medley relay with Maaike De Waard, Arno Kamminga, Ranomi Kromowidjojo and Thom De Boer finishing in 1:40.92. China's Zhang Qibin, Li Xiang, Zhang Yufei and Shen Duo took second in 1:42.77, and Germany was third in 1:43.75 with Christian Diener, Lisa Hopink, Alexandra Wenk and Damian Wierling.