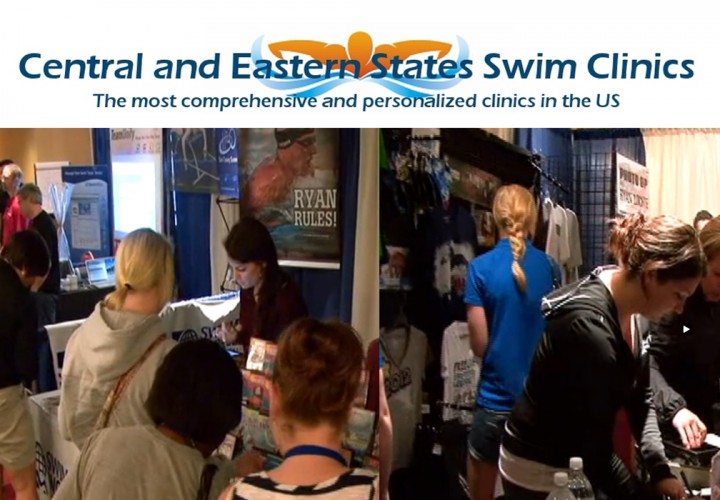 Take advantage of group and pre-registration pricing for the upcoming Central States Swim Clinic on May 20-21 at the Oak Brook Marriott in Oak Brook, Ill., where Olympic swimmers and coaches will offer their expertise to coaches from all backgrounds!
Pre-registration Prices apply between March 9 and the Pre-registration Deadline of May 8.
During this period, you can take advantage of the Special Group Discount by registering a total of 6 coaches or 6 swimmers at the same time and getting one of the registrations for free!
Please note: all 6 coaches or swimmers must be registered at the same time and paid for together. If you select the "free registration option" without the correct number of additional registrations, your registrations will not be accepted.
Late Registration Prices apply after May 8. Late Registrations may be made online or at the door.
All information about the clinic, including online registration, is available at swimclinic.com/central-states-swim-clinic/.
The 2017 Clinic proudly offers the following prestigious line-up of speakers and the special opportunity to meet and work with Olympic swimmers Nathan Adrian and Kelsi Worrell.
Bob Bowman: '16 Head Men's Olympic Coach, '04, '08 & '12 Asst. Olympic Coach, long time coach of Michael Phelps
David Marsh: '16 Head Women's Olympic Coach, '96, '00 & '12 Asst. Olympic Coach, Head Elite Coach SwimMac
Mark Schubert: 8 time Head Olympic Coach, '09 USA National Coach, Head Coach Mission Viejo
Dave Durden: '16 Asst. Men's Olympic Coach, '04 Olympic & '03 PanPac Coach, Head Coach UC Berleley
Jackie Berning Ph.D, RD, CSSD: Nutrition Consultant, Author & Educator
Nathan Adrian: 3 time Olympian '08, '12 & '16, 7 golds, 2 silver, 2 bronze, American & World Record Holder
Kelsi Worrell: '16 Olympian gold medalist, American & World Record Holder
Clinic Staff – 2017 Central States Swim Clinic
Bob Bowman


Currently the Head Coach of Men & Women at ASU, Bob was Men's Head Coach for the '16 Rio Games. Bob is one of our country's most respected swimming coaches, a passionate teacher of the sport & long time coach of Michael Phelps. Michael holds 7 world records, 23 Olympic gold medals 3 silver & 2 bronze. After 4 years as Men's Head Coach at the Univ. of Michigan & Club Wolverine where led the Michigan men to 4 top 8 NCAA finishes including 6 NCAA individual champions, Bob returned to NBAC to be the Head Coach and CEO. Bob was Asst. Men's Olympic Coach in '04, '08 & '12. He was Head Coach at '07, '09 & '13 World Championships & Asst. in '01,'03, '05, & '11. His swimmers hold 43 World records & 50 American records. Bob has been USA Swimming Golden Goggles Coach of the Year 4 times, USA Swimming Coach of the Year 6 times, ASCA Coach of the Year 5 times & Developmental Coach of the Year in '02. In 2016, Bob was inducted into the Swimming Hall of Fame.

Dave Marsh


Dave was Women's Head Coach for the '16 Rio Games, having been Asst. Olympic Coach in '96, '00 & '12. Dave is the Head Elite Coach & CEO of SwimMac. Formerly Head Men's & Women's Coach at Auburn, Dave rewrote collegiate swimming history when both his men & women won NCAA Championships back to back in '03 & '04. Previously, his men had won in '97, '99 & his women in '02. Dave has coached more than 30 Olympians & 85 NCAA champions. He was voted NCAA Coach of the Year 9 times & SEC Coach of the Year 13 times. Dave began his swimming career in 10th grade & went on to be ranked 6th in the world. In the 80's he was Head Coach at Dynamo Swim Club & coached 2 high school teams. Dave has been a National Team coach 7 times & was '14 USA Swimming Developmental Coach of the Year.

Mark Schubert

Mark is one of the most recognizable, influential & respected coaches in the world of swimming. He has been Head Olympic Coach 8 times between 1980 through 2008. He was USA Swimming's National Team Head Coach in '09 -'10. In his 35 years of coaching, he has placed 33 swimmers on 8 Olympic teams. His athletes have won 20 gold, 11 silver & 2 bronze medals in Olympic competition and have broken 30 world & 148 American records. While at Texas and USC, his teams won 3 NCAA titles. Mark has been named Coach of the Year by 5 different organizations and was inducted into the Swimming Hall of Fame in '97. Most recently, Mark was Head Coach/CEO of Golden West Swim Club in Huntington, CA until he accepted the position of Assoc. Head Coach at Mission Viejo to continue the culture of excellence after the retirement of Head Coach Bill Rose.

Dave Durden


Voted '16 USA Swimming & ASCA Coach of the Year & as Head Coach for Men at UC Berkeley Dave has led the team to NCAA titles in '11, '12, '14 & 4 runner up finishes. He has been named Pac-12 Coach of the Year 6 times & NCAA Coach of the Year 4 times with his teams consistently in the top 3 of the Pac-12. In '16, Dave was appointed Asst. Olympic Coach with Cal qualifying 6 individuals for the Rio Games. Adrian, Murphy, Ervin, Prenot, Shields & Pebley brought home 8 gold, 1 silver & 3 bronze medals. In '12, he coached 3 time Olympic Gold medalist & American record-holder, Nathan Adrian, and coached Anthony Ervin to an Olympic comeback in London. Dave was formerly the Head Coach at Maryland for 2 years & an Asst. Coach at Auburn for 3 years. He was Head Olympic Coach for Panama at the '04 Games and '03 Pan-Pac Games.

Jackie Berning Ph.D., RD, CSSD


Always a favorite at our clinics, Jackie is an exercise physiologist/Registered Dietitian with a Ph.D. in nutrition & is a Board Certified Specialist in Sports Dietetics (CSSD). She has worked with USA Swimming advising the coaches, athletes, & sports medicine staff as to nutritional needs of athletes in training & competition. She has traveled with our national teams & was the nutritional consultant for the Denver Broncos for 25 years and Rockies & the Cleveland Indians. She is currently the sport dietitian for US Lacrosse. She has co-authored Nutrition for Sport & Exercise & Training Nutrition. Jackie teaches nutrition to swimmers at developmental camps & has developed materials geared directly for swimmers, coaches, & parents. Jackie was awarded the Outstanding Teaching Award at U of Colorado 3 times.

Kelsi Worrell


Kelsi finished 1st in the 100 Fly at '16 Olympic trials to earn her 1st Olympic Games berth. At the Games, she won gold as a member of the 400MR & finished 8th in the 100 Fly. At '16 SC Worlds, she won 4 gold medals & 3 silver. After breaking her own American record in the 100 Fly, Kelsi had a head on collision in the warm down pool requiring stitches & returned 15 minutes later to swim the 400MR and help set a new championship record. While at the Univ. of Louisville, Kelsi was a four-time NCAA champion & the first woman to break the 50-second barrier in the 100 fly. At the '15 Duel in the Pool, she was a member of the world record setting 400MR & broke her second American record in the 100 fly. She earned her first international gold at the '15 Pan Am Games setting a championship record.

Nathan Adrian


A favorite at our East coast clinic, Nathan qualified for his 3rd Olympic Games in '16 by winning the 50 & 100 free at trials. He has won a total of 11 Olympic medals, including gold in the 400 FrR & 400 MR in '16. He also won gold in the 100 Free & 400 MR in '12 & the 400 FrR in '08. At World Championships '15, '11 & '09, he won 4 golds, 2 silvers & 1 bronze in individual & relay events. At Pan Pacs in '10 & '14, he won 4 golds, 1 silver & 1 bronze. At short course worlds in '08, he was part of the world record setting 400 FrR, holds 2 American records & 1 SC meet record. While at Cal, Nathan was NCAA champion in the 50 & 100 Free in '11 & '09, and champion in the 50 in '10. Nathan is one of our country's most decorated athletes.
Established in 1981, the Central States Clinic is the most comprehensive and personalized coaches' clinic in the United States. This is an excellent clinic exclusively for the education and advancement of coaches and swimmers and one of the best lineups of speakers ever!
The Eastern and Central States Clinics are the largest and most respected privately run clinics in the United States. The clinic offers you a special opportunity to be with top age group and university coaches as well as ASCA courses including a new course for parents and USA Swimming club certification courses.
Come to this clinic and make your program better than ever.
You can register online here, or download a mail-in registration form here.
This clinic is sanctioned by ASCA.  Attendance earns you 20 points toward ASCA Coaches Certification Program.