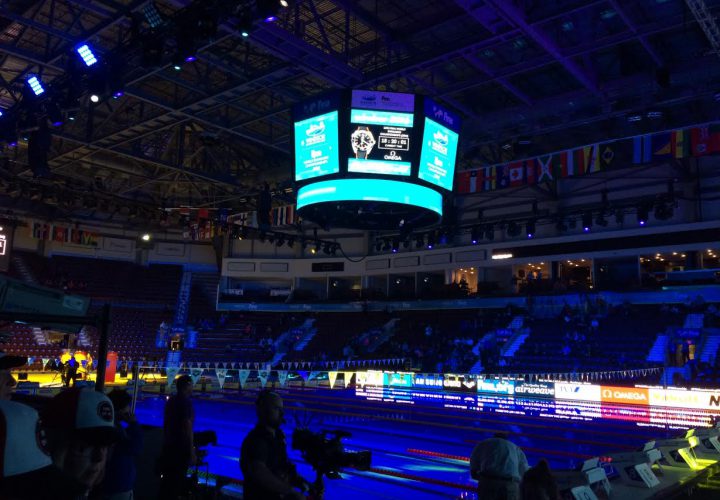 Photo Courtesy: Taylor Brien
A recent economic impact study, conducted by the Canadian Sports Tourism Alliance, revealed that the FINA World Swimming Championships (25m) and the FINA World Aquatics Convention held last December in Windsor, Canada, generated over $32 million of "economic activity" for the city.
The six-day swimming competition, held at the WFCU Centre, resulted in a surplus of $146,311, which a report from Deputy Treasurer Tony Ardovini's recommends using "to fund aquatics equipment to help grow the sport of competitive swimming in the city".
A further funding surplus of $116,191, specifically related to Windsor's $3-million investment in the event, is recommenced to be rolled into the city's capital budget for 2018.
These expenditures supported $13 million in wages and salaries in the province through the support of 191 jobs, of which 125 jobs and $8.1 million in wages and salaries were supported in Windsor. The Championships also widely supported tax revenues in Canada.
Windsor's Mayor Drew Dilkens was naturally satisfied with this outcome: "I think the results were very, very positive and I think the city should be looking at more opportunities when it makes sense. All those who were present had a chance to experience a world-class swimming event. It was a great event for Windsor!"
The FINA President Dr Julio C. Maglione also commented this report: "Despite being the smallest city ever to host our FINA World Swimming Championships (25m), the event had a tremendous and positive impact on the local economy and on the overall exposure of the city and province of Ontario. FINA experienced a great time in Windsor and this outcome proves once more the advantages of hosting a major FINA event, in terms of social, economic, tourism, and sport development benefits".
The event attracted 864 swimmers from 153 National Federations, and reached a global audience of over 460 million TV viewers.
About Fédération Internationale de Natation (FINA)
The Fédération Internationale de Natation, founded in 1908, is the governing body for aquatics worldwide. FINA's five discipline Swimming, Open Water Swimming, Diving, Water Polo and Synchronised Swimming – are all included in the Olympic programme. High Diving made its first appearance in FINA events at the 2013 FINA World Championships. FINA counts 208 affiliated National Federations on the five continents and has its headquarters in Lausanne (SUI).
Press release courtesy of FINA.