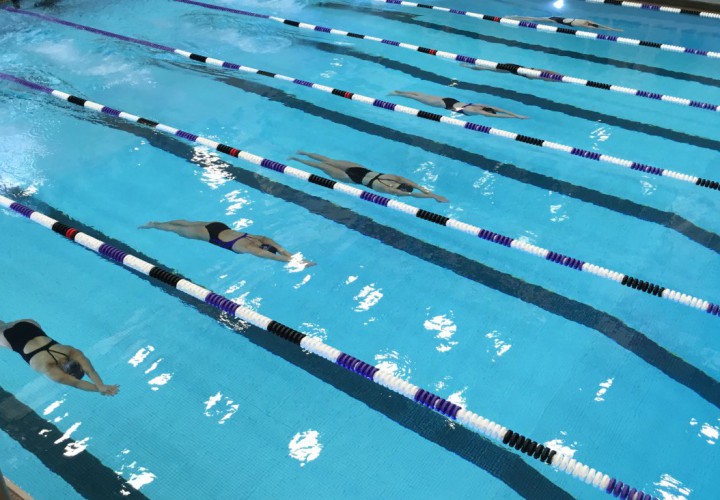 Photo Courtesy: Shannon Edelbrock
Everything you need to follow along live with day four finals of the 2016 Speedo Winter Junior Championships West. Competition begins at 6 p.m. EST in College Station, TX.
Events:
Women's 1650 Free (Fastest heat)
Men's 1650 Free (Fastest heat)
Women's 200 Back
Men's 200 Back
Women's 100 Free
Men's 100 Free
Women's 200 Breast
Men's 200 Breast
Women's 400 Free Relay
Men's 400 Free Relay
Women's 1650 Freestyle:
The women's 1650 proved to be a challenging race against the clock for top competitors, since Gabrielle Kopenski of Texas Ford Aquatics set the pace in the afternoon in 16:08.92. La Mirada Armada's Taylor Ault demonstrated extraordinary mental toughness in rising to the challenge for gold in the evening. Ault hung fairly tight with Kopenski's pace during the first half of the race but allowed Joy Field of Magnolia Aquatic Club and top seed, Mansfield Aquatic Club's Haley Yelle, to charge ahead during the first 200, and swam a generally conservative first half until about the 600 mark.
During the second half of the race, while Kopenski floundered in the afternoon, Ault gained water–splitting low 29s in several consecutive difference-making fifties. Ultimately, it was her final fifty that closed the last few tenths of the victory margin. Ault split a gutsy 27.13, putting her at 16:07.92, while Kopenski could only manage a 29.18 for her 16:08.92.
The bronze also went to a competitor from the afternoon. Field's teammate, Kaitlynn Sims, finished seven seconds behind the leaders, in 16:15.19. Natalie Jaspeado of Scottsdale Aquatics, with a 16:23.13, just touched out Yelle (16:23.20) for fourth. Early leader Field finished sixth in 16:24.93, while Melissa Pish of Waves Bloomington was the final finisher in the top eight from the fastest heat, in 16:30.17, while Sandpipers of Nevada's Reese Lamph squeezed in for eighth at 16:30.85.
Men's 1650 Freestyle:
Alamo Area Aquatics' Zach Yeadon stayed relaxed and controlled to hold pace with the leaders until the final 400, where he abruptly shifted to 26 fifty pace and pulled away from the top three competitors. His calculated pacing ultimately provided him with an impressive 14:49.90, the 16th fastest time of all time in the nation for 17- and 18-year-olds. Yeadon was followed by Scottsdale's Aaron Apel, a leader throughout the event, who found the touchpads in 14:57.71.
Michael Brinegar, the top seed swimming unattached, managed third in 15:02.20. Loveland Swim Club's Liam Gately (15:03.51) touched just ahead of La Mirada's Brad Gonzales (15:03.97). Brooks Fail, swimming unattached in the afternoon, slid in for sixth in 15:07.58, followed by the evening's Johnthomas Larson, of Edina Swim Club, who posted a 15:11.62. In the afternoon, Mikey Cavillo of Alamo Area Aquatics rounded out the top eight, with a 15:15.76.
Women's 200 Backstroke:
Regan Smith of Riptide Swim Team once again dominated this backstroke event, right on the heels of her back-to-back victories and 13-14 NAG records last night in the 100 back and 100 fly. Smith pulled away from the pack almost immediately to swim a blazing 1:51.79. Her swim marked the second-fastest time of all time in the event for 13- and 14-year-olds, second only to Missy Franklin, who swam a 1:51.07 in 2010. The time was also just a second shy of Clara Smiddy's meet record time of 1:50.59.
Fort Collins Area's Bayley Stewart claimed silver and a 1:54.44, thanks to an admirable back half. Grace Ariola of Waves Bloomington nabbed the bronze with a 1:55.25 and touched out Missoula Aquatic Club's Katharine Berkoff, who swam a respectable 1:55.76.
Jennifer Lathrop of the Sierra Marlins proved good for sixth with a 1:56.04, beating out Fort Collins Area's Audrey Reimer, who achieved a 1:56.39. Meanwhile, Sophie Krivokapic-Zhou of Santa Clara Swim Team grabbed seventh with a 1:57.24, ahead of Gold Medal Swim Club's Taylor McCoy in 1:59.09.
Men's 200 Backstroke:
Daniel Carr of Pikes Peake Athletics coasted to gold and to a 1:42.80, Carr controlled the entire race, maintaining a nearly body-length lead off of every turn after the first fifty yards. Noah Henry of Tigersharks Swim Club stayed close to Carr during the first fifty, allowing him to take the silver in 1:44.81.
Ethan Harder brought home bronze for Billings Aquatic Club with a 1:45.09, just touching out Texas A & M's Anthony Kim (1:45.18). Palo Alto Stanford's Alex Liang, the sixth place finisher, also stayed within the 1:45 range with a 1:45.80. The final three finishers all added time, including Jeffco Hurricanes' Michael Zarian (1:46.72), Lane Four Aquatics' Caleb Aman (1:48.67), and Lakeside Aquatic Club's Stephen Cheng (1:49.48).
Women's 100 Freestyle:
Aquazot Swim Club's Eva Merrell made amends for her close loss last night against Regan Smith with an aggressive swim for gold tonight, in 48.51. Merrell tied with top-seed, Aggie Swim Club's Julia Cook, in a 23.30 opening fifty, and maintained her lead in the second fifty. Amalie Fackenthal of the Davis Aquadarts earned silver thanks to her second fifty (25.13), which was the fastest in the pool. Daria Pyshnenko of CATS Aquatic Team laid claim to bronze with a 48.75, while top seed Cook took fourth in 48.89, due to a lagging back half.
Palo Alto Stanford's Isabelle Henig achieved fifth place and a 49.04, and Samantha Shelton of Mission Viejo Nadadores, the 200 freestyle victor, placed sixth with a 49.71. Cathy Teng of Santa Clara Swim Team took seventh with a 49.88, and SOCAL Aquatics' Elise Garcia just topped the 50-second barrier for eighth, in 50.08.
Men's 100 Freestyle:
Ryan Hoffer of Scottsdale Aquatics, who led off Scottsdale's winning, NAG record-breaking 200 freestyle relay last night with a scorching 18.76, won the 100 free handily with a 41.71, just shy of his own meet record (41.23). Terrapins Swim Team's Alexei Sancov was the event's next highest finisher, with a 43.46, just ahead of bronze medalist Dad Clubs Swim Team's Clayton Bobo, who hit a 43.81.
Matthew Willenbring of Austin Swim Club achieved a 43.84, just touching out North Texas Nadadores' Jack LeVant (in 43.98) for fourth. A mere splash likewise separated Trident Aquatics' Patrick Callan (44.91) and Pikes Peake Athletics' Daniel Carr (44.97). Mike Thibert of Texas A & M trailed in the field in 45.50.
Women's 200 Breaststroke:
Zoe Bartel of Fort Collins Area Swim Team trounced the meet record set last year by second-place finisher and top seed Grace Zhao of Palo Alto Stanford, along with the SCY National Age Group Record for 15- and 16-year-olds in the 200 breaststroke. The 16-year-old dashed to a 2:07.73, over a second ahead of Zhao's meet record of 2:09.23. Bartel's final fifty split of 33.10 was the deciding factor in her back-half bypass of Zhao.
Zhao had an impressive race as well, breaking her own meet record in 2:09.23 and remaining far ahead of the pack with Bartel. In the mean time, Crow Canyon's Zoie Hartman dropped down to a 2:11.83, two seconds faster than her prelims race, for bronze.
Loveland Swim Club's Morgan Friesen finished in 2:12.30 for fourth, just ahead of the Terrapins' Emily Lo, who posted a 2:12.90. The last three finishers all touched in the 2:14 range. Halladay Kinsey of Davis Aquadarts came out on top for sixth in 2:14.12. Irvine Novaquatics' Isabelle Odgers was six hundreths behind her in 2:14.18, while Kelsey Lloyd of BREA Aquatics took eighth in 2:14.78.
Men's 200 Breaststroke:
Daniel Roy, swimming unattached, annihilated his competition with a time of 1:55.60. The time also cracked the meet record of 1:55.88, which had been set by Orinda Aquatics' Steven Stumph in 2012. Three seconds behind Roy, Trent Pellini of Mission Viejo Nadadores snagged second in 1:58.74, while Portland Aquatic Club's Josh Bottelberghe took bronze with a 1:58.57.
San Clemente Aquatics' Brad Prolo and West Coast Aquatics' Jonathan Cook remained under two minutes, taking fourth (in 1:59.68) and fifth (1:59.97), respectively. Caleb Aman of Lane Four Aquatics grabbed sixth in 2:01.49, while Carlson Temple took seventh in 2:01.83. Palo Alto Stanford's Maximilian Pokutta was disqualified from the event.
Women's 200 Butterfly:
Iowa Flyers Swim Team's Ruby Martin won gold in a three-woman race, posting the fifth-fastest time of all time for 15- and 16-year-olds, a 1:54.74. She also just dodged the meet record time of 1:54.37. Razorback's Taylor Pike finished just behind her in 1:54.95, and Dakota Luther of Austin Swim Club took the bronze in 1:55.25.
Also of note, fourth-place finisher Regan Smith, the 14-year-old Riptide Swim Team "Rocket," swam the second-fastest 200 SCY butterfly event of all time for 13- and 14-year-old girls: a 1:56.57. After Smith, Kara Eisenmann of Lakeside Aquatic Club broke the two-minute barrier and grabbed fifth place in 1:59.09.
Two tenths behind Eisenmann, the North Texas Nadadores' Natalie Whalen snatched sixth in 1:59.29. Diablo Aquatics' Makenna Turner swam to seventh and a 2:01.52, while SOCAL Aquatics' Elise Garcia was disqualified from the event.
Men's 200 Butterfly:
Jack LeVant of North Texas Nadadores has been a consistent performer throughout the weekend, and his solid efforts paid off with gold and a 1:45.20 in the longer butterfly event. LeVant's victory campaign began during the third fifty, where he pulled away from the field, and ultimately came down to the final stroke, where he got his fingertips on the pad just six hundreths before the top seed, Irvine Novaquatics' Andrew Koustik. 
Palo Alto Stanford's Alex Liang also stayed in the thick of the hunt throughout the event, finishing in 1:45.55 for bronze in the end. He was followed by Daniel Kim of Mission Viejo, who achieved a 1:47.38. The fight for the next three places was a tight one. Connor Lee, swimming unattached, held on for fifth with a 1:48.09, but Michael Zarian of Jeffco Hurricanes put up a strong back half and 1:48.14 for sixth. Brayden Love, also swimming unattached, posted a 1:48.91, and James Bilbrey of Mesa Aquatics rounded out the heat with a 1:49.26.
Women's 400 Freestyle Relay:
Fort Collins Area Swim Team enjoyed a decided victory and 3:19.85, thanks to the combined efforts of the Zoe Bartel (50.73), Audrey Reimer (50.25), Kylee Alons (49.12), and Coleen Gillilan (49.75). Aquazot Swim Club finished behind them, led by the 100 freestyle champion, Eva Merrell (49.25), along with Katie Glavinovich (50.81), Samantha Pearson (50.11), and Kate Krolikowski (50.26). Irvine Novaquatics brought home the gold as a result of the talents of Ayla Spitz (50.20), Mackenzie Degn (49.38), Lauren Vitort (51.05), and Jacquelyn Harris (50.84).
Other notable finishers included Palo Alto Stanford in fourth (3:22.25), Davis Aquadarts just behind them (3:22.51), and Ozaukee Aquatics on the tail end of the second (3:22.73).
Men's 400 Freestyle Relay:
Scottsdale's men, the meet champions, smoked the field once again.Their team effort utilized Aaron Apel (46.23), Parker Hughes (45.64), and anchor Jack Blake (44.20). Ryan Hoffer, unsurprisingly, torched the competition with a phenomenal 41.77 third leg. Irvine Novaquatics finished two seconds behind Scottsdale in 2:59.75, thanks to Hunter Hitchens (45.97), Justin Nguyen (44.48), Ben Blevins-Boor (44.89), and Owen Kao (44.41).
Other notable finishers included Palo Alto, who added two seconds from their seed time for a 3:00.45, and Terrapins Swim Team, who posted a 3:01.02 for bronze.