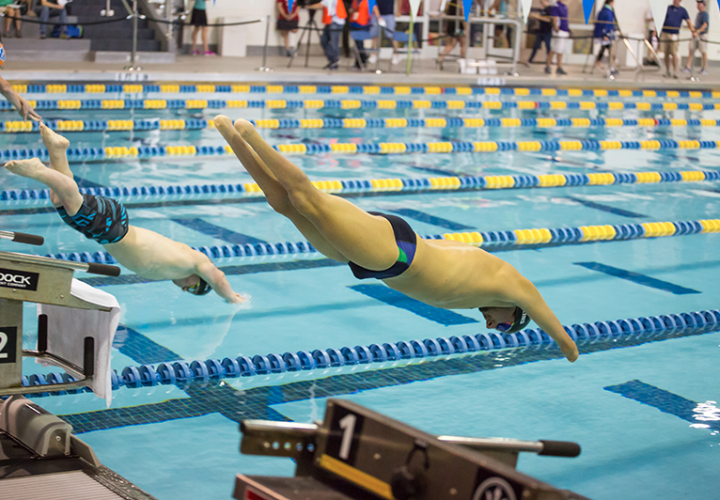 Photo Courtesy: Kevin McCarthy
Everything you need to follow along with day three prelims of the 2016 Paralympic Games. Hit refresh for the latest coverage.
Men's 100m Breaststroke SB7
Columbia's Carlos Serrano Zarate started the morning off quickly, finishing in Paralympic and World record time of 1:14.01. Australia's Blake Cochrane (1:20.08) and Simon Boer (1:20.43) of the Netherlands finished close together. Both racing in hear one, China's Hong Yang (1:21.27) and Japan's Tomotaro Nakamura (1:21.97) qualified fourth and fifth.
China's Jianfeng Chen (1:22.45) and Americans Evan Austin (1:23.48) and Rudy Garcia-Tolson (1:23.82) complete tonight's final.
Women's 100m Breaststroke SB7
Elizabeth Marks of the USA touched in a new Paralympic record time of 1:28.83. The Netherlands' Lisa Den Braber qualified second in 1:34.13, just faster than Jessica Long of the USA with a 1:34.48.
In fourth was Tess Routliffe of Canada in 1:36.34 while American Mallory Weggemann finished fifth in 1:37.88.
Ukraine's Oksana Khrul (1:39.89), Brazil's Veronica Almeida (1:42.88), and the Czech Republic's Vendula Duskova (1:44.51) also earned lanes in tonight's final.
Men's 50m Freestyle S6
China's Hongguang Jia edged Nelson Crispin Corzo 29.66 to 29.68 for the top seed. Cuba's Lorenzo Perez Escalona was third this morning in 30.24. The fourth seed went to Qing Xu of China in 30.82. Ukraine's Oleksandr Komarov (31.07) and Australia's Matthew Haanappel (31.47) followed. Colombia's Oscar Osorio Campaz and the Netherlands' Thijs Van Hofweegen tied for seventh in 31.81.
Women's 50m Freestyle S6
The Ukrainian duo of Yelyzaveta Mereshko (33.53) and Viktoriia Savtsova (34.68) took the top two seeds with Mereshko setting a Paralympic record along the way. In third this morning was Ellie Robinson of Great Britain in 34.99.
Australia's Tiffany Thomas Kane (35.27) and China's Lingling Song (35.41) were also under 36 this morning. Britain's Eleanor Simmonds (36.44) and Ireland's Nicole Turner (36.70) and Italy's Emanuela Romano (37.04) also secured lanes in tonight's final.
Men's 50m Butterfly S5
China's Shiwei He out touched the USA's Roy Perkins 35.74 to 35.75 this morning. Brazil's Daniel Dias (36.86) touched third. Andrew Mullen of Britain stopped the clock in 38.19 for the fourth seed ahead of Turkey's Beytullah Eroglu (38.61) and Vietnam's Thanh Tung Vo (38.76). Mexico's Edgar Hugo Pinedo Castro (39.20) and Slovenia's Darko Duric (40.99) will also race again tonight.
Women's 50m Butterfly S5
Xihan Xu of China was first to the wall with a 43.90. Hungary's Reka Kezdi (46.13) was second and Spain's Teresa Perales (47.73) touched third.
In a 48.33 Italy's Giulia Ghiretti finished fourth, just ahead of Belarus' Natallia Shavel in 49.78.
Turkey's Sevilay Ozturk (49.94), Norway's Sarah Louise Rung (50.63) and Brazil's Joana Maria Silva (51.56) will race again tonight.
Men's 50m Backstroke S3
Ukraine's Dmytro Vynohradets' was the top qualifier in 45.97. Italy's Vincenzo Boni touched in 47.16 ahead of a Chinese duo of Jianping Du (47.35) and Wenpan Huang (49.24). Their teammate Hanhua Li finished sixth this morning in 55.29. Fifth seed goes to Spain's Miguel Angel Martinez Tajuelo in 51.69.
Chile's Alberto Abarza (56.73) and Sweden's Mikael Fredriksson (56.91) also finished under a minute.
Women's 50m Backstroke S3
China's Guofen Meng clocked a Paralympic record of 52.64 in the first heat. Her teammate Quiping Peng then lowered that mark and took the world record with a 49.91. the Netherlands' Lisette Teunissen will be tonight's third seed in 54.34 while Ukraine's Olga Sviderska (56.49) will be fourth. Greece's Alexandra Stamatopoulou (58.47) also cleared a minute.
Brazil's Maiara Regina Perreira Barreto (1:05.94), Greece's Semicha Rizaoglou (1:06.18) and Kazakhstan's Zulfiya Gabidullina (1:06.46) will also race again tonight.
Men's 200m IM SM13
Another Paralympic record went down. This time it was Belarus' Ihar Boki in 2:06.13. Ukrainian teammates Iaroslav Denysenko (2:12.87) and Danylo Chufarov (2:15.36) were second and third this morning.
Azerbaijan's Dzmitry Salei edged Ukraine's Sergii Klippert 2:16.31 to 2:16.35. Australia's Sean Russo was just another .02 behind in 2:16.37. Uzbekistan's Dmitriy Horlin was another half second back with a 2:16.84. Australia's Jacob Templeton completed the top eight in 2:18.72.
Women's 200m IM SM13
Uzbekistan's Fotimakhon Amilova was first to the wall in a new Paralympic and World record of 2:24.43. Her teammate Shokhsanamkhon Toshpulatova qualified third with a 2:30.16. Between the duo was the USA's Rebecca Meyers in 2:29.88.
Ukraine's Anna Stetsenko finished fourth in 2:31.96 and American Colleen Young qualified fifth in 2:32.75.
Italy's Alessia Berra (2:36.39), Spain's Ariadna Edo Beltran (2:38.29) and Australia's Prue Watt (2:40.48) round out tonight's final.
Men's 100m Backstroke S10
Maksym Krypak added another Paralympic and World record to the morning's count, touching in 58.25. Just behind him was the Netherlands' Olivier Van De Voort in 58.53. Denys Dubrov of Ukraine finished third this morning with a 1:00.78. Australia's Michael Anderson finished fourth in 1:01.02. Only .01 behind him was Canada's Benoit Huot in 1:01.03, and another .05 behind was Andrew Brasil of Brazil in 1:01.08.
Alec Elliot of Canada (1:01.36) and Riccardo Menciotti of Italy (1:02.63) round out tonight's final.
Women's 100m Backstroke S10
Sophie Pascoe of New Zealand led qualifying this morning in 1:07.23. Hungary's Bianka Pap secured the second spot in 1:09.15. Alice Tai of Great Britain finished third with a 1:09.64.
Aurelie Rivard (1:10.47) and Lisa Kruger (1:10.56), representing Canada and the Netherlands were next.
France's Anaelle Roulet (1:12.20), Brazil's Mariana Ribeiro (1:12.34), and Netherlands' Marije Oosterhuis (1:12.41) also qualified for tonight's final.
Women's 400m Freestyle S11
Italy's Cecilia Camellini (5:19.17) led the way this morning. Less than a second behind her was the Netherlands' Liesette Bruinsma in 5:20.04. Germany's Daniela Schulte (5:27.41) was also under 5:30.
Mary Fisher of New Zealand (5:33.64) finished ahead of a trio of Chinese: Qing Xie (5:34.81), Guizhi Li (5:42.18), and Liwen Cai (5:43.41). Ukraine's Olga Iakibuk (5:44.15) will also swim in tonight's final.