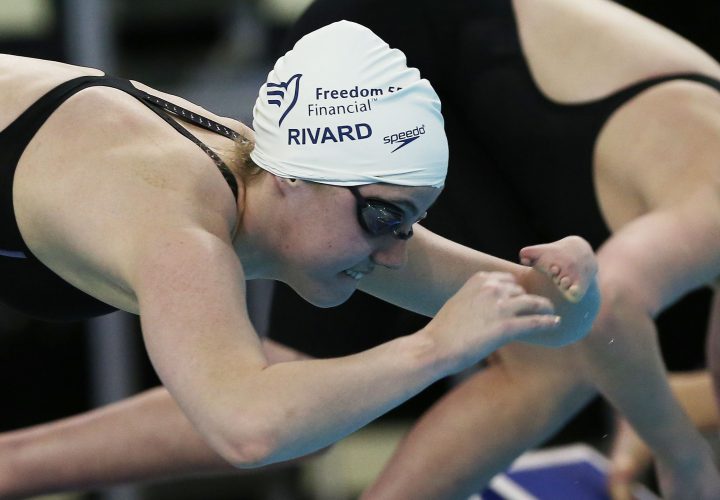 Photo Courtesy: Scott Grant/Swimming Canada
After nine Paralympic and eight world records fell on night one of the 2016 Paralympic Games, the swimmers were back in action for morning number two.
Men's 100m Backstroke S2
The Chinese and Ukrainian men dominated the first event of the morning. To take the top seed, China's Benying Liu swam a new world record time of 1:50.67. He was followed by the Ukraine's Serhii Palamarchuk in 1:51.23. In a distant third and fourth place were the Chinese duo of Liankang Zhou and Yang Yang in 1:58.29 and 2:02.34, respectively.
Ivegen Panibratets and Roman Bondarenko, both from the Ukraine, were fifth and sixth in 2:10.47 and 2:14.94. Greece's Aristeidis Markrodimitris was seventh in 2:19.25, and Poland's Jacek Czech rounded out tonight's final in 2:24.83.
Men's 50m Freestyle S7
Australia's Matthew Levy took the top seed for tonight's final in a quick time of 28.55. Close behind him in second was Colombia's Carlos Serrano Zarate in 28.87. Serrano Zarate just out-touched China's Jingang Wang, who touched at 28.89.
Fourth place went to Ievgenii Bogodaiko of the Ukraine in 29.24, while Great Britain's Jonathan Fox took fifth in 29.77. Shiyun Pan of China was sixth in 29.81.
Germany's Tobias Pollap touched seventh in 30.23, while Michael Jones of Great Britain was eighth in 30.67.
Women's 50m Freestyle S7
The first women's event of the morning kicked off with a Paralympic record from the United States' McKenzie Coan with a time of 32.57. Over half a second behind Coan, Germany's Denise Grahl touched second in 33.28. Coan's American teammate Cortney Jordan was third in 34.07.
Susannah Rodgers of Great Britain took fourth place in 34.42, just ahead of China's Yajing Huang, who had a time of 34.50. Sixth place went to Canada's Tess Routliffe in 34.74.
Rounding out the top eight were China's Liting Ke and Canada's Sarah Mehain in 34.81 and 34.91, respectively.
Men's 50m Butterfly S6
Once again this morning the Chinese team proved to be very dominant. Taking the top two spots, Lichao Wang and Tao Zheng finished in 30.89 and 31.25. Colombia's Nelson Crispin Corzo was third in 31.27. The third Chinese swimmer, Qing Xu, took fourth place in 31.74.
Fifth place went to Great Britain's Sascha Kindred in 32.76, while Japan's Kyosuke Oyama was sixth in 33.06. Talisson Glock of Brazil was seventh in 33.74. Nathan Clement from Canada took the final spot in tonight's final in 34.04.
Women's 50m Butterfly S6
Great Britain's Ellie Robinson holds a solid lead coming out of the morning with a top time of 36.62. Second to her was the Ukraine's Oksana Khrul in 37.16. Tiffany Thomas Kane of Australia was third in 37.81.
Ireland's Nicole Turner was fourth in 38.44. Following in fifth place was China's Dong Lu in 39.11. Ozlem Kaya of Turkey touched sixth in 40.65.
Seventh place went to Thi Bich Nhu Trinh of Vietnam in 42.08, while Olena Fedota of the Ukraine was eighth in 42.75.
Men's 50m Freestyle S10
Ukrainian teammates Maksym Krypak and Denys Dubrov took this morning's top two spots with times of 23.45 and 24.01 respectively. Just behind Dubrov was Brazil's Phelipe Rodrigues in 24.07.
Nathan Stein from Canada was fourth in 24.34, while Brazilian Andre Brasil was fifth in 24.36. Sixth place went to Australia's Rowan Crothers with a time of 24.49.
Stein's Canadian teammate Alec Elliot took seventh in 25.04. Rounding out the top eight was Australian Guy Harrison-Murray with a time of 25.08.
Women's 50m Freestyle S10
Another Paralympic record was broken this morning, this time by Aurelie Rivard of Canada with a time of 27.83. Rivard was just ahead of New Zealand's Sophie Pascoe, who touched in 27.95. China's Yi Chen rounded out the top three in 28.20.
Fourth place went to France's Elodie Lorandi with a time of 28.89. Just behind her was Lina Watz of Sweden in 28.93.
Chantal Molenkamp of the Netherlands took sixth place in 28.99, out-touching Brazil's Mariana Ribeiro in 29.02. Chantalle Zijderveld from the Netherlands took tonight's final spot in 29.06.
Men's 100m Backstroke S11
Poland's Wojciech Makowski led the men's backstroke this morning with a time of 1:09.40. Close behind him was Australian Jeremy McClure in 1:09.79. China's Bozun Yang was third in 1:10.40, just ahead of American Bradley Snyder in 1:10.44.
Snyder was followed by Ukrainian teammates Dmytro Zalevskyi and Viktor Smyrnov for fifth and sixth places with times of 1:10.84 and 1:11.36, respectively. Chenquan Lou of China took seventh in 1:11.64. Oleksandr Mashchenko was the third Ukrainian to make it into the final with a time of 1:13.69.
Women's 100m Backstroke S11
With a dominant swim and a new Paralympic record, New Zealand's Mary Fisher took the top spot for tonight's final with a time of 1:18.68. Fisher was nearly two full seconds behind her next closest competitor, China's Liwen Cai, who touched in 1:20.59. Following Cai were two Ukrainian teammates, Maryna Piddubna and Kateryna Tkachuk in 1:21.81 and 1:21.90, respectively.
Italian Cecilia Camellini was fifth in 1:22.01. Guizhi Li of China touched sixth in 1:23.34. In seventh and eighth places were Sweden's Maja Reichard in 1:25.19 and Japan's Chikako Ono in 1:25.36.
Men's 400m Freestyle S9
In the longest event of the morning, Australian Brenden Hall took the top seed with a time of 4:20.46. He was followed by Italian Federico Morlacchi in 4:22.20. Just behind Morlacchi was Great Britain's Lewis White in 4:22.63.
Portugal's David Grachat took fourth in 4:22.86, just out-touching Spain's Jose Antonio Mari Alcaraz in 4:22.89. Sixth place went to White's British teammate Jonathan Booth in 4:24.86.
Croatia's Kristijan Vincetic and Australia's Logan Powell finished in seventh and eighth places, with times of 4:27.87 and 4:28.94, respectively.
Women's 400m Freestyle S9
In the women's distance, another Australian took the top seed, with Ellie Cole finishing in a time of 4:50.19. Cole was exactly a second ahead of second place finisher Jialing Xu of China with a time of 4:51.19. Third place went to Manon Vermarien of the Netherlands in 4:53.26.
Great Britain's Amy Marren took fourth in 4:54.44, while Spain's Nuria Marques Soto was fifth in 4:54.98. Emily Gray of South Africa touched sixth in 4:58.10.
Rounding out the top eight were Hungary's Zsofia Konkoly in 4:59.81 and American Natalie Sims in 5:04.69.
Men's 100m Butterfly S8
In yet another event this morning, the Chinese dominated, with Haijiao Xu and Guanglong Yang taking the top two spots in tonight's final with times of 1:01.01 and 1:01.02, respectively. France's Charles Rozoy was just behind in 1:01.15. The third Chinese swimmer, Maodang Song, took fourth in 1:01.56.
Fifth place went to Mexico's Luis Armando Andrade Guillen with a time of 1:03.91. Andreas Onea of Austria was sixth in 1:04.84, while Australian Jesse Aungles was seventh in 1:05.37. American Evan Austin took the eight spot for tonight's final with a time of 1:05.94.
Women's 100m Butterfly S8
The Ukraine's Kateryna Istomina had a dominant morning swim, leading the heats with a time of 1:10.36. She was followed by Jessica Long from the United States in 1:11.56. Third place went to China's Weiyuan Lu in 1:12.29.
Maddison Elliott from Australia took fourth place with a time of 1:16.18, while Great Britain's Stephanie Slater was fifth in 1:16.32. Seventh place went to China's Xiaoqin Jin in 1:16.94.
Another American swimmer, Mallory Weggemann finished seventh in 1:18.44. Lakeisha Patterson of Australia was eighth in 1:19.96.
Mixed 4x50m Freestyle Relay
To continue their strong morning, the Ukrainian team took the top seed with a time of 2:32.19. Following behind them was team Brazil in 2:33.94. Italy was third in 2:38.01.
China took the fourth spot for tonight in 2:41.29, while Greece was fifth in 2:43.43. Australia finished sixth in 2:46.43. The final spot in tonight's final went to Israel in 3:10.00.