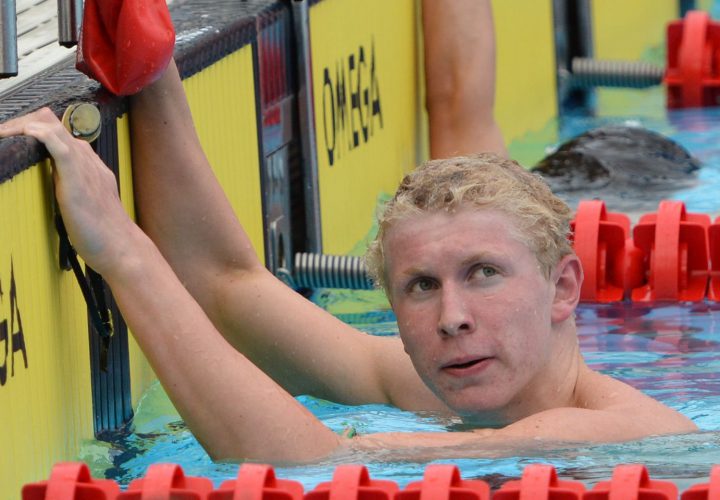 Photo Courtesy: Donna Nelson
Everything you need to follow along with prelims of day two of the 2016 Speedo Junior National Championships.
Schedule of Events:
Women's 200 meter back
Men's 200 meter back
Women's 100 meter free
Men's 100 meter free
Women's 400 meter IM
Men's 400 meter IM
Hit refresh for the latest coverage
Women's 200 Back:
To start off day two of the Speedo Junior Nationals, the women's 200 back began with Lucie Nordmann of Magnolia Aquatic Club taking the top seed for tonight's final.  Nordmann was just off her entry time, touching at 2:11.64, but she had a blazing fourth 50 of 32.06 to push her into first going into tonight.  Just behind Nordmann was Regan Smith who will enter finals with a best time of 2:11.89.
Nordmann and Smith are about a second ahead of the rest of the top eight, with Callie Dickinson as the third seed at 2:12.69.  Behind Dickinson was Nordmann's teammate Katherine Berkoff will be fourth entering finals at 2:14.33.
Marcie Maguire (2:14.95), Grace Ariola (2:15.18) and Abi Wilder (2:15.23) finished fifth, sixth and seventh respectively this morning to earn an A final swim tonight.
To top off the top eight in the women's 200 back this morning, Audrey Reimer of FAST had a personal best of 2:15.95 to sneak her into the final heat.
Men's 200 Back:
Moving on to the men's 200 back, it will be an exciting race tonight!  Clark Beach had a great swim, dropping two seconds to touch with a personal best of 2:00.05 and stealing the top seed for tonight's final.  Austin Swim Club's Josh Artmann also had a best time of 2:00.93 to enter tonight's final second behind Beach.
Alessandro Boratto of Upper Dublin Aquatic Club was third this morning, touching just off his best with a time of 2:02.03.  Beach's brother, Ethan Beach is fourth going into tonights final– dropping nearly a second to touch with a best time of 2:02.82.
Tal Davis who was fifth this morning, was just off his best finishing at 2:03.93, while Same Iida (2:04.62) and Ethan Harder (2:04.89) dropped from their entry times to place sixth an seventh after the prelims. Peter Larson (2:04.94) will round out tonight's A final.
Women's 100 Free:
With the women's 100 free next, it is going to be an incredibly tight race tonight.  Morgan Scott of Central Bucks Swim Team finished first in prelims with a best time of 56.23.  However, Scott is only seeded one hundredth ahead of Miki Dahlke (56.24) who is just another hundredth ahead of third place finisher Morgan Tankersley (56.25).
Kenisha Liu was just behind the top three with a preliminary time of 56.32.  Liu was followed by Trude Rothrock of Carmel Swim Club who touched fifth overall with a time of 56.40.
Melissa Pish (56.61), Anya Goeders (56.87) and Riley Gaines (56.90) will also be competing in tonight's A final.
Men's 100 Free:
Following the women, the men's 100 free took off.  Michael Andrew was first after the preliminary session with a time of 50.47, just off his best.  Andrew has a comfortable half second lead ahead of second place finisher David Madej who had a best time of 50.94.
Cody Bybee of the Dayton Raiders also had a best time to touch third overall at 51.14.  Bybee was just ahead of Carmel Swim Club's Drew Kibler and Sam Schilling of the Aquajets Swim Team who tied for fourth at 51.22.  Just behind them was Matthew Willenbring, who after being entered with a SCY time, snuck into the A final at 51.26.
Finishing just a hundredth behind Willenbring was Levente Bathory (51.27) of Enfinity Aquatic Club, who touched just ahead of Jake Sannem (51.29) of Upper Dublin Aquatic Club to complete tonight's top eight for the men's 100 free.
Women's 400 IM:
Maintaining her top seed coming into the meet, Lauren Edelman of Fishers Area Swimming Tigers will be first headed into finals tonight.  Edelman finished a few seconds off her best at 4:49.59.  Finishing second overall this morning, Sammie Burchill of Carmel Swim Club was also just off her best at 4:51.92.
As an overall close final for the women's 400 IM, Hailey Houck will enter finals as the third seed at 4:52.07, while Dannie Dilsaver was fourth after prelims clocking in a best time of 4:53.19 and Carley Lowe will enter tonight's final fifth.  Lowe was just off her best touching at 4:54.96.
After just competing in the 100 free, Kenisha Liu of Brea Aquatics finished sixth overall at 4:55.26, just ahead of Maggie Jahns (4:56.01) of Fishers Area Swim Team and Camryn Toney (4:56.11) of Texas Ford Aquatics.
Men's 400 IM:
For the final event of the preliminary session, Kieran Smith of Ridgefield Aquatics Club touched first with a best time of 4:25.52, about a second and a half ahead of the top seed coming into the meet Sam Iida.  Iida was off his best this morning, finishing at 4:27.13, just a tenth ahead of Tal Davis who touched third overall at 4:27.23.
Fourth and fifth place were just behind Iida and Davis, with Carson Foster of the Mason Manta Rays finishing fourth just off his best at 4:27.77.  Foster's teammate and brother, Jake Foster, took fifth after prelims with a best time of 4:27.80.
Finishing just after the Foster brothers, Eric Knowles of the Dayton Raiders will enter finals sixth at 4:28.16 and Carter Grimes (4:28.30) will be seventh, with Matthew Jerden (4:30.73) rounding out the top eight for tonight's final of the men's 400 IM.