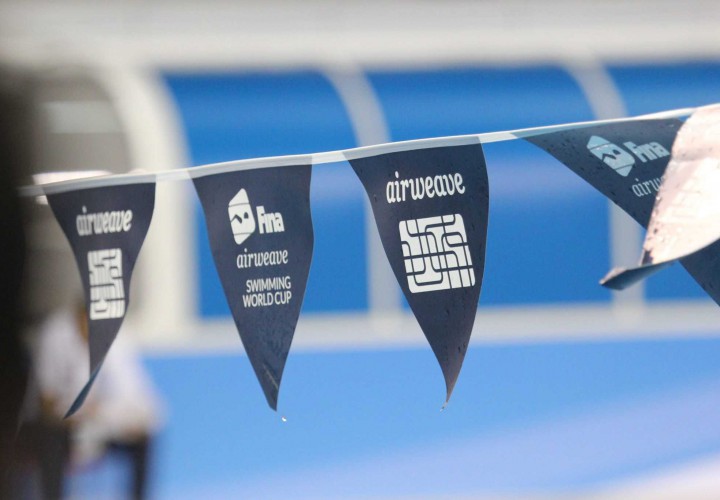 Photo Courtesy: Qatar Swimming
The final session of the 2016 FINA World Cup series kicks off now. Everything you need to follow along with day two finals of the 2016 FINA World Cup Hong Kong. Hit refresh for the latest coverage.
Women's 100 Freestyle
Denmark's Jeanette Ottesen was three tenths faster than Hungarian Katinka Hosszu. The two took gold and silver in 52.46 and 52.76. American Kelsi Worrell completed the podium in 53.01. Her USA teammate Eva Merrell finished fifth (54.54) behind Canada's Michelle Williams (53.88).
Finland's Hanna-Marie Seppala (54.71), Russian's Daria Ustinova (54.86) and China's Yue Wu (55.15) finished sixth, seventh, and eighth.
Men's 200 Freestyle
In the men's first event of the morning, Belgium's Pieter Timmers out touched Great Britain's James Guy 1:44.57 to 1:44.59. Japan's Daiya Seto clocked a 1:45.81 for third, just .09 faster than Hungary's Peter Bernek.
Poul Sellmann (1:48.15) of Great Britain, Columbia's Omar Pinzon Garcia (1:48.96), Canada's Jeremy Bagshaw (1:49.28) and the USA's Andrew Joseph Abruzzo (1:51.05) completed the top eight.
Women's 50 Breaststroke
In the final sprint breaststroke event of the world cup, Jamaica's Alia Atkinson got to the wall first with a 29.20. American Molly Hannis (29.75) touched just before Russian Yulia Efimova (29.77) and her own teammate Breeja Larson (29.88).
Sarah Vasey of Great Britain was fifth in 30.52 while Iceland's Hrafnhildur Luthersdottir finished sixth in 30.73. Wrapping up the final were USA's Zoe Bartel (31.17) and Canada's Rachel Nicol (31.22).
Men's 100 Breaststroke
The top four swimmers cleared a minute with Brazil's Felipe Lima leading the charge in 57.32. Germany's Marco Koch (58.53) was .01 faster than Japan's Yasuhiro Koseki (58.54). His teammate Ippei Watanabe (59.37) was fourth. In 1:00.08 Michael Andrew of the USA finished fifth. Syria's Azad Al Barazi (1:00.51), Hong Kong's Hoi Tung Ronald Tsui (1:01.52), and Bermuda's Julian Fletcher (1:02.46) completed the top eight.
Men's 100 Butterfly
Chad Le Clos of South Africa unleashed a winning 49.52 ahead of Japan's Shinri Shioura (50.97).
Belarus' Ravel Sankovich (51.11), USA's Josh Prenot (51.25), and Chian's Peng Wang (51.40) finished third through fifth. Hong Kong's Chun Nam Derick Ng (52.53), Japan's Daiya Seto (53.84) and Canada's Nicholaas Dane Dekker (54.74) rounded out the final.
Women's 100 Backstroke
With a half second margin of victory, Hosszu claimed her first event of the day in 56.30. Australia's Emily Seebohm posted a 56.82 ahead of Ukraine's Daryna Zevina (57.92).
American teammates Lucie Nordmann (58.13) and Regan Smith (58.34) touched just before Canadian duo Danielle Hanus (58.79) and Hilary Caldwell (59.43). China's Yixin Wu (59.46) finished eighth.
Men's 50 Backstroke
With a 23.02 Pavel Sankovich of Belarus won the 50 backstroke. Spain's Miguel Ortiz-Canavate (23.54) was second. Australian Mitch Larkin and Russian Stanislav Donetc tied for third in 23.71.
Hong Kong's Lai Yeung Chung (25.23), Kai Hong Henry Ng (25.52), and Cheuk Hei Matthew Chung (25.71) were fifth, seventh, and eighth. American Clark Beach (25.45) finished sixth.
Women's 200 Butterfly
Hosszu posted a 2:06.09 to win another event, ahead of fellow Hungarian Zsuzsanna Jakabos in 2:07.51. They were also joined in the top eight by Hungary's Evelin Verraszto (2:12.30) in fifth.
Canada's Katerine Savard (2:08.82) and Hong Kong's Kin Lok Chan (2:10.64) finished third and fourth.
Wrapping up the final were Tsz Ching Chan (2:14.84), Camille Wishaupt (2:16.82) and Long Yan Esther To (2:20.73).
Men's 200 IM
It was a tight battle for podium spots tonight. Japan's Daiya Seto got to the wall first in 1:53.09. American Josh Prenot stopped the clock in 1:53.63 and Germany's Philip Heintz was third with a 1:53.95.
USA's Michael Andrew (1:58.87), Hungary's Peter Bernek (1:59.93), and Japan's Ippei Watanabe (1:59.99) also cleared two minutes.
Austria's Sebastian Steffan (2:01.46) and the USA's Sean Grieshop (2:05.84) rounded out the top eight.
Women's 400 Freestyle
While American high school senior Sierra Schmidt led prelims, Hosszu got her hand to the wall first with a 4:05.31. Schmidt posted a 4:06.76 and China's Junjun Guo took bronze in 4:08.35.
New Zealand's Emma Robinson (4:13.02) and Hong Kong's Tsoi Lam Katii Tang (4:14.71) finished fourth and fifth.
Canadian Olivia Anderson (4:14.84), China's Jiayi Lyu (4:15.83) and USA's Joy Field (4:17.72) also swam in tonight's final.
Men's 50 Freestyle
Vladimir Morozov sprinted to the top of the podium. The Russian stopped the clock in 21.16. the whole heat was spread by less than a second. Britain's Benjamin Proud (21.33) and Le Clos (21.45) also took home prize money.
Finland's Ari-Pekka Liukkonen (21.57) was .02 faster than South Africa's Roland Schoeman (21.59) and .05 quicker than American Anthony Ervin (21.62).
New Zealand's Daniel Hunter (21.73) and USA's Michael Andrew (22.03) finished seventh and eighth.
Women's 200 Breaststroke
Yulia Efimova got to the wall first (2:16.49) ahead of four Americans. Breeja Larson (2:17.99), Molly Hannis (2:21.85), Zoe Bartel (2:24.87), and Brooke Forde (2:25.54) finished second through fifth.
Wrapping up the event was Rainbow IP (2:34.33), Dana Ann Chan (2:36.27), and Gabriella Jia Yun Wei (2:38.30).
Women's 100 IM
Hosszu (58.21) led Atkinson (58.76) and Seebohm (59.11) under a minute in the 100 IM.
Kanako Watanabe of Japan (1:00.20) and Finland's Hanna-Maria Seppala (1:01.63) touched fourth and fifth.
Austria's Lisa Zaiser (1:02.03) was just faster than Canadians Danielle Hanus (1:02.21) and Sarah Darcel (1:02.50).
Men's 200 Backstroke
Larkin unleashed a 1:50.33 for the win in the final backstroke event. Pinzon Garcia registered a 1:53.19 and Bernek posted a 1:54.07. Finishing fourth was Beach (1:55.89), one place higher than fellow American Austin Katz (1:57.34).
France's Mexence Orange (1:57.55), Hong Kong's Yau Ming Cheung (2:01.77) and American Sean Grieshop (2:04.71) also raced again tonight.
Women's 50 Butterfly
Ottesen blasted a 25.65 ahead of Seebohm (26.01) who edged Atkinson (26.08). Canadians Savard and Michelle Williams (26.52) were fourth and fifth.
China's Xintong Lin (26.61), Hong Kong's Hang Yu Sze (26.66) and USA's Eva Merrell (26.77) all finished in close succession.
Men's 1500 Freestyle
Ukraine's Mykhallo Romanchuk (14:18.53) and Hungary's Gergely Gyurta (14:43.61) both finished under 15 minutes.
The next four finishers: American Andrew Abruzzo (15:04.42), Taipei's Che-Tu Hsu (15:52.25), Hong Kong's Xian Hao Jonathan Liao (15:52.67) and Chak Hang Lam (15:53.47) were faster than 16 minutes.
Ming Hong Wong (16:02.94) and Ming Hong Cheuk (16:13.30) finished seventh and eighth.
Women's 400 IM
Hosszu finished the World Cup in winning fashion with a 4:28.50. Stanford commit Forde was on her tail in 4:29.66.
Jakabos posted a 4:37.05 for third while Austria's Lisa Zaiser (4:43.36) and Canada's Sarah Darcel (4:46.27) were fourth and fifth.
Cho Ying Wong (4:56.20) and Hoi Kiu Lam (5:00.04) completed the final.