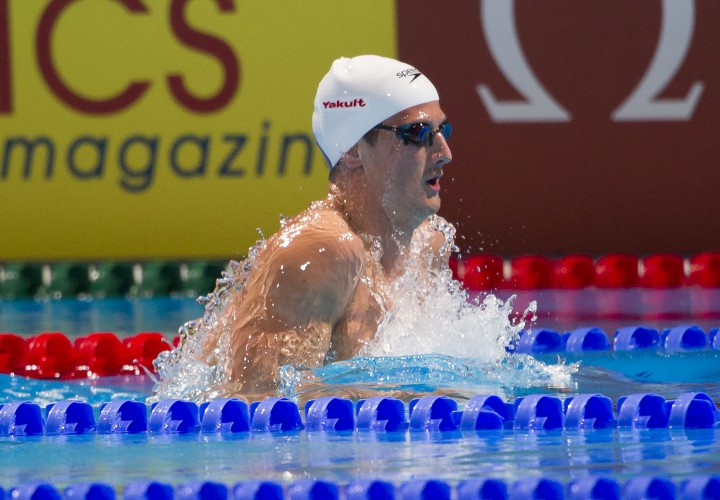 Photo Courtesy: Joao Marc Bosch
2012 Olympic Silver Medalist in the 200 breaststroke, Michael Jamieson of Great Britain spoke in an interview with The Guardian about the recent doping issues in the sport of swimming.
Jamieson told The Guardian about the issues in the sport with the Russian Federation and the People's Republic of China and how a lot of these athletes have been able to cheat without getting noticed.
"I don't want to tarnish everyone with the same brush but we've seen foul play with the Russians, eastern bloc nations and the Chinese," Jamieson told The Guardian.
He then went to reference a specific story where he was at an international camp in Australia where six athletes from an unmentioned country swam a 3:44 or faster in a 400 free test set in the pouring rain off of aluminum starting blocks.
"My opinion is it's still a huge issue today. Micro-dosing is virtually untraceable," said the now 29-year-old Jamieson.
"The natural levels of testosterone have parameters so wide you can micro-dose slightly and have a huge benefit. Within 24 hours it's gone but you benefit for three months. Undoubtedly swimming has a problem. I have no idea how you get on top of it.
"I think the way FINA have conducted themselves the last couple of years is an absolute disgrace. To see the executive director of FINA embracing Sun Yang on the poolside at the Rio Olympics? How do you tackle that?"
Jamieson won the silver medal in the 200 breast in London in 2012, where he finished at 2:07.43 behind Hungary's Daniel Gyurta. Jamieson's silver was the first medal for Great Britain in the event since Nick Gillingham's bronze in 1992, but even Jamieson believes he 'had too much left' in the final.
To read the full interview, including Jamieson opening up about his mental health struggles over the years, click here.