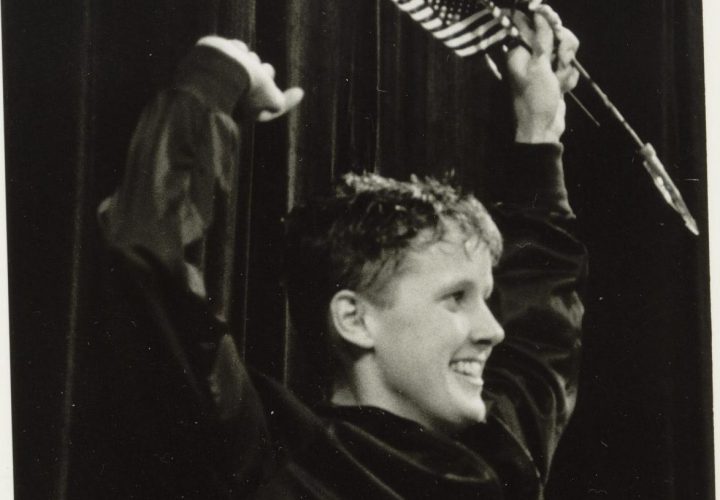 1988 US Olympic Swimmer Katrina Radke will star in Season 35 of "Survivor" that premieres tonight at 8 p.m. EST. Radke is now 46 and is one of 18 castaways competing for the $1 million prize. The season is titled, Heroes vs. Healers vs. Hustlers, with each contestant being split into one of the three groups based on their positive character traits.
Radke, who currently works as a therapist and offers sports psychology counseling at WeCoach4U.com, is a member of the Heroes tribe.
Radke spoke to TeamUSA.org about her experience on the show.
Radke had initially applied to be on the show in 1999 when it was launched when she was 29, but she didn't hear anything back. She and her family have enjoyed the show over the years and her son encouraged her to apply for the show again recently. She was hesitant because her kids were so young, but she ultimately decided to apply again.
"In late November of last year, I got called and they had me go through a whole casting week," Radke told TeamUSA.org. "I flew to Los Angeles and you're basically in a hotel room, and you can't meet the other cast people, but you kind of get a feel for who you might play with."
A few weeks later, Radke got called back to finalize that she was going to be on the show, and she flew to Fiji in late March.
Radke had watched the show over the years, but even she was caught by surprise by how different the show is behind the scenes.
The cast mates were instructed not to talk to each other before the game started, as they had production assistants out there to make sure they didn't talk to each other.
"I knew to bring books but I didn't know I was actually going to read all of my books!" Radke said. "They take your phone, and you don't have anything. No electronics. You literally can't talk [to anyone]. You can't go swimming in the pool area or the ocean. You can't do anything!" Radke also said that being away from her family for the duration of the trip was one of the most difficult parts.
Radke also made note in her interview that her swimming background helped her through the physically demanding tasks.
"I mean, I'm not 20 anymore, I'm 46, so obviously I'm not in the shape I was in, but I'm still in really good shape," Radke told TeamUSA.org. She said she still can run and pound out 45 pushups in 30 seconds, so the physical aspect wasn't going to worry her. She also said that she earned the nickname, "Rocky" in high school because of the way she trained.
"I was always known for being quite mentally tough, so I wasn't too phased or too worried about what was going to be thrown my way. I thrive on that."
"Survivor" premieres Wednesday night, September 27, at 8 p.m. EST on CBS.
To read the full report from Team USA, click here.