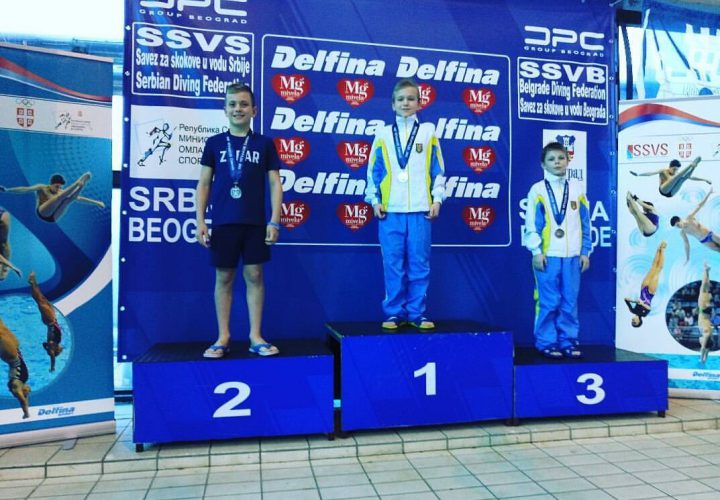 Matvii Zhiliaiev (center) at the 15th Belgrade Diving Trophy Meet in Belgrade, Serbia - Photo Courtesy: Steven Selthoffer
Commentary by Steven Selthoffer, Swimming World Contributor.
About a year ago I saw his dive on a video sent by a friend on my iPhone news feed. I sat up. "Whoa!" I nearly spilled my coffee. I automatically hit play again… and then again… and again… I got this great feeling, an excitement in my stomach. You know it when you see it.
He ripped dive after dive and had such composure and confidence, I had to re-check the data, the name and age to make sure it wasn't a doctored or bogus video production.
His name is Matvii Zhiliaiev from the Kharkov Diving Club, Kharkov, Ukraine. Now he is 10-years-old and is a double gold medalist in the 1m and 3m springboard and landed a silver in the 10m platform this weekend at the 15th Belgrade Diving Trophy Meet in Belgrade, Serbia.
The BIG Three: Zhiliaiev, Nevescanin and Avanesov
In the 3m springboard Zhiliaiev dominated with 234.00 points. Second place went to Matej Nevescanin, KSV Zadar, CRO with 223.05 points and Danylo Avanesov, Kharkiv Diving Club, UKR took third respectively with 209.10 points. All three were impressive from the 3m boards hitting all of their dives really strong.
In the 1m Zhiliaiev won with 225.15 points. Nevescanin, KSV showed his strength again by pulling away from the competition taking second with 218.25 points. Not to be outdone, Avanesov, Kharkiv Diving Club hit some strong dives at the end completing his list, winning the third spot on the podium for his podium repeat with 190.00 points. Not a bad afternoon of work for these young champions.
There is a lot of competition in this event and age group and no shortage of talent in Eastern Europe and the Balkans especially with Serbia in diving, swimming or basketball with KK Partisan ruling the boards here on the courts.
UKR coach Natalia Andrievskaya leading the way
Zhiliaiev is coached by Natalia Andrievskaya who has done an outstanding job with the seven young protégés she has under her wing. She has maintained the right balance of making the practices fun and lively combined with instilling superb fundamentals in each athlete. Watching the videos of her team in training, the poise and maturity you see in the kids is a reflection of the coach and a very successful mentoring process.
Team UKR Diving has a bright future
The Ukraine Olympic Committee President is Olympic pole vault great and world record holder Sergey Bubka. Juri Tamm is the General Secretary. This talent has not gone unnoticed at the highest levels. They no doubt share the same excitement and hopes everyone else has seen with these young divers. Ukraine has a long history of producing great athletes. They know how to do it and keep on doing it.
Family and fun
Right now his mother Olga is directing his efforts and doing a fantastic job with her two young boys, both of whom are divers. She is keeping things fun, there is zero pressure with only a minimal travel schedule.
Having been pool side for three years watching USA Olympic diving coach Hobie Billingsly nurture and develop world-class talent, there is a certain undefinable factor with the world's best divers. You know it when you see it in their approach, their stand, their keen "absorption" of information spoken from the coach, you see a quiet fearless, a confidence in each and every dive no matter how difficult the list or from what platform.
Matvii is only 10-years-old and already is displaying the same qualities of divers who have already been at the peak of their careers.
This kid is going to be fun to watch as he progresses. Matvii Zhiliaiev… from the Kharkov Diving Club. Remember that name. AND! …Don't forget… He has a brother!
All commentaries are the opinion of the author and do not necessarily reflect the views of Swimming World Magazine nor its staff.