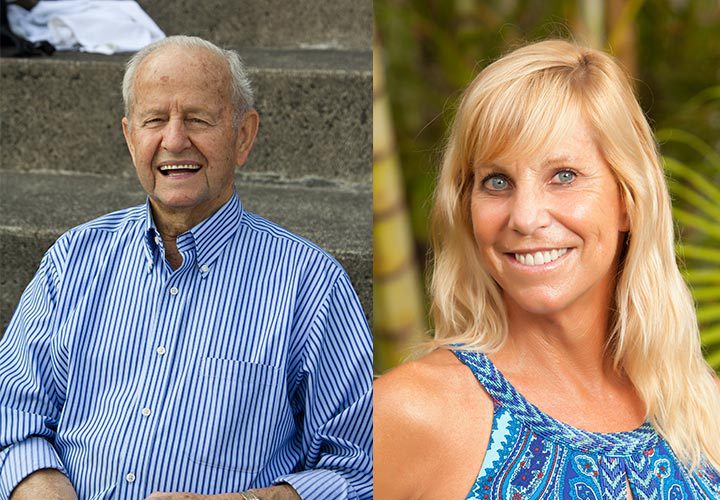 (L-R): Willard Lamb and Karlyn Pipes
2017 Top 12 World Masters Swimmers of the Year
Sponsored by TriSwim whose products remove chlorine, chlorine odor & salt water, and green tint.  Their salon quality products hydrate & moisturize the skin, heal itchy skin & hair, relieve dandruff, eliminate pool rash & relieve symptoms of eczema.
Swimming World Magazine has been recognizing the Top 12 World Masters Swimmers of the Year for the last 14 years. Running from April 2nd through April 7th the staff at Swimming World will be shining a spotlight on the accomplishments of our Top 12 World Masters Swimmers of the Year.
Willard Lamb, USA (95-99)
In high school, Willard "Wink" Lamb set a Washington state record in the 220 yard freestyle. The event was discontinued a few years later, so that's one record he knows will never be broken.
A few of the Masters world records he has set recently might also stand the test of time. Lamb set 17 world records in 2017 (11 events) in the 95-99 age group. In long course, he broke every freestyle and backstroke record. His times for the 50-100-200-400- 800-1500 freestyles were 45.71, 1:53.86/1:47.59, 4:21.57/4:04.60, 9:11.20/8:43.18, 19:20.86/17:42.57 and 37:06.82/33:39.77. For the 50-100-200 back, he set Masters standards for his age group of 58.63 (first 95-99-year-old to break a minute), 2:18.07/2:11.19 and 4:37.71. In short course, he added records in the 100 and 400 free (1:47.23, 8:13.42).
Between high school and his glut of Masters world records, Lamb was out of the pool most of his life. Drafted into the Army after one year at the University of Washington, he became a paratrooper in the Paci c theater of World War II. He did not return to swimming until he retired in 2002, and he began competing in 2006—when he was 83 years old!
He never stopped, and as long as he stays healthy, he has no plans to do so. He will even keep swimming the 1500 free.
"I swim a mile every day, so you kind of keep in shape for distance," Lamb said. "I figure, swimming a mile, I might as well enter the 1500."
Lamb swims five days per week at his local health club. His workout used to consist of only freestyle and backstroke, but he recently made some changes.
"One of my coaches suggested that I should be swimming an IM," he said. "I swam my rst IM at the end of December. I didn't get disqualified, so now she wants me to swim the 200 IM. Every day, when I go to the club, I swim up and back butterfly and then up and back breaststroke, and then I do my freestyle. I end with six laps of backstroke at the end of workout."
Karlyn Pipes, USA (55-59)
Karlyn Pipes has been named a Swimming World Top 12 World Masters Swimmer of the Year five times over her illustrious career, but the last time she earned a spot on the list was in 2012. Since then, she's been inducted into the International Swimming Hall of Fame and has become a published author.
In 2015, Pipes released an autobiography, "The Do-Over: My Journey from the Depths of Addiction to World Champion Swimmer," detailing how swimming helped put her life back together after battling alcoholism. She also details that story in her work as a motivational speaker.
"I hope that by sharing my real and raw story at my inspirational talks and in 'The Do-Over,' that others can see how liberating it is to let go of all that stuff that's holding us back," Pipes said.
And on occasion, she still breaks world records. In 2017, she set 10 of them! Competing in the women's 55-59 age group, Pipes broke short course records in the 100 free (1:00.61), 100-200 back (1:08.33, 2:29.22), 100 y (1:08.15) and 100-200 IM (1:09.08, 2:31.06). In long course, she achieved global bests in the 50 free (28.69, tying Laura Val from 2008) and 50-100-200 back (32.36, 1:11.23, 2:37.77).
Over her Masters career, Pipes now has set more than 220 world records—but she explained that she doesn't take swimming as seriously as she once did. She takes breaks from the pool, she swims open water, and she has even dabbled in triathlon.
"I used to grind out 5 to 6,000 meters, six days a week," Pipes said. "Now I don't even keep track of how far I swim. I do a lot more quality swimming, take rest and work really hard for a much shorter period of time three times a week. Easy recovery swims are 2 to 3K in the ocean with friends and dolphins."
At this point in her career, Pipes' times in the pool do not define her. Instead, swimming is about enjoying the water and the relationships she has built in the sport. "I know that my self-worth is not based on my performance," she said. "I am a good person whether I swim fast or not. I've taken the pressure off to perform. I just swim, have fun and do my best."