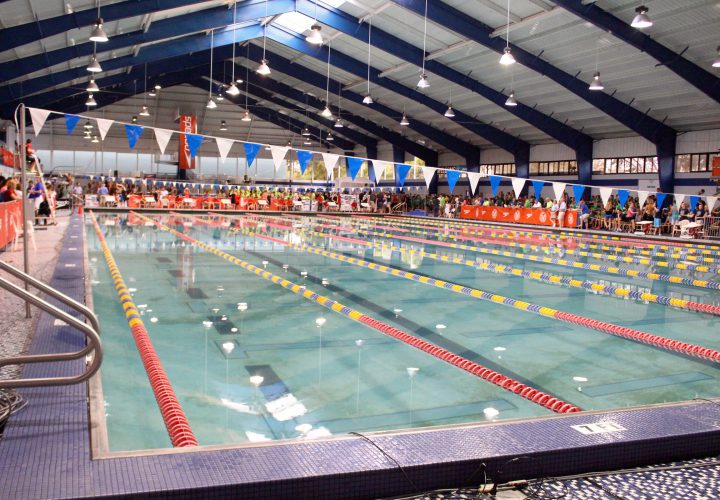 Photo Courtesy: Taylor Brien
On the final night of Southern Zone South Sectionals competition at the YMCA Aquatic Center in Orlando, Florida many familiar names were seen on the podium yet again, while some young guns took their shot at the top spots.
The distance events were the first finals event to take place, though most of the heats were swum after preliminaries and before finals, as they are timed final events. The top heat of each event and gender swam during finals, though anyone from any heat can score in the top-32 and bump a swimmer, who was seeded to score, down a few spots.
The women's 800-meter freestyle came down to a few tenths of a second when Gulliver's Marcella Ruppert-Gomez and Fast Lane's Madison Murtagh posted times of 8:54.67 and 8:55.27, respectively. Jenseo Kim from Scarlet Aquatics was in the mix too with a 8:55.95.
The men had another close race in the 1500-meter freestyle, this time between TBAY's Brendan Driscoll and AK Sharks' Blake Manganiello who turned in 15:55.90 and 15:56.84. Scarlet Aquatic's Jackson Karofsky swam a 16:07.46 to earn the bronze.
The women kicked off the night with the 200-meter butterfly. Mary Smutny from AK Sharks in South Florida swam away with the win by putting up a time of 2:13.85. Highlander's Carley Lowe was able to hold off Gulliver's Emily Cordovi by swimming 2:15.54 to Cordovi's 2:16.00.
The men took their turn at the 200-meter butterfly and Jonathan Gomez took the gold in 2:00.70. The Bolles School sharks were well represented with Joey Carbone taking the silver in a 2:02.57 while Ben Kennedy earned the bronze with a 2:03.14.
The 100-meter freestyle was next on the menu in Orlando and the women were first to serve. Mary Smutny pulled off the tough double tonight by turning in a time of 57.18, which was good enough to hold off a talented field including the silver and bronze medalists, Riley Ober and Grace Redding who turned in a 57.31 and 57.38 respectively.
Grant Sanders continued his dominance at this competition by winning yet another gold medal, this time in the 100-meter freestyle. Sanders narrowly escaped Clearwater's Alberto Mestre, who turned in a time of 51.23. The bronze was awarded to Jan Collazo Torres out of TPA with a time of 52.13.
Emma Weyant came out on top yet again in Orlando by winning the women's 200-meter breaststroke in 2:36.97, a time that was well ahead of the next two finishers. Paige Scheriger, out of Gator Swim Club, was one of those two. Scheriger swam a 2:38.44 while FIU's Nicole Hunnewell snuck in for the bronze at 2:39.08.
FSU was well represented in the men's 200-meter breaststroke A-final. Juan Sequera posted a time of 2:17.13, a full five and a half seconds ahead of silver medalist Marc Rojas, who swam a 2:22.70. Teolio Daries from Gulliver was third in 2:23.29.
The backstrokers dove in for the final individual event of the evening, with the women's 200-meter backstroke. Gator Swim Club's Caitlin Brooks blew away the rest of the field with a 2:17.06. The next fastest swimmer in the heat was Shelly Drodza out of FSU with a 2:19.13. Ryley Ober from Sarasota Tsunami snuck in for the bronze at 2:19.25.
Arkady Vyatchanin made an appearance in the men's 200-meter backstroke. Representing New York Athletic Club, Vyatchanin posted a 1:58.59, a time almost five seconds ahead of silver medalist Johannes Calloni, who swam a 2:03.09. Grant Sanders swam a swift 2:05.28 to earn his bronze medal.
Full Results are available on Meet Mobile as Southern Zone South Sectional Championship.