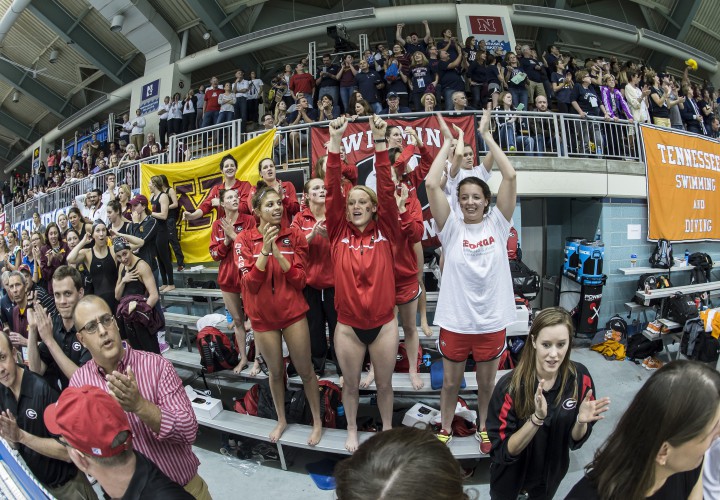 Photo Courtesy: Peter H. Bick
The University of Georgia Bulldogs took on the Eagles of Emory University at home in Athens, GA. Both the men and women of Georgia collected wins to move them to a record of 4-0 for the season. The men won 180.5-86.5, while the women won 180-115.
Mattias Koski of Georgia collected a trio of wins sweeping the competition in both the 100 (44.60) and 1,000 (9:15.21) free, while also getting his hand to the wall first in the men's 100 fly with a time of 48.86.
Crawford Berry took first in the diving events collecting a score of 320.78 on the 1-meter springboard and a score of 384.30 on the 3-meter springboard.
Georgia's James Guest was the other Bulldog who finished with multiple wins earning first place in the 200 breaststroke with a time of 2:01.85 and 200 Individual Medley with a final time of 1:51.98.
The Emory women delivered a powerful punch in the 200 free with Julia Wawer (1:52.26), Cindy Cheng (1:53.84), and Meg Taylor (1:55.36) finishing second, third and fourth respectively.
Samantha Fazio of Georgia posted a time of 23.82 for first in the 50 free, while Emory's Marissa Bergh finished second with a 24.13.
The Emory women swept the 3-meter diving taking first, second, and third. Mara Rosenstock claimed first on the 3-meter springboard with a score of 260.63. Second went to Emma Watson and her score of 259.13, while Natalie Bauer finished third with a 208.50.
2015 University of Georgia vs Emory University Dual Meet – Results