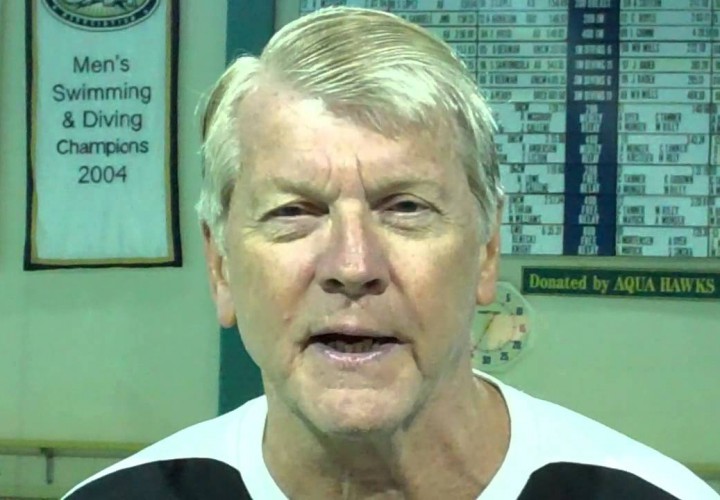 WILMINGTON, North Carolina, March 13. EXPRESSING a desire to spend more time with his wife, children, and three grandsons, longtime coach Dave Allen, the founding father and architect of UNCW's swimming and diving program, is heading for dry land.
Allen announced his retirement on Thursday after coaching 43 years at three different institutions and will step down officially on June 30, 2014. A national search for his successor will begin soon.
"Words cannot describe what Dave Allen has meant to this department, the university and the community," said Jimmy Bass, UNCW's athletic director. "He has not only been the most successful coach on our staff and in the conference, Dave has been a tremendous ambassador for the sport of swimming and diving nationally.
"We will miss Dave's tireless work ethic, friendship and professionalism, and thank him so much for his service over the last 36 years."
Allen, 66, recently led the men's team to an unprecedented 13th consecutive Colonial Athletic Association championship in College Park, Md. He has also coached the UNCW women to three championships, including back-to-back crowns in 1998 and 1999, and the 1997 and 1998 ECAC crowns.
"It's time for me to step aside and let someone else take the program to a higher level," said Allen. "The decision to retire is not based on any one thing. I still enjoy the on-deck coaching and working with the student-athletes and the competitions. There are so many other behind-the-scenes duties that need much more energy than I have right now.
"This is something that I discussed with my family going back to last year. Winning the conference meet this year, especially the way we did it, put an exclamation point on the season. I don't know if it can get any better."
Allen originated the program in 1977-78 and has directed the Seahawks to a combined 16 conference championships, 13 on the men's side and three for the women, along with a pair of Eastern titles.
The ultra-successful mentor has been named CAA Coach-of-the-Year 15 times, including five for the women and 10 for the men.
"We have accomplished a lot of great things here, but there's more growth still to do with this program and more work to be done," Allen continued.
"I'm very proud that I was given the opportunity by Coach (Bill) Brooks to start the program. I hope people will remember that we built and developed a program that the university and the city of Wilmington could be proud of."
A native of Rochester, N.Y., Allen coached his teams to 542 dual meet wins at three institutions. Prior to UNCW, where he has a record of 494-356 in 36 seasons, he coached one season at Allegheny (4-7) and then six at Potsdam State (44-26).
Allen swam collegiately at Springfield (Mass.) College and began his coaching career at Allegheny College in 1970-71. He spent one year at Allegheny before moving on to Potsdam State (N.Y.), where he compiled a 44-26 record with the Bears.
At Potsdam, Allen's squad captured the state championship in 1977 and was ranked No. 15 in the NCAA Division III poll. In his final two seasons in New York, Allen coached five All-Americans and was voted Coach-of-the-Year. He was inducted into Potsdam's Athletic Hall of Fame in 1997.
The Seahawk program took off in 1977-78 with Allen at the helm. In 36 seasons at UNCW, Allen has coached 15 All-Americans, 155 conference champions and 19 Eastern titlists.
Allen was honored in 1987 when he was selected to represent the United States government in a five-week tour of the Mideast. He presented clinics and seminars in Turkey through the U.S. Information Service's Sports America program.
Allen's student-athletes have also enjoyed great success in the classroom. Eight swimmers – Steve Hewins (1990-91), Laura Doepp (1991-92), Deb Kresho (1993-94), Brendan Curl (1999-00), Tiago Barreira (2002-03), Michael Krayer (2005-06), Melissa Milstead (2006-07), Bennett Rainey (2009-10) – have captured the Chancellor's Cup, the school's highest academic honor for athletes.
Hewins also became the first UNCW athlete to earn a CAA Post-Graduate Scholarship, while Doepp was named to the GTE-CoSIDA District III Academic All-America team.
Krayer, meanwhile, closed out his career as one of the most decorated swimmers in the program's history. In addition to helping the Seahawks secure four CAA titles, he was named the CAA Male Scholar Athlete-of-the-Year in 2004-05 and 2005-06.
Six of Allen's swimmers have been inducted into the UNCW Athletic Hall of Fame, including inaugural class members Janet Johnson and Sam O'Leary in 1998. Other swimmers enshrined are Burak Erdem (2002), Amy Lewis (2006), Dan Gallagher (2010) and Adrienne Sutton (2014).
Allen, whose children, Matt, Brian and Stephanie, have all attended UNCW and competed on the swim teams, plans to travel with his wife of 43 years, Ellen, and enjoy time with this family.
Allen said, "We are staying in Wilmington and will continue to support UNCW and UNCW Athletics as much as we can."
The above article is a press release submitted to Swimming World. To reach our audience, contact us at newsmaster@swimmingworldmagazine.com.