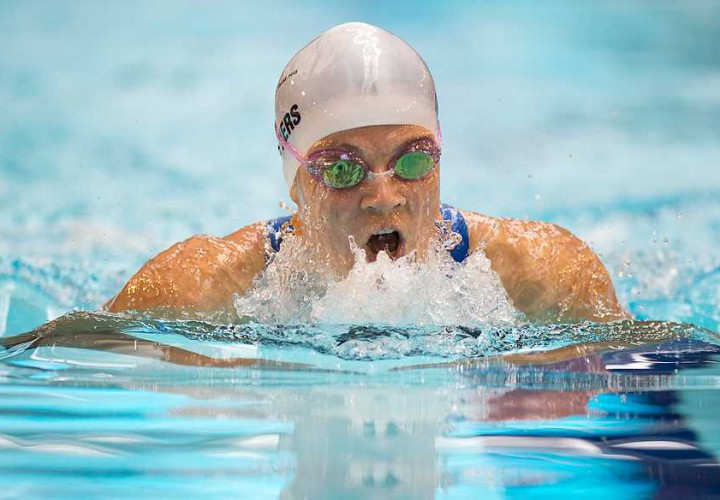 Photo Courtesy: Luc Percival
While preparing for the 400 meter freestyle at the 2015 IPC Swimming World Championships, Paralympic swimmer Becca Meyers was simultaneously winning the 2015 ESPY award for Best Female Athlete with a Disability.
According to a piece by the Baltimore Sun, Meyers was born deaf and was diagnosed with Usher syndrome, a genetic disorder that causes gradual loss of balance and vision. But Meyers has not let these circumstances slow her down.
At the 2014 Pan Pacific-Para Championships, she set world records in the 400 freestyle and 200 IM and won a total of six medals. Two days before winning the ESPY, Meyers re-broke her SM13 200 IM world record with a time of 2:24.60 at the IPC World Championships.
According to the piece, Meyers was honored just to be nominated for the ESPY award. "It's amazing how being nominated and winning for Paralympics brings a lot of awareness to the sport [of swimming]," she said. "That's one of the reasons I do this is to raise awareness and give back. If you asked me five years ago, I wouldn't have believed I'd be in this position [to win an ESPY and give back]," she said.
Meyers was up for the award against four other nominees; Tatyana McFadden, Oksana Masters, Kendall Gretsch and Greta Neimanas were all in the running as well. In the end, Meyers claimed the award, even though she was not in attendance at the ceremony. "It's amazing. It's been a roller coaster the past couple of years and I'm still on it. I know I still have more to accomplish and I look at all of this as just the beginning. I'm still in shock about the award," Meyers said in the piece.
Meyers may currently be representing the entire United States, but she had a special message for home town as well. "Thank you so much for voting for me," Meyers said. "I can't put into words my love and appreciation for everyone, especially back in Baltimore," Meyers said.