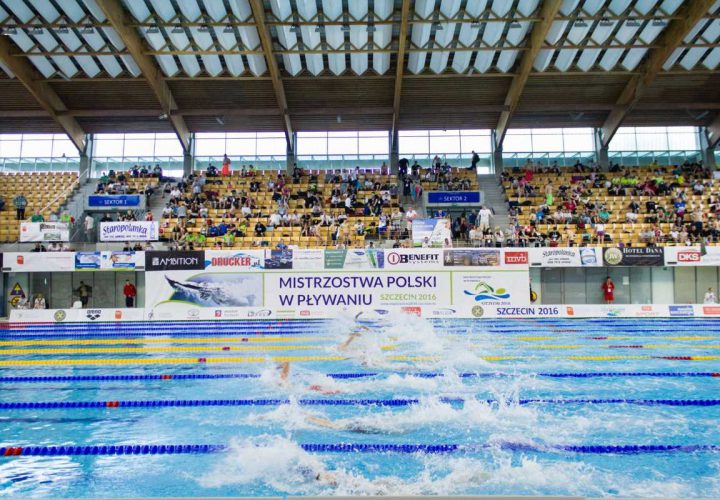 Photo Courtesy: Polish Swimming Federation
Tomasz Polewka clipped the Polish record in the men's 50-meter back at the 2016 Polish Nationals.
Polewka hit the wall in 24.72 for the win, breaking his own record of 24.80 set last year in Szczecin.  The time today moved him up to fourth in the world behind Camille Lacourt (24.67), Grigory Tarasevich (24.70) and Junya Koga (24.71).  Piotr Ludwiczak finished second overall in a time of 25.64 with Radoslaw Kawecki taking third in 25.71.
Pawel Korzeniowski turned in a 52.37 to win the men's 100-meter fly.  Jan Switkowski touched second in 53.04 with Oskar Krupecki taking third in 53.39.
Alexandra Urbanczyk won the women's 50-meter back in a time of 28.47.  Klaudia Nazieblo finished second in 29.21 with Agata Naskret finishing third in 29.48.
Paulina Nogaj won the women's 100-meter fly in 59.90.  Anna Dowgiert took second in 1:00.23 with Joanna Mizak earning third in 1:01.21.
Paulina Zachoszcz claimed the women's 200-meter breast in a time of 2:30.16, while Weronika Paluszek finished second in 2:30.90.  Agnieszka Ostrowska placed third in 2:31.62.
Jacek Arentewicz captured the men's 200-meter breast title in 2:13.32.  Mikolaj Machnik placed second in 2:13.46 with Bartlomiej Roguski finishing third in 2:13.97.
Justyna Burska won the women's 400-meter free in 4:14.52.  Joanna Zachoszcz finished second in 4:16.12 with Paulina Piechota placing third in 4:16.21.
Filip Zaborowski turned in a 3:49.75 to win the men's 400-meter free.  Kacper Klich took second in 3:50.97 with Krzysztof Pielowski winding up third in 3:52.64.
Katarzyna Baranowska clinched the women's 200-meter IM in 2:12.13 with Lidia Halicka taking second in 2:20.36.  Kalina Gralewska placed third in 2:20.39.
Marcin Cieslak closed out the day with a 2:00.64 to win the men's 200-meter IM.  Marcin Suzin took second in 2:01.83 with Marcin Tarczynski racing his way to third in 2:02.43.