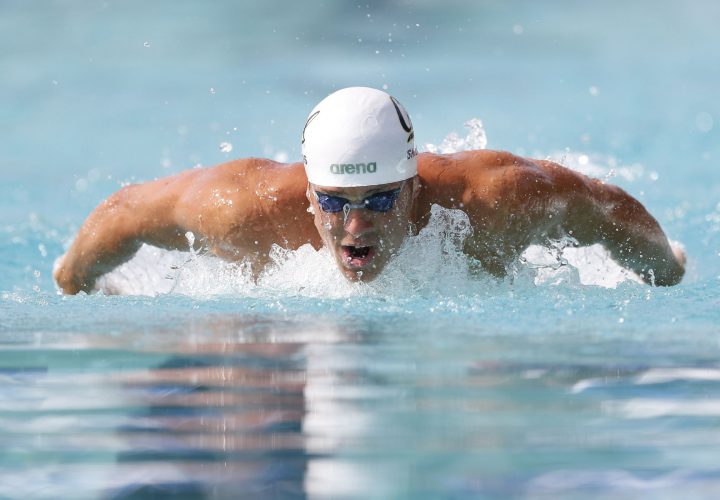 Photo Courtesy: Robert Stanton/USA Today Sports Images
Olympian Tom Shields was among one of the individual winners on the fourth and final day of the 2017 TYR Fran Crippen Memorial SMOC.
Canyon Aquatics' Amanda Kendall added a second individual gold medal to her name with a dominating showing in the women's 100 fly. Kendall stopped the clock at a 58.27 to be the only swimmer beneath the one minute mark. New Zealand teammates Helena Gasson and Georgia Marris delivered a 2-3 punch with times of 1:01.35 and 1:02.07.
Tom Shields of Cal turned in a sizzling 52.57 for gold in the men's  100 fly. ITESM's Ramiro Ramirez Juarez finished second overall with a 54.43, while Mission Viejo's Daniel Kim was third with a 55.39.
Canyon Aquatics' Isabella Arcila-Hurtado topped the competition in the women's 100 back against a tight field. Arcila-Hurtado posted a final time of 1:03.08 for the win, just ahead of New Zealand's Gabrielle Fa'Amausili's 1:03.29. Mission Viejo's Samantha Shelton turned in a third place finish of 1:03.48.
Andrew Trembath of New Zealand posted a first place finish in the men's 100 back, turning in a final time of 57.98. Justin Nguyen, swimming unattached, grabbed a close second with a 58.04, followed by Preston Planells and his time of 58.94.
Riley Scott and Nikol Popov, both swimming unattached, delivered a tight race in the finals of the women's 100 breast. Popov led the field at the halfway mark, but was unable to hold off a charging Scott in the back-half of the race. Scott out-touched Popov 1:10.54 to 1:10.84. Isabelle Odgers completed the podium with a time of 1:13.02.
Aquazots' Hunter Sa-Nguansap touched first in the men's 100 breast with a top showing of 1:05.71. Keane Alejandro, swimming unattached, grabbed second overall with a 1:06.59, followed closely by Ike Shirakata's time of 1:06.80.
New Zealand's Helena Gasson collected her second medal of the night with a win in the women's 200 IM. Gasson slashed 2.40 seconds off her prelims time to end the night with a 2:16.65. Katie Glavinovich, swimming unattached, turned in a 2:19.90 for second place, while Kate Krolikowski was third with a 2:20.34.
New Zealand ended the night with a strong showing in the men's 200 IM as teammates Bradlee Ashby and Andrew Trembath finished first and second. Ashby swam ahead of the competition to claim gold with a 2:04.35, followed by Trembath's 2:08.01. TRA's AJ Pouch grabbed third overall with a 2:09.47.
Results can be found on Meet Mobile – 2017 CA TYR/MVN Fran Crippen Mem SMOC