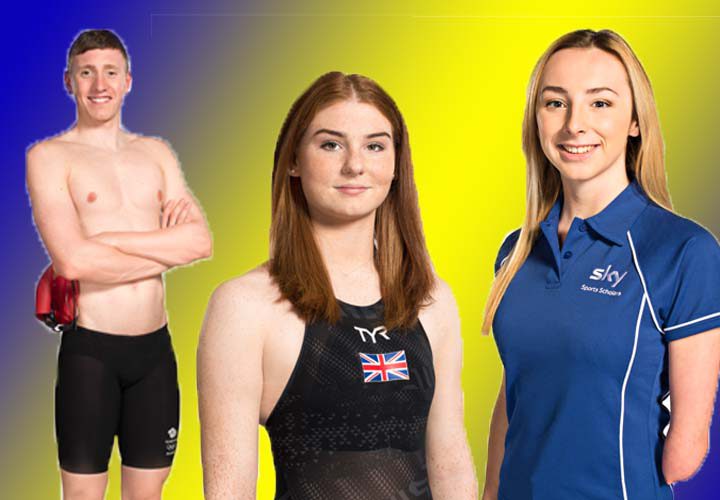 By David Rieder.
22-year-old Max Litchfield has spent the last two years knocking on the door of the elite in the men's 400 IM, finishing fourth in the event at both the Rio Olympics and the 2017 World Championships. Ellen Keane, also 22 years old, has already won her first international medal, winning bronze in the SB8 100 breast at last year's Paralympics.
Freya Anderson is six years younger than Litchfield and Keane, but as a 16-year-old semi-finalist in the 100 free at the FINA World Championships and the World Junior Champion in that event, Sky Sports saw plenty of potential in her, too.
Those three swimmers were named recipients of British-based Sky's four-year scholarship program. According to Sky's official website, "The program runs from 2017-2020 and offers benefits such as financial aid, both a sporting and business executive mentor, media training, personal development and work experience."
Star British swimmers including Siobhan-Marie O'Connor, Fran Halsall and Liam Tancock had all come through the Sky program in the past, and all won medals during their careers on at least the World Championship level.
Financial support, mentoring and training for life beyond the pool—all while still having swimming as the No. 1 priority year-round? For the three swimmers that were accepted into the program, applying was a no-brainer.
"I knew Siobhan had been on it the last four years. I knew how much it helped her out. It was just a great opportunity, one I couldn't really let pass by," Litchfield said.
"I'm not too sure what I'm going to be when I'm older, so I'm hoping Sky mentors will help me get on the right path and boost my confidence. Hopefully I can learn new things and find something that will be a passion in the future," Anderson said.
"Sky didn't do this to make money or to look good," she added. "They did this to help us."
The biggest draw of the program for Litchfield was the opportunity to have mentors who had been through high-pressure situations in sports—like Litchfield has to deal with before his biggest races—and been through the transition out of life as a competitor.
"I know guys on the scholar team that have been athletes. They've kind of seen the world as an athlete, and they've seen the world after being an athlete," Litchfield said. "We can draw off those experiences and use what they've been through to help us adapt to certain environments."
Keane, a native of Ireland, saw potential for something more than just experience through the Sky program—she would have an opportunity to grow Paralympic swimming and Paralympic sport in general in her home country. Yes, she hopes Sky can help build up her image but not just for publicity's sake.
"It's not just about, 'I'm Ellen Keane—I want to build the Ellen Keane brand.'" she said. "It's more, 'I represent a bigger community in Ireland.' Paralympics in Ireland hasn't grown as much as it has in Great Britain."
From a personal perspective, having a full commitment from a program so dedicated to improving their swimming careers and their lives has been a major boost for all three swimmers.
"I think it gives you a lot of confidence definitely, and the mentoring can help build confidence," Keane said. "Knowing the support's there whether you swam a good race or you've done really bad—they're still going to support you no matter what."
The scholarship could provide a big boost to each of the three swimmers' lives and livelihoods, but their targets in the pool have not changed at all: they want to respective countries internationally and winning medals.
So far, the podium target has fallen just out reach for Litchfield, as he finished less than a half-second off the podium in the 400 IM at the World Championships.
"Obviously quite frustrating to come fourth again," Litchfield said, "but there's more to come, and I'm really excited about what the next few years hold. Commonwealth Games is a great starting point next year and going into Worlds and then obviously into Tokyo. I definitely see myself fitting into the medals in Tokyo."
Anderson, meanwhile, got a taste of international success when she swam for Great Britain first at the world's biggest meet in Budapest—a meet she never expected she would qualify for at such a young age—and then at the World Junior meet in Indianapolis.
For the first time in Indy, Anderson stood on the medal podium as "God Save the Queen" played in her honor.
"I put a lot of pressure on myself to win the gold, but it's a really fun meet, the whole experience, because of all my friends and the team spirit being really high," she said. "It was amazing."
As for Keane, her next shot at adding to her international résumé will come in a familiar city: the Irish capital of Dublin.
"In August 2018, European Championships are going to be in Dublin, so they're actually going to be in my home pool," she said. "It's so motivating in training every day knowing in 11 months' time, I'm going to be racing in front of the home crowd. I'm trying not to get too psyched up about it and just enjoy it because I know it's something that's never going to happen again."
Read more about the Sky Scholarship program by clicking here.