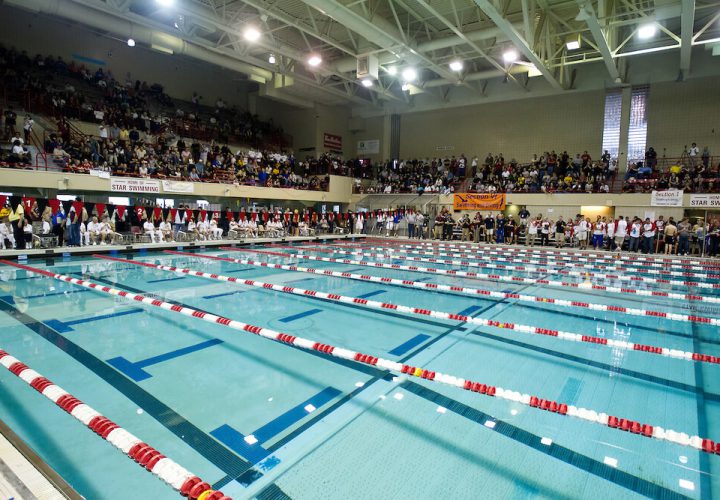 Photo Courtesy: Brett Carlsen
Speedo Sectional Series is proudly sponsored by Speedo. Visit SpeedoUsa.com for more information on our sponsor.
Night one of long course competition at Speedo Sectionals Buffalo kicked off tonight with the Thursday night distance session, featuring the women's 1500 and the men's 800 meter freestyle.
15-year-old Madelyn Donohoe of The FISH swim team took the title in the women's 1500, swimming a 16:59.84. While she was off her seed time of 16:36.30, she was still almost a minute ahead of second-place Emma Metzger out of Cape Cod Swim Club, who touched in a respectable 17:45.04. Leigh Spicer of Weymouth Club Waves managed to drop 16 seconds from her seed time and move up in the ranks, notching third-place honors and dipping below 18:00.00 with a 17:53.56.
For the men's event, Cardinal and Gold Aquatics' Abel Sapirstein dropped nine seconds to finish first with his time of 8:46.66. Zachariah Reid of Loyola Blakefield Aquatics went stroke for stroke with Sapirstein for the first 400, but fell slightly off pace to finish second in 8:49.39. Donohoe's teammate Mason Greenblatt of FISH took third in 8:50.32.
At the end of the night, FISH leads in overall points with 79, 54 of which came from their women's team. Weymouth Club Waves trails by 33 points for second place with a total of 46, and Cape Cod Swim Club is not far behind with 41 points.
Competition resumes tomorrow at 9:00am for prelims, and 6:00pm for finals at the Burt Flickinger Aquatic Center in Buffalo, NY.
Results are available on Meet Mobile: 2017 Speedo Sectional Championship.