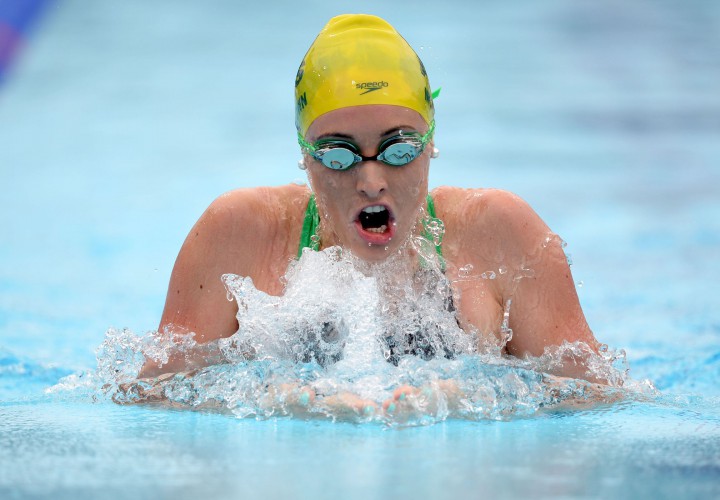 Photo Courtesy: Delly Carr
Taylor McKeown twice lowered the meet record in the women's 100-meter breast at the 2015 Jose Finkel Trophy.
McKeown clocked a 1:09.34 in prelims to down Julia Sebastian's 2013 mark of 1:09.44.  McKeown then won finals in 1:08.23.
Jennifer Conceicao placed second in 1:09.09, under the former meet mark, while Sebastian claimed third in 1:09.95.
Felipe Silva lowered the meet record in the men's 100-meter breast.
He clocked a 1:00.15 in finals to beat Joao Gomes Jr's mark of 1:00.47 from 2011.
Gomes took second in 1:00.27 with Felipe Lima earning third in 1:00.41 in a close finish.
Joanna Maranhao won the women's 200-meter fly in 2:13.75.
Manuella Lyrio placed second in 2:14.19 with Giovanna Tomanik taking third in 2:15.95.
Leonardo De Deus raced his way to a 1:56.53 in the men's 200-meter fly for the win.
Kaio Almeida placed second in 1:57.80 with Lucas Salatta finishing third in 1:58.29.
Miguel Valente won the men's 800 free in 8:08.68. Luiz Rogerio Arapiraca placed second in 8:09.25 with Lucas Kanieski earning third in 8:09.39.
Pinheiros' Manuella Lyrio, Joanna Maranhao, Luana Ribeiro and Larissa Oliveira won the women's 400-meter free relay in 3:42.64.
Their teammates Marcelo Chierighini, Gabriel Silva, Henrique Rodrigues and Bruno Fratus topped the men's 400-meter free relay in 3:15.57.