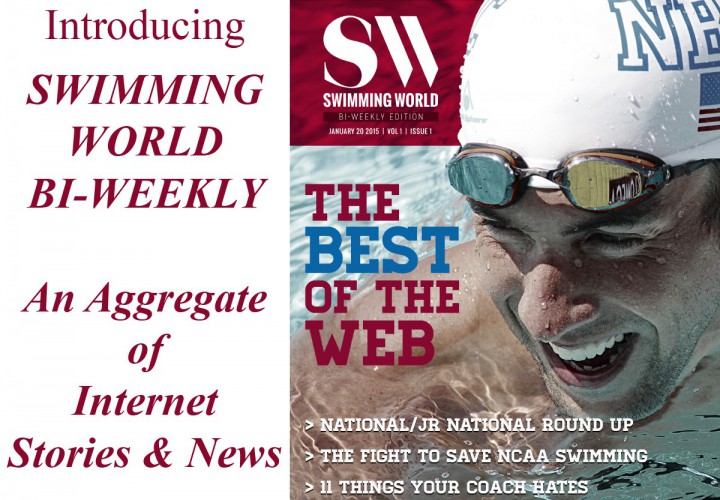 PHOENIX – Swimming World Magazine introduces its biweekly magazine dedicated to news and stories that have appeared on its website throughout the past two weeks.
The biweekly magazine will be offered free to all readers, but will eventually be included in a Total Access Subscription beginning the second quarter of 2015.
Brent Rutemiller, publisher of Swimming World Magazine, first announced this upgrade at the ASCA World Clinic in September of 2014.

"Internet news is fleeting. We post more than 50 stories a week. Sometimes, we post close to 150 stories every two weeks. People just can't keep up with it all and often either miss the news or have to go back and search for it. Swimming World Biweekly is designed to aggregate the top internet stories into a magazine format allowing people to catch up on important news stories every two weeks," Rutemiller said.
"People love to be connected to their mobile devices 24/7. But the day will come, and I think it will be soon, where people don't want to be connected all the time. Swimming World Biweekly is poised to bring them the top stories that they may have missed every two weeks."
Swimming World Biweekly was designed by Joe Johnson, Swimming World's newest graphic artist. The first issue goes a little deeper into content with a look back at U.S. Senior and Junior Nationals in December. It is a good mix of news, features, commentary and the omnipresent "listicle."
"We are getting our feet wet with this issue," Johnson said. "As we move forward, we fully expect the magazine to expand in pages with each issue. We also expect to learn more about what remains newsworthy two weeks after it is posted. The entire process is meant to keep news alive, but more importantly allow us to bring news to our readers instead of having to search for it."
The monthly print version of Swimming World Magazine will continue to provide unique content centered on features, analysis, training, technique, nutrition, commentary and perspectives.
Now, with the addition of 24 biweekly editions to the 12 monthly print editions, a version of Swimming World Magazine can now be read 36 times a year. No other publication in the sport of aquatics offers readers more than Swimming World Magazine.