Sophie Hansson Lowers Ruta Meilutyte's 100 Breaststroke Meet Record; Wiffen & Le Clos Claim Second Wins At Euro Meet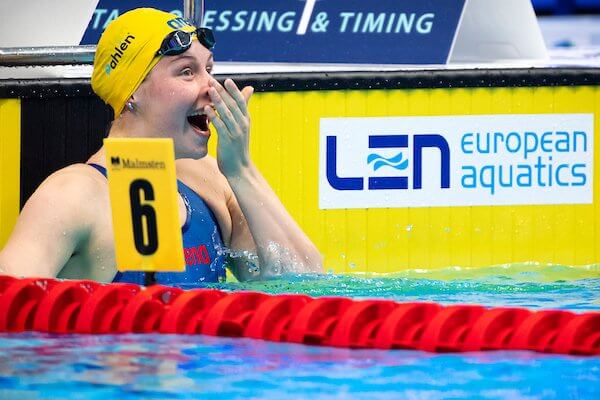 Sophie Hansson: Photo Courtesy: Deepbluemedia/Insidefoto
Left Sidebar
Sophie Hansson went 1:06.95 in the 100m breaststroke to set her second meet record in Luxembourg and slice 0.31 from the mark that had stood to Ruta Meilutyte since 2013.
It concluded a fine Euro Meet for the Hansson sisters with older sibling Louise adding the 100 free to her 50/100 fly double and 100 back title.
Daniel Wiffen claimed his second title of the meet in the 400 free, Chad Le Clos added the 100 free to the 100 fly with Paige Madden taking the women's 400 free a day after winning the 200.
Hansson Sisters Make Podium Their Home
Sophie Hansson set a meet record of 30.69 in the 50br and was second in the 200 on Saturday before returning for the  two-length event on the third and final day.
The 2020 European champion reached halfway first in 31.64, 0.09 ahead of Martina Carraro, and a second 50 of 35.31 propelled her into the wall well inside Meilutyte's previous record.
Carraro finished second in 1:07.47 with Lisa Mamie rounding out the podium in 1:08.84.
Older sister Louise then contested the final women's event of the meet and was joint third at halfway alongside Sara Curtis and 0.12 behind leader Silvia di Pietro.
However, a second 50 of 28.30 guided Hansson past the Italian and Nina Kost to stop the clock at 55.13.
Giula D'Innocenzo came from fifth at halfway to take second in 55.29 with Di Pietro third in 55.49.
Wiffen & Le Clos Claim Second Wins
Wiffen won the 800 free on Saturday, a day after Mykhailo Romanchuk prevailed in the 1500 after a ding-dong battle.
Come Sunday and the Irishman led for all but the first 50m to win in 3:50.24 ahead of Mahmoud Ahmed, who claimed his third medal of the meet in 3:53.70, and Tyler Melbourne-Smith (3:57.35).
Le Clos led from start to finish to win the 100 free, splitting 23.45/25.67 to stop the clock at 49.12 ahead of Leonardo Deplano (49.18).
Madden won the women's 400 free in 4:13.52, Lena Grabowski headed the 200 back in 2:13.89 and Leah Schlossan claimed the 200IM in 2:15.52.
Federico Poggio added the men's 100br to his 50 victory in 1:00.34, Oleskandr Zheltiakov won the 200 back (2:01.88) and Jaouad Syoud took the 200IM in 2:01.20.