Rowdy Gaines: Olympic Champion, Passionate Voice and Advocate For the Sport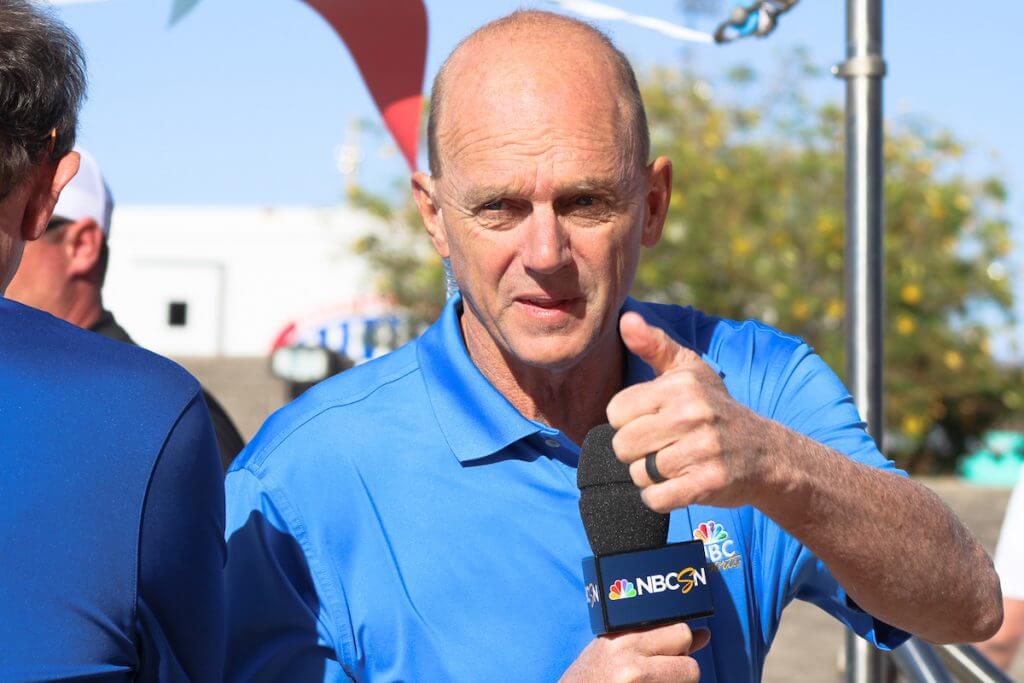 Left Sidebar
Rowdy Gaines: Olympic Champion, Passionate Voice and Advocate For the Sport
Some of the stars of the water world need only be identified by a first name. When we hear Michael and Katie, there's no doubt the conversation is in reference to Phelps and Ledecky, two of the titans of the pool. But the Madonna syndrome isn't limited to current athletes, simply because there is a man who roams the globe wearing multiple hats.
It's been 37 years since he reached the apex of the sport, mining three gold medals at the 1984 Olympics in Los Angeles. In the time since, he has etched out a highly successful broadcasting career and has been a model of unselfishness, whether providing youth clinics, through his fundraising efforts or simply promoting the sport.
His given name is Ambrose Gaines. Those who have been around the deck know him by one name: Rowdy.
His Olympic Moment
Considering all Rowdy Gaines has brought to swimming, it's unfair to identify one moment as more meaningful than any other. After all, how can one compare an athletic achievement against the selflessness and passion he exhibits, traits that help attract a broader audience to the sport?
Yet, Gaines will long be known for the magic he spun in Los Angeles in the Summer of 1984. It was at the L.A. Games where Gaines enjoyed his finest moments in the water, capturing three Olympic gold medals four years after a senseless boycott denied what should have been his initial shot at five-ring glory.
While Gaines helped the United States to top honors in the 400 freestyle relay and 400 medley relay, his shining moment arrived in the 100 freestyle – and required a little help from his mentor. Heading into the final of the two-lap sprint, Gaines' coach, Richard Quick, noticed the starter was quick with the gun. Consequently, Quick told Gaines he would have to alter his start by getting into position faster to compensate for the starter's approach.
Ultimately, Quick's advice paid major dividends, as Gaines was the first man off the blocks and used that early surge to clock in at 49.80, ahead of Australian Mark Stockwell and Sweden's Per Johansson. Decades later, the memories of that race are vivid in Gaines' mind, at least to a degree.
"Part of me feels like it was yesterday," Gaines said in a past interview with Swimming World. "I can remember specific details of the race. But another part me feels like that was another person. I'm not sure how I did all that. It would have been impossible without Richard Quick. He had such a knack for picking up things to help his athletes. But more than a coach, he was always a confidant and friend.
"That was such an important time in the Olympic movement. We were coming off the boycott of 1980 and our country was starving for the Olympics. And patriotism was at an all-time high. There are definitely memories."
Unlike many Olympic athletes, Gaines didn't fade away after his Olympic exploits. Rather, he remained a prominent figure in the sport, moving into his television career as a commentator.
Second Career
The newest generation of swimmers probably needs a tutorial to fully appreciate what Rowdy Gaines accomplished as an athlete. To the younger segment of the population, he's best known for being a voice of the sport, a man who has called every Olympic Games since 1992 and has been a regular fixture broadcasting the NCAA Championships, the International Swimming League and other competitions.
That Gaines is viewed for his commentating success is a credit to his ability to reinvent himself in a way that allows him to remain linked with the water. Listening to a broadcast in which Gaines is involved leaves no doubt about his genuine care for what is taking place in the pool. He is highly excitable, his voice frequently rising to a crescendo as a down-to-the-wire race is decided at the wall.
Gaines just wrapped up his involvement at the Olympic Games in Tokyo, where he again partnered with Dan Hicks on NBC's coverage of the swimming action. Together, Hicks and Gaines might be the best-known Olympic duo. A month earlier, while Hicks was on assignment at the U.S. Open, Gaines worked with Mike Tirico at the United States Olympic Trials.
"The first and foremost thing I try to bring to my announcing is passion," Gaines said. "People can question some of my knowledge and my language or grammar, but they can't question my passion. I hope that's something that comes across because it's genuine and I love doing it. I have the best seat in the house."
In addition to his role as a commentator, Gaines has been an advocate for the sport. From giving clinics and generating excitement in younger swimmers to performing fundraising duties, Gaines is continually giving back. He knows what the sport provided him, and he is intent on doing all he can to say thanks.
"When I was younger, growing up in Florida, I was kind of floating along and vulnerable to outside influences," Gaines said. "Swimming called to me and provided wonderful opportunities in life. Whether or not I had Olympic success, swimming gave me so much that I would have given back anyway. It's a great sport that teaches dedication, commitment and teamwork, important values in life. It's a pleasure to be part of."
Man Of Many Hats
More than two decades have passed since Rowdy Gaines, under the California sun, became one of the most decorated athletes of the Los Angeles Olympics. Still, his star hasn't faded in the least. Instead, Gaines is as much a fabric of today's swimming world as he was when he was among the elite athletes in the pool.
Only a select few individuals are wired in such a way where their passion pours forth, touching those around them. Gaines is one of those people. While the hard work and dedication that made him an Olympic champion are traits that should be used as educational tools, Gaines has made a mark in other areas as well. His passion as a commentator demonstrates a love for swimming that can be passed to others. Meanwhile, his desire to give back has benefited thousands of kids fortunate enough to be taught and motivated by an Olympic gold medalist.
Quite simply, he is a man who has done a little bit of everything in the sport, usually with a smile and with the goal of making the sport better than it was when the day started. It's why he's one of those guys known by one name. It's why most are big fans of Rowdy.