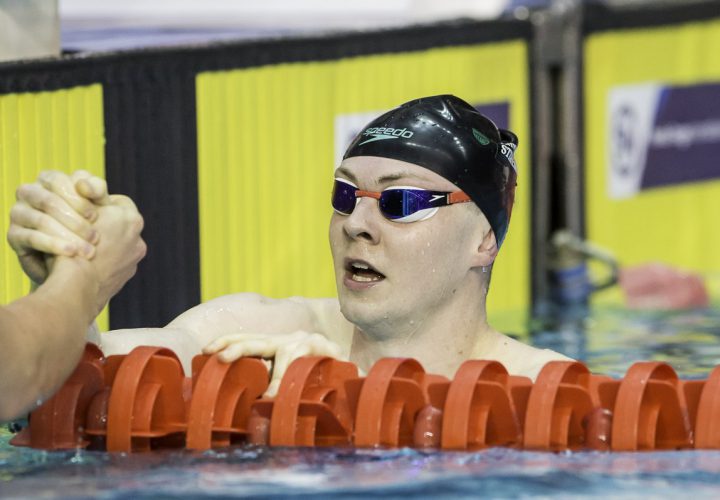 Photo Courtesy: British Swimming
The fourth night of British Swimming Championships from Sheffield had four finals with World Championships berths at stake. Ross Murdoch and James Guy put up some solid swims for World Championship consideration in the 200 breaststroke (2:09.15) and the 100 butterfly (51.52). Freya Anderson broke her 16-year-old British age record in the 100 free beating Siobhan O'Connor with a 54.35. The Women's 4×100 free relay missed the qualifying standard based on added up times.
2017 British Swimming Championships Day Four Results – Results
Tonight's Events:
Women's 200 Backstroke
Men's 100 Butterfly
Women's 100 Freestyle
Men's 200 Breaststroke
Women's 200 Backstroke
Teenager Rosie Rudin had a stellar back half in the 200 back final as she pulled away over the last 50 with a 2:09.55 for the win. Rudin just missed the consideration time for World Championships that was 2:09.47. Rudin out-raced Jess Fullalove (2:10.05) and Charlotte Evans (2:10.35).
Rudin had been a promising junior swimmer for Great Britain as she was the World Junior Champion in 2015 in the 400 IM. Rudin is probably a couple years away from her big senior break, but this 200 back win was a promising sign for British Swimming for the future.
Kathleen Dawson (2:10.89), Chloe Golding (2:13.12), Candice Hall (2:13.50), Courteney Price (2:14.55), Kirsty Simpson (2:16.35) also competed in the championship final.
Men's 100 Butterfly
James Guy got his third win of the week in the 100 fly final. Guy missed the automatic qualifying time for the World Championships, but was inside the consideration time with a 51.52. Guy has been the butterflyer on Britain's medley relays the last three years so it is likely he will be picked up for that event. That time puts Guy third in the world behind South Africa's Chad Le Clos (51.29) and China's Li Zhuhao (51.34). Guy's best event, the 200 free will be on Sunday. Guy held off Adam Barrett at 52.13 for second. Barrett missed the consideration time that was a 51.7. Guy has already won the 400 free and 200 fly this week.
Britain is putting together a solid medley relay with the likes of Adam Peaty, James Guy and Duncan Scott on the back end. If Britain can get a solid backstroker, they could challenge the United States for the gold at this summer's World Championships. But that will be a stretch since Chris Walker-Hebborn was a 54.24 this week. If Walker-Hebborn can get down to a 52 again, then Britain will be dangerous.
Duncan Scott finished third after his British Record in the 100 free last night, becoming the first British man to break 48 seconds. Scott was third in an unconventional 100 fly with a 52.91. Calum Jarvis (53.21), Sean Campsie (53.36), Cameron Brodie (53.83), Sam Horrocks (54.17) and Kevin Wallbank (54.23) also swam in the championship final.
Women's 100 Freestyle
In a little bit of an upset, 16-year-old Freya Anderson broke her age record in the 100 free to beat Olympian Siobhan O'Connor. Anderson swam a 54.35 to win the final ahead of O'Connor (54.37) and Eleanor Faulkner (54.89). Anderson missed the consideration time for Budapest but her win gives British Swimming something to look forward to as she is only 16 years old. Seasoned veteran sprinter Fran Halsall retired earlier this year and Anderson could fill the big void she left behind.
Speaking of medley relays, the British women now have a solid group of four that could be competitive in Rio. Georgia Davies (59.34) already put up a solid backstroke swim. The 100 breast final is on Sunday along with the 100 fly final, but the 50 and 200 breast British records have already fallen this meet and O'Connor could put up a solid 100 fly. If Anderson doesn't get selected for the individual 100 free, she could be picked up for relay only swims.
British Swimming has already indicated that the women's 4×100 free relay team did not get under the qualifying standard based on added times, so they will not be sending a team in that relay to Rio. The medley relay qualification status will be determined after the 100 fly and breast finals on Sunday.
Anna Hopkin (54.94), Lucy Hope (55.20), Jessica Jackson (55.43), Davies (55.64) and Kathryn Greenslade (55.71) also competed in the championship final.
Men's 200 Breaststroke
The British men's breaststroke events have become a point of interest in the last few years as the Brits have turned out a lot of world class breaststrokers in the last few years. Ross Murdoch won his first British title in the 200 breast on Friday night in Sheffield with a 2:09.15 for the win. Murdoch had the number one time in the world in 2014 but failed to qualify for the 2015 World's or the 2016 Olympics. Murdoch will get his first taste of major international racing in the 200 this summer if he gets selected. This would be his third World Championship team.
Murdoch held off a talented field as James Wilby (2:10.01) finished second thanks to a stellar last 50. Those two swimmers held off the 2016 Olympians in the 200, Andrew Willis (2:10.52) and Craig Benson (2:10.56). Willis has been in every major final in the 200 breast since 2011, but has yet to win a medal at either the World Championships or Olympics after he was fourth last year in Rio, just 0.08 shy of bronze. Willis will not be able to extend that streak in 2017 as he finished third here. Wilby was inside the consideration time for Budapest as he could be on the plane for his first World Championships.
Murdoch is now eighth in the world with his swim. You might be wondering where 100 world record holder Adam Peaty was, but he did not even swim in the heats in the 200. Peaty has elected to stick with the 50 and the 100 for this year, maybe to avoid the likes of Murdoch, Willis and other swimmers, but also maybe to stick with sprint specific workloads to insure he is at his best in the shorter distances. Peaty qualified for all three distances in Kazan in 2015 and only managed a 2:13 in the heats in the 200 after a long week of racing.
Calum Tait (2:11.95), Edward Baxter (2:12.50), Charlie Attwood (2:12.64) and Luke Davies (2:14.15) also competed in the A-final in Sheffield.