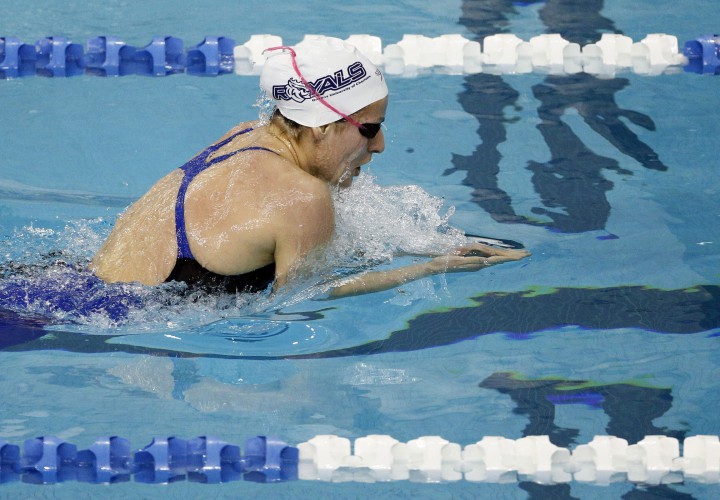 Photo Courtesy: Soobum Im-USA TODAY Sports
Queens' Patricia Castro-Ortega lowered her own NCAA D II record again in the women's 200-yard IM at the 2016 NCAA Division II Championships, winning the event in 1:55.63. The senior's time was 1.5 seconds faster than her record-breaking time this morning.
West Florida's Theresa Michalak took second in 1:58.11 and Wingate's Sofia Petrenko finished third in 1:59.01.
Lynn's Rebecca Matthews (1:59.50), Queens' Caroline Arakelian (2:01.36), Queens' Josephina Lorda (2:01.74), Drury's Gretchen Stein (2:02.35), and Truman State's Evyn Spencer (2:05.20) rounded out the top eight.
=== Championship Finals ===                       
 
  1 Castro Ortega, Patri   SR Queens (NC)       1:57.19    1:55.63R  20  
    r:+0.74  25.28        54.75 (29.47)
        1:28.36 (33.61)     1:55.63 (27.27)
  2 Michalak, Theresa      JR West Florida      1:58.56    1:58.11   17  
    r:+0.71  25.96        55.43 (29.47)
        1:29.97 (34.54)     1:58.11 (28.14)
  3 Petrenko, Sofia        JR Wingate           2:00.82    1:59.01   16  
    r:+0.76  25.70        55.55 (29.85)
        1:30.03 (34.48)     1:59.01 (28.98)
  4 Matthews, Rebecca      SR Lynn              2:00.75    1:59.50   15  
    r:+0.67  25.96        57.28 (31.32)
        1:31.00 (33.72)     1:59.50 (28.50)
  5 Arakelian, Caroline    SR Queens (NC)       2:01.52    2:01.36   14  
    r:+0.75  26.59        56.15 (29.56)
        1:31.82 (35.67)     2:01.36 (29.54)
  6 Lorda, Josephina       FR Queens (NC)       2:02.42    2:01.74   13  
    r:+0.74  26.24        56.70 (30.46)
        1:33.06 (36.36)     2:01.74 (28.68)
  7 Stein, Gretchen        SR Drury             2:04.04    2:02.35   12  
    r:+0.74  26.97        57.98 (31.01)
        1:33.76 (35.78)     2:02.35 (28.59)
  8 Spencer, Evyn          JR Truman St.        2:03.16    2:05.20   11  
    r:+0.72  26.48        56.99 (30.51)
        1:35.08 (38.09)     2:05.20 (30.12)
 
                       === Consolation Finals ===                        
 
  9 Huttner, Madelyn       SR UCSD              2:04.57    2:03.63    9  
    r:+0.77  27.12        59.27 (32.15)
        1:34.74 (35.47)     2:03.63 (28.89)
 10 Westman, Malin         SO Nova S'eastern    2:04.30    2:03.86    7  
    r:+0.76  27.63        59.43 (31.80)
        1:34.01 (34.58)     2:03.86 (29.85)
 11 Hapsari, Patricia      SR Cal Baptist       2:05.29    2:04.29    6  
    r:+0.74  26.98        58.33 (31.35)
        1:35.09 (36.76)     2:04.29 (29.20)
 12 Mattar, Hannah         SR Ashland           2:04.41    2:04.31    5  
    r:+0.73  27.16        59.62 (32.46)
        1:34.96 (35.34)     2:04.31 (29.35)
 13 Belova, Daria          SO Fresno Pacific    2:04.20    2:04.50    4  
    r:+0.73  26.68        58.43 (31.75)
        1:35.15 (36.72)     2:04.50 (29.35)
 14 Meredith, Paige        JR Jewell            2:04.41    2:04.60    3  
    r:+0.71  27.08        58.51 (31.43)
        1:35.73 (37.22)     2:04.60 (28.87)
 15 Basra, Bavindeep       SO Fresno Pacific    2:04.43    2:04.92    2  
    r:+0.65  27.53        59.28 (31.75)
        1:35.25 (35.97)     2:04.92 (29.67)
 16 Tipton, Amanda         FR Queens (NC)       2:04.80    2:05.92    1  
    r:+0.71  27.37        59.16 (31.79)
        1:36.64 (37.48)     2:05.92 (29.28)