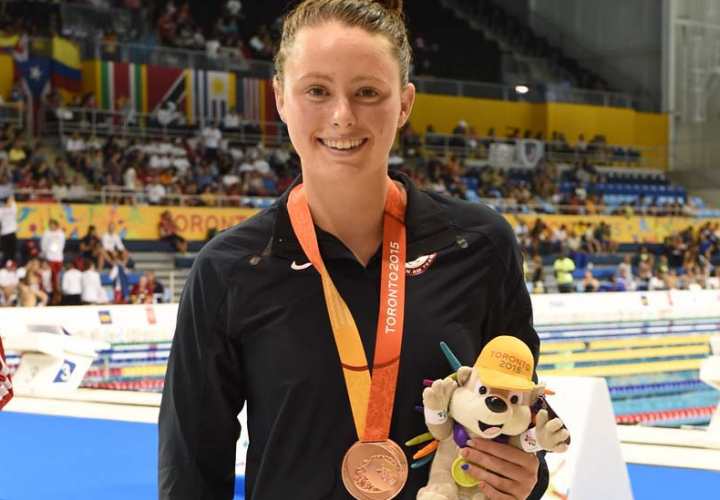 Serafina King with her bronze medal at 2015 ParaPanAms. Photo Courtesy: Allen MacMillan and USOC.
By Abby Bergman, Swimming World College Intern
Champion Paralympic swimmer, Serafina King, is getting ready for Paralympic Trials, which will be held June 30 – July 2 in Charlotte, North Carolina. King currently holds the S10 American record in 50 and 100 yard backstroke (32.00/1:05.00) and won bronze medals in the 100m backstroke and 400m freestyle at the 2014 Para Pan Pacific Championship and the 2015 Para Pan American Games, respectively. The 17-year-old trains with Beach Cities Swimming in Redondo Beach, California and answered some questions about the upcoming trials between training sessions.
Swimming World: How did you get involved with swimming?
King: I started getting involved in swimming at the age of 6 or 7 because my parents found out I had scoliosis and the therapist said that the best thing for me would be swimming because it really strengthens your back. So fortunately it did and I just stuck with it after that. It took around five years for me to start enjoying it.
SW: When did you start competing in Paralympic swimming?
King: My mom read an article back in 2011 and she had seen Paralympic swimming. We didn't know that Paralympic swimming was a thing, we just knew about USA swimming. So once she read the article she was like, "Hey, maybe you'd be able to do this too," because she knew that my disability affected my swimming in some way. She thought that this would give me a great place to be able to compete and to be good at a sport.
SW: What is your favorite part about Paralympic swimming?
King: My favorite part about swimming is when you're competing and everything just clicks– your kick is on, your stroke is on, and it just feels right. It's just the most wonderful feeling and I don't think I've really gotten that in any other sport or any other thing I've ever done. My favorite part of Paralympic swimming is the team aspect. I mean the first time I went to a Paralympic meet everyone was so kind and I made so many friends. I had that in regular swimming, but you wouldn't go up to random people and introduce yourself and that's what you do in Paralympic swimming. The idea is to meet new people, it's such a great and supportive community.
SW: How did it feel when you achieved your first American record and what was the event?
King: I broke my first American record back in 2013, I was 14 years old and it was in the 50 backstroke. It was at a time where I hadn't made any teams in Paralympic swimming yet. I had gone to the trials and I didn't make the team there and then I went to CanAms and I didn't make the Worlds team that year, so it was kind of the push I needed to continue to try and compete. It was a great confidence booster after having been let down; after not making those teams.
SW: How does Paralympic classification work?
King: Paralympic swimming classification is based on physical disabilities. S1-S10 and then anything above S10 is different severities of blindness. S1 is the lowest class, the most severe disabilities. S10 is the highest class, the least disabled. So to give an idea of what the disabilities per class would look like, an S1 athlete would be someone that has a torso and half an arm so they have no other limbs, an S10 athlete might be missing a hand or a foot or have mild cerebral palsy. And if you see any classifications that are above S10s, those are all visually impaired classes.
SW: What is your training schedule and what are your practices like?
King: Right now, the training schedule is crazy. I practice nine times in the pool a week and then I am in the gym three times a week on top of that. So on some days I'll be going from the pool in the morning to the gym in the afternoon then straight to the pool. It's pretty brutal right now.
When I joined, they put me in the highest group because Monique (Shelton) wanted to work with me, which I am so grateful for because she's an amazing coach. But I was in that group, and I was behind. Now I've actually been able to catch up, but the first two months on Beach Cities was hell. I was doing the gym workouts and nine practices a week; I wasn't used to that. I was tired all the time and I was taking naps during the day. It has gotten better.
SW: How do your family and friends support you?
King: My family has always been really supportive. My mom actually moved just so that I could be closer to training…because it was taking an hour and a half to get to practice every day. My family has always been extremely supportive of my dreams and they've done anything they can to help me and so have my friends.
I have a great training group… they have always supported me they are always pushing me. Even in the middle of sets it's the little things that really count. In the middle of sets if we've just hit the middle mark we'll do a halfway high five and then if we are on the final lap we will do a final finger where we all tap fingers. Its just the little gestures that keep you going the entire time.
SW: What is your favorite thing to eat before practice or at meets?
King: I change it up a lot. Lately I've been eating bananas before because I read someplace that eating a banana gives you 90 minutes of energy. And I've gotten into coconut water– it has so many electrolytes and I've definitely seen an improvement energy-wise after training or even during training drinking coconut water so that's for sure made a difference.
SW: Do you have an athlete that you look up to?
King: Oh, I have so many that I look up to. I think probably one of the people I look up to the most is Matt Grevers. He recently broke a record in the 200 backstroke… and I remember watching this video where for the first 150 he looked like he was just chilling. It looked like there was no effort put in and then he came out on that last 50 and just blew everyone away. His backstroke is just beautiful. And Katie Ledecky, just because she keeps up with the boys…that's extremely impressive.
SW: What have you done to prepare mentally for Trials and ultimately Rio?
King: I normally do visualizations. I have these little goggles things, they look like alien goggles and they have a screen in them and it'll play videos for you. It's completely blacked out and the only thing you're seeing are the swimmers swimming across the screen. I've seen such an improvement in my swimming since using it just because I am able to zone in and just focus on that and then I can relate that immediately to my swimming.
I'll watch a video on the screen of part of my stroke and then I can go right into the pool and do what the video shows me just because it's basically muscle memory. All around just trying to stay positive about it. There will be days where I am not going to enjoy swimming but just trying to stay positive and remember that I want to reach this goal.
SW: What are your plans for the future?
King: If I make the team going to Rio, I definitely want to go to Japan 2020. Swimming has been such a huge part of my life, I can't imagine what my life would be without it so for now most of my goals are centered around going to Rio and then potentially going to Tokyo, so that's really my only goal right now. I am just going to continue focusing on swimming even if I don't make the team going to Rio.
Information on Paralympic Trials can be found here.