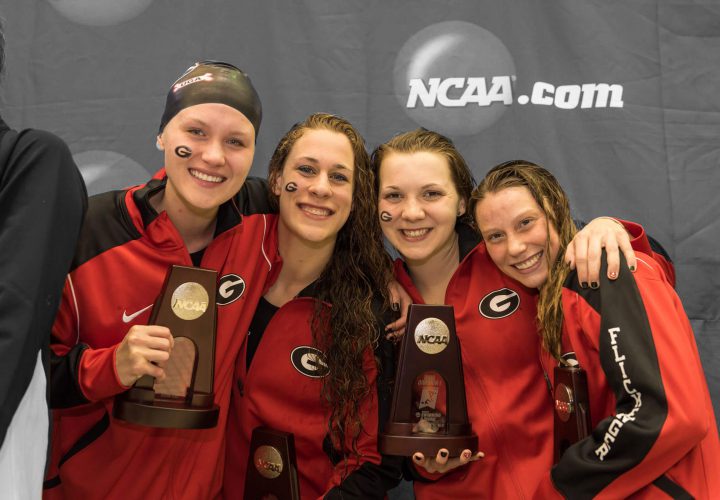 Photo Courtesy: Annie Grevers
NCAA DI editorial coverage is proudly sponsored by Adidas. Visit adidasswimming.com for more information on our sponsor. For all the latest coverage, check out our event coverage page.
CLICK FOR FULL RESULTS
By David Rieder.
It's fairly atypical for the results of a college dual meet to turn into the top swimming news story of the weekend—particularly with an Arena Pro Swim Series meet going on concurrently. But one such meet did Saturday as the Texas women defeated Georgia by a score of 171-124.
Just a dual meet, right? We always take January results with a grain of salt as athletes are in different states of race-readiness coming off Christmas training. Let's take nothing away from a great performance by Texas—led by Joanna Evans, Remedy Rule, Tasija Karosas and Madisyn Cox—but a loss like this would typically mean little for a typically-strong Georgia women's team.
But such a loss is anything but typical for the Lady Bulldogs: it was Georgia's first in a home dual or tri-meet since Nov. 8, 1995. In the second-ever meet inside the Gabrielsen Natatorium, the Bulldogs lost to Florida, 135-118. Since then, the team had won an incredible 103 straight over more than 21 years.
The streak almost came to an end on Oct. 10, 2015, but a spirited effort from North Carolina came up just short as Georgia won 152-148. So all time at the facility, the team was 104-1. Before Saturday.
Plenty of you reading this story don't remember Nov. 8, 1995, or maybe you weren't even alive yet. So what was the world like back then, the last time Georgia lost a home dual meet? Since I was just a year-and-a-half old at the time, the UGA athletics staff helped out and provided some answers.
• "Seinfeld" was the nation's top-rated show, and the "No soup for you" episode originally aired a week earlier. Other shows in the top 20 included: "ER," "Friends," "Home Improvement," "Coach," "NYPD Blue," "Roseanne," "Frasier" and "Murphy Brown."

• The original "Toy Story" was the No. 1 movie.

• The nearly year-long O.J. Simpson double-murder trial had ended a month earlier.

• The Atlanta Braves had just won the World Series in six games over Cleveland.

• 1995 brought the opening of the Rock and Roll Hall of Fame, the introduction of the George Foreman Grill, a website called eBay and the inaugural X Game.
I went on Google and discovered that Google did not come to exist until Sept. 4, 1998—almost three years later. Of the current roster of Georgia women, the majority hadn't been born.
Jack Bauerle has been the head coach for the entire duration of the streak, and Harvey Humphries has been his lead assistant, but Stefanie Williams, currently in her fifth season on the coaching staff, did not come to Georgia as a student-athlete until three years later, in 1998.
And of course, in those 21 seasons, Georgia won seven NCAA team championships (1999, 2000, 2001, 2005, 2013, 2014, 2016). The Bulldogs finished as one of the top two teams 15 out of those 21 years and also won 12 SEC championships.
In the last four seasons of that streak, there's more: since falling to Tennessee (in Knoxville) on Jan. 26, 2013, the Georgia women have not lost any dual meet. A year later, on Jan. 10, 2014, they tied Texas A&M (in College Station) and since then have not lost a dual meet.
During that span, of course, Georgia also won three of those aforementioned National Championships and finished second in 2015 after putting a massive scare into a Missy Franklin-led squad from Cal-Berkeley.
Alas, the unbeaten streaks (home and overall) were both broken with the Texas loss. But while, it might be a little bit of a bummer for the Bulldogs and their fans, how impressive is that those streaks were even around to be broken? An amazing 24 classes of swimmers contributed to the home win streak!
And yeah, Georgia lost to Texas in a dual meet. But remember, those same Longhorn women were looking on earlier in the year as upstart NC State travelled to Austin and dominated the two-time defending NCAA champion Texas men.
This year's Georgia team lost some key pieces (most notably Hali Flickinger and Brittany MacLean) from last year's championship squad but, led by senior Olympic medalists Olivia Smoliga and Chantal Van Landeghem, remains on the short list of the top teams in the country. One dual meet loss in mid-January doesn't change that.
A season ago, Georgia finished a disappointing third at the SEC championships, ending a six-year win streak at the meet. After the Bulldogs were beaten by both Texas A&M and Tennessee, plenty of "experts" (myself included) changed their predictions headed into the national championships. Anyone remember how that turned out?
The smart money says that Georgia will bounce back sooner than later.
All commentaries are the opinion of the author and do not necessarily reflect the views of Swimming World Magazine nor its staff.