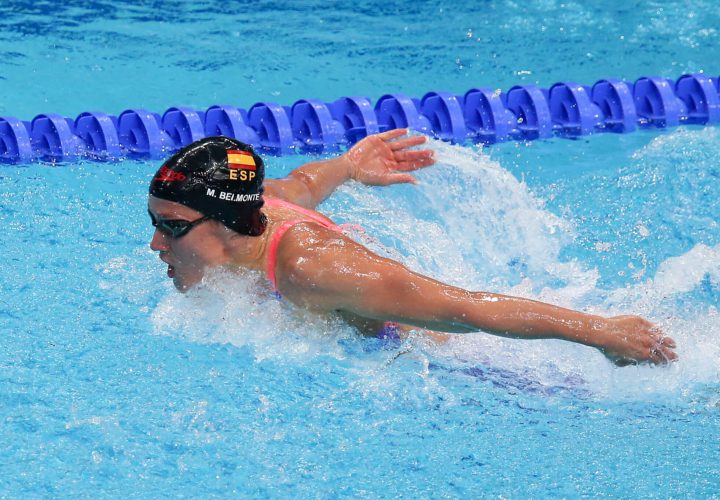 The final night of the 2018 British Swimming Championships, which has served as a warm up for the Commonwealth Games in a month, featured Olympic champions Mireia Belmonte and Adam Peaty in action in Edinburgh.
Belmonte, who was visiting from her native Spain, won the 1500 to start the night with a 16:21.70. She finished ahead of fellow Spaniard Jimena Perez (16:35.37). The top British swimmer was Leah Crisp who swam a 17:03.47.
British superstar Adam Peaty was in action on Sunday in Edinburgh with a win in the 50 breast at 27.11. Fellow national team veteran James Wilby was second in the final at 27.81 while Darraah Greene was third at 28.16. Veteran national team member Ross Murdoch was fifth in the race at 28.31. The event was a "skins" event so Peaty had to swim the event five total times as he finished with a 28.15 in the last round ahead of Wilby.
The women's 50 breast was also a "skins" event as Spain's Jessica Vall won the event with a 32.34 in the final race ahead of Ireland's Mona McSharry (32.88). Britain's Sarah Vasey (33.01) finished in third in the penultimate round.
17-year-old Federico Burdisso won the 100 fly final at 53.40 ahead of Irish swimmer Brendan Hyland (53.74) and Jacob Peters (53.78). National team member Duncan Scott also was in the race and he finished fourth at 53.85.
17-year-old Freya Anderson has been dubbed a swimmer to watch in Great Britain as she is coming off a summer where she was World Junior Champion in the 100 free. Anderson actually celebrated her birthday on Sunday with a 55.91 win in the 100 free over Lucy Hope (55.95) and Katie Stark (56.12).
The men's 200 free final was a solid field with plenty of national teamers competing. Stephen Milne won the final at 1:49.13 ahead of Paul Zellman (1:49.67), who was visiting from Germany. Olympian Cameron Kurle was third at 1:49.97. World Championship gold medalist in the 4×200 free relay, Calum Jarvis, was eighth in the final at 1:51.42.
Veteran Alys Thomas won the 200 fly final in a strong 2:07.54. She was the only swimmer under 2:10 in the final as Laura Stephens was second at 2:10.00 and Emily Large was third at 2:11.06.
Tom Dean won the final race of the night in the 400 IM, as he won with a 4:18.90. He is a promising young swimmer in the UK as he won ahead of Charlie Hutchison (4:23.57) and Thomas Paine (4:27.35).