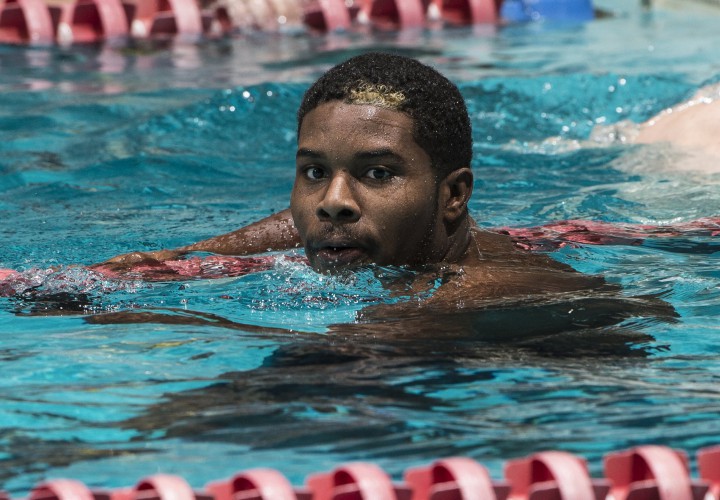 Photo Courtesy: Peter H. Bick
Mehdy Metella and Melanie Henique added butterfly events to their European Championships roster on the final day of the 2018 French National Championships.
This meet is serving as a qualification for the European Championships in Glasgow in August. In order to qualify, the swimmers will have to go under the qualifying standard in the heats and finish in the top four in finals.
Here is a list of who is qualified already for European Championships for the French team:
Men:
Jonathan Atsu, 200 free
David Aubry, 400 free, 800 free, 1500 free
Paul-Gabriel Bedel, 100 back, 200 back
Theo Bussiere, 100 breast
Roman Fuchs, 400 free, 200 free
Yonel Govinden, 50 free
Maxime Grousset, 50 free
Pierre Henry Arrenous, 100 fly
Stanislas Huille, 100 back
Damien Joly, 1500
Geoffroy Mathieu, 200 back
Mehdy Metella, 100 free, 100 fly
Maxence Orange, 100 back, 200 back
Jordan Pothain, 200 free
Nans Roch, 200 fly
Jeremy Stravius, 50 back, 100 free
Women:
Charlotte Bonnet, 50 free, 100 free, 200 free
Mathilde Cini, 50 back, 100 back
Fanny Deberghes, 100 breast, 200 breast
Cyrielle Duhamel, 400 IM
Margaux Fabre, 100 free, 200 free
Beryl Gastaldello, 50 back
Lara Grangeon, 400 IM
Melanie Henique, 50 fly
Fantine Lesaffre, 200 breast, 200 IM
Anouchka Martin, 50 free
Marie Wattel, 100 fly, 100 free, 200 free
Women's 400 Free
Qualifying standard: 4:10.48
Anna Egorova, RUS, 4:08.18
Fantine Lesaffre, 4:12.84
Margaux Fabre, 4:14.02
Alizee Morel, 4:18.17
Anna Egorova of Russia led the women's 400 free competition throughout the day, posting the fastest qualifying time in prelims (4:12.80) before topping the competition in finals with a 4:08.18.
Fantine Lesaffre finished second overall with a time of 4:12.84, just above the qualifying standard of 4:10.48. Margaux Fabre and Alizee Morel added third and fourth place finishes of 4:14.02 and 4:18.17 respectively.
Men's 800 Free
Qualifying standard: 7:57.62
David Aubry, 7:50.09 (7:57.09, h)
Damien Joly, 7:57.83
Joris Bouchaut, 8:01.61
Paul Barascud, 8:02.38
David Aubry added to his European Championships schedule with a victory in the men's 800 free. Aubry qualified first with a 7:57.09, just under the qualifying standard of 7:57.62, before posting a dominating finish of 7:50.09 in finals.
Damien Joly finished second in finals with a 7:57.83, while Joris Bouchaut took third with a time of 8:01.61. Bouchaut just missed his ticket to the European Championships, having posted a time of 7:57.86 in prelims, a slim .24 seconds shy of the qualifying standard.
Women's 200 Back
Qualifying standard: 2:13.03
Valeriya Egorova, RUS, 2:13.12
Mathilde Cini, 2:14.05
Cyrielle Duhamel, 2:14.60
Louise Lefebvre, 2:14.74
Russia's Valeriya Egorova turned in the top finish in the women's 200 back, stopping the clock at a 2:13.12.
Mathilde Cini grabbed second overall with a 2:14.05, followed by Cyrielle Duhamel's 2:14.60 and Louise Lefebvre's 2:14.74.
Men's 100 Fly
Qualifying standard: 52.78
Mehdy Metella, 51.92
Pierre Henry Arrenous, 52.61
Nans Roch, 53.26
Jeremy Desplanches, SUI, 53.35
Mehdy Metella and Pierre Henry Arrenous punched tickets to the European Championships in the 100 fly. Metella led the charge with a 51.69 in prelims, before winning the event with a 51.92 in finals, both times well under the qualifying standard of 52.78. Arrenous snuck under the qualifying standard with a 52.63 in prelims, before clocking a 52.61 in finals.
The 100 fly adds to Metella's 100 free, while this marks the first event on Arrenous' schedule.
Nans Roch finished third with a 53.26, followed by Switzerland's Jeremy Desplanches' time of 53.35.
Women's 50 Fly
Qualifying standard: 26.14
Melanie Henique, 25.71
Marie Wattel, 26.16
Charlotte Bonnet, 26.20
Lena Bousquin, 26.56
Melanie Henique joined Team France's list of qualifiers for the European Championships, dominating the women's 50 fly throughout the final day of competition. Henique posted a 25.93 in prelims to skirt beneath the qualifying standard of 26.14,  before finishing first with a 25.71.
Marie Wattel (26.16), Charlotte Bonnet (26.20), and Lena Bousquin (26.56) rounded out the top four finishers.
Men's 50 Free
Qualifying standard: 22.35
Yonel Govinden, 22.13
Maxime Grousset, 22.14
Oussama Sahnoune, ALG, 22.30
Clement Mignon, 22.72
Yonel Govinden and Maxime Grousset pushed each other to the top of the men's 50 free podium and each earned a spot on Team France's roster. Govinden and Grousset were under the qualifying standard of 22.35 in prelims with times of 22.33 and 22.15 respectively, before posting final times of 22.13 and 22.14 in finals.
Algeria's Oussama Sahnoune grabbed third with a 22.30, followed by Clement Mignon's 22.72.
Women's 50 Breast
Qualifying standard: 31.14
Fanny Deberghes, 31.66
Solene Gallego, 32.13
Carmella Kitching, 32.18
Camille Mallet, 32.40
Fanny Deberghes just missed out on qualifying for all three breaststroke events, not quite hitting the qualifying standard of 31.14. Deberghes turned in a 31.79 in prelims, before topping the podium with a 31.66 in finals.
Solene Gallego grabbed second overall with a 32.13, followed closely by Carmella Kitching's 32.18 and Camille Mallet's 32.40.