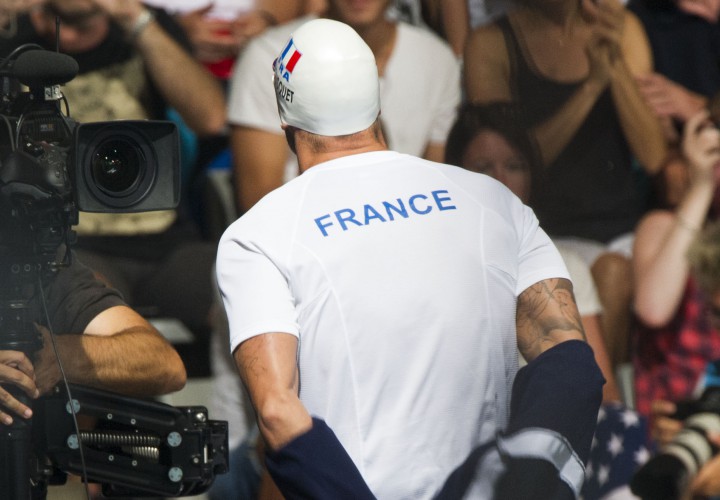 Photo Courtesy: Joao Marc Bosch
The fourth day of action from the French National Championships in Saint Raphael featured five total finals. Fantine Lesaffre, Fanny Deberghes, Mathilde Cini, Jordan Pothain, Roman Fuchs and Jonathan Atsu all put up qualifying times for the European Championships at the end of the summer.
This meet is serving as qualification for the European Championships in Glasgow in August. In order to qualify, the swimmers will have to go under the qualifying standard in the heats and finish in the top four in finals.
Here is a list of who is qualified already for European Championships for the French team:
Men:
Jonathan Atsu, 200 free
David Aubry, 400 free, 1500
Paul-Gabriel Bedel, 100 back
Theo Bussiere, 100 breast
Roman Fuchs, 400 free, 200 free
Stanislas Huille, 100 back
Damien Joly, 1500
Mehdy Metella, 100 free
Maxence Orange, 100 back
Jordan Pothain, 200 free
Nans Roch, 200 fly
Jeremy Stravius, 50 back, 100 free
Women:
Charlotte Bonnet, 50 free, 200 free
Mathilde Cini, 50 back, 100 back
Fanny Deberghes, 100 breast, 200 breast
Cyrielle Duhamel, 400 IM
Margaux Fabre, 200 free
Beryl Gastaldello, 50 back
Lara Grangeon, 400 IM
Fantine Lesaffre, 200 breast
Anouchka Martin, 50 free
Marie Wattel, 100 fly, 200 free
Men's 400 IM
Qualifying standard: 4:19.82
Jeremy Desplanches, SUI, 4:13.94
Samy Helmbacher, 4:20.70
Mathis Castera, 4:22.26
Antoine Marc, 4:23.47
Swiss native Jeremy Desplanches, who trains in Nice, won the 400 IM final with a very quick 4:13.94 to just miss his own Swiss record of 4:13.11 he set at French nationals a year ago. He was well ahead of the highest finishing French swimmer, Samy Helmbacher, who missed the European Championships qualifying standard of 4:19.82. Helmbacher only got down to a 4:20.70 after he swam a 4:21 in the heats.
Women's 200 Breast
Qualifying standard: 2:28.59
Fantine Lesaffre, 2:26.76, 2:28.16 (h)
Fanny Deberghes, 2:27.09, 2:28.02 (h)
Camille Dauba, 2:30.15
Laura Paquit, 2:30.36
Fanny Deberghes picked up her second event for European Championships after she won the 100 breast on Wednesday. Deberghes was second in the 200 breast behind Fantine Lesaffre as both women were under the 2:28.59 qualifying times in the heats and again in the finals. Deberghes was a 2:28.02 and Lesaffre was a 2:28.16 in the heats as both swimmers qualified for Glasgow with those times.
Lesaffre was a little off of the French record of 2:25.19 held by Sophie de Ronchi from 2009.
Men's 50 Fly
Qualifying standard: 23.60
Mehdy Metella, 23.63
Maxime Grousset, 23.64
Julien Henx, 23.96
Pierre Henry Arrenous, 24.09
French swimming veteran Mehdy Metella won the 50 fly final but missed the qualification time of 23.60 in the heats as Metella only managed a 23.81 in the heats. Metella was actually second in the heats behind Maxime Grousset (23.75). Neither swimmer qualified for European Championships but Metella has already qualified in the 100 free.
Women's 100 Back
Qualifying standard: 1:01.44
Mathilde Cini, 1:00.45 (59.98, h)
Valeriya Egorova, RUS, 1:01.77
Louise Lefebvre, 1:01.97
Camille Gheorgiu, 1:02.15
23-year-old Mathilde Cini won the 100 back final with a 1:00.45 as she qualified for the European Championships in the event. This is Cini's second event for Glasgow after she was second in the 50 back on Wednesday behind Texas A&M postgrad Beryl Gastaldello. Cini actually dipped under a minute in the heats with a 59.98 to get well under the qualification time.
Cini just narrowly missed the French Record in the 100 back that is a 59.50 by Laure Manaudou from the 2007 Worlds.
Men's 200 Free
Qualifying standard: 1:48.29
Alexandre Derache, 1:48.35
Jordan Pothain, 1:48.76, 1:47.97 (h)
Roman Fuchs, 1:49.00, 1:48.26 (h)
Jonathan Atsu, 1:49.06, 1:47.48 (h)
Alexandre Derache won the 200 free final on Friday night in Saint Raphael but did not go fast enough in the finals. Derache was only a 1:48.58 in the heats as he did not go fast enough to go under the 1:48.29 required to make it to the European Championships.
Three swimmers Jonathan Atsu (1:47.48), Jordan Pothain (1:47.97) and Roman Fuchs (1:48.26) were under the qualifying standard in the heats and finished in the top four at finals so all three of those guys will swim the 200 free for Team France at the European Championships.